Ana Rocks Bold Lippies In '50 Shades Darker'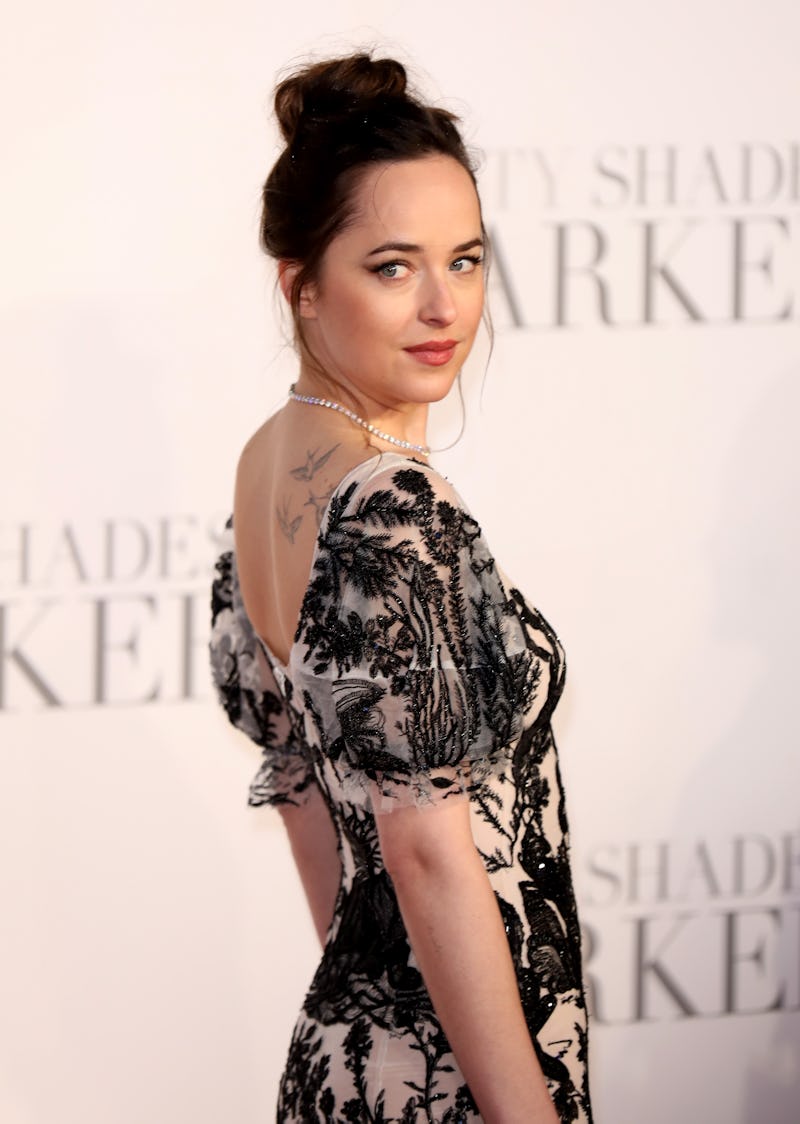 Tim P. Whitby/Getty Images Entertainment/Getty Images
The sequel to fan favorite 50 Shades of Grey hits theaters just in time for Valentine's Day. So, if your plans were to do a good old classic dinner and a movie type of date, well, you're in luck. And if you're wanting to look the part of Dakota Johnson's character while you're at it, that will certainly be easy to pull off! Wondering what lipstick Ana wears in 50 Shades Darker? Get ready to add some color to your pout!
Throughout the movie trailers, Ana rocks a variety of lip looks, but each one seems to be in a deep red or burgundy color palette. Trust me — if there's one thing Dakota Johnson knows how to wear, it's lipstick. Given her lippie choices, she's definitely someone you'd want to take a style cue from! Sometimes the color payoff is more subtle and sometimes it's statement-making and bright. So, whether you're into a blotted lip look or one that's not going to go unnoticed, following the style of Ana should definitely work for you.
Although it's currently unclear what actual lippies she wears in the movie, ColourPop recently released a Blotted Lip formula that will be perfect for recreating the more subtle moments Ana sports throughout the film. Meanwhile, a liquid matte lipstick is the way to go for tons of pigment and staying power. Which look suits you best this Valentine's Day? Decide for yourself, using Ana as your guide!
There's rarely a scene where Ana's going without lipstick, at least in this trailer, so if you're going for a 50 Shades kind of vibe, a stained pucker is a must!
From the very first shot in the trailer, Ana's sporting some burgundy across her lips.
She effortlessly demonstrates how this hue can work for day or night.
Vice Liquid Lipstick in Double Crossed, $18, Urban Decay Cosmetics
This plum burgundy hue will look great, no matter what your Valentine's Day plans may be.
In this example, there's still plenty burgundy, but it seems a bit more diminished than before, don't you think?
It's great for those moments when you're wanting to go a bit more natural.
Blotted Lip in Deja Vu, $5, ColourPop Cosmetics
For a barely there feel, count on this dusty rose hue.
When you're wanting to go glam, there's no going wrong with a deep, dark red.
Red dress, red lips. It just doesn't get more classic than that.
Tarteist Quick Dry Matte Lip Paint in XOXO, $20, Tarte Cosmetics
This deepened tone is an excellent way to complete any ensemble. Pair it with a red dress like Ana or rock it with jeans and heels.
Get ready to slay this Valentine's Day with a little beauty inspo from 50 Shades Darker!