'Bohemian Rhapsody' Includes A Major Lesson About Relationships That Anyone Can Benefit From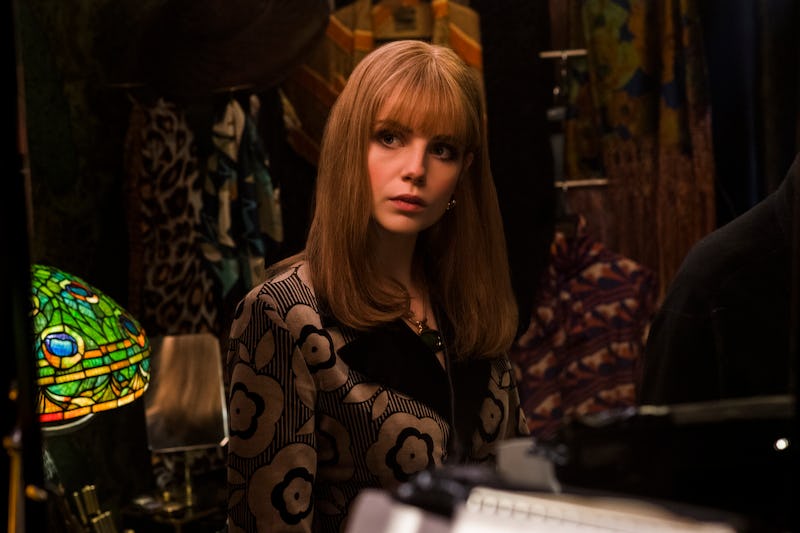 20th Century Fox
For casual Queen fans, one of the most eye-opening aspects of the new biopic Bohemian Rhapsody is probably Freddie Mercury's relationship with his fiancée-turned-best-friend Mary Austin. It will certainly come as a surprise to some viewers that Mercury was engaged to a woman at all, but their partnership is significant beyond the fact that a famously not heterosexual man was once engaged to a member of the opposite sex. Lucy Boynton, who plays Mary in Bohemian Rhapsody, says she learned a lot from the couple's unconventional relationship and believes audiences will, too.
Boynton herself was a casual Queen fan before shooting the film. "I was very much aware of the huge anthems they had and I loved them for that," she tells Bustle, "but I didn't really know the more intimate songs or the real catalog of brilliant songs that they had." She didn't know about Mary Austin, either.
The short, true story is: After meeting around the time that Queen was formed, Mercury and Austin got engaged. And while they broke off their engagement after he came out to her, he bought her a home and they remained friends until his death. He also left her his £20 million London mansion, according to an interview Austin did with the Daily Mail in 2013.
Boynton says that learning about her character's connection with Mercury shaped the way she views relationships herself. "Initially, kind of looking at it from the outside, it's difficult to know how to approach that," Boynton says about portraying the relationship. But she soon understood that it was the strength of Austin and Mercury's foundation that allowed them to have a deep and ever-evolving friendship.
"You realize at the center of all of that was just a very profound and solid love and respect for each other, and that was able to be the vehicle for everything else, for every avenue that their relationship took," the 24-year-old actor explains. "I have taken a lot from that and I hope the audience does, as well. The understanding that if you do have that very solid and strong foundation, you don't really need to define your love or define your relationship."
Austin, who has long kept mostly private, was not involved with the film at all. Fortunately, Austin did do a few interviews about Mercury that Boynton was able to reference, along with some interviews Mercury gave about her. The actor also got information from Queen guitarist Brian May and his wife, actor Anita Dobson, who both know Austin personally. "My main priority, really, was trying to find this balance between telling the most honest and accurate version of her story as I was hearing and reading from people like Brian and from Mary herself in interviews," Boynton says. "But then also trying to respect this boundary of privacy that she has set out for herself." She adds, "It is very much a creative interpretation, as well. It's not claiming to know her experience."
While Mercury's relationship with Jim Hutton, the man with whom he would spend the rest of his life, is touched on toward the end of the film, Austin is featured quite a bit throughout. "I don't think you can tell the full Freddie Mercury story without telling the Mary Austin side of it, too," Boynton says, explaining that Austin was Freddie's "home." "They were the eye of the storm of this whirlwind that was Freddie's life," she adds.
Boynton finds Austin particularly impressive because of how resilient she was at the time she was with Mercury — "Someone who is living such a kind of tumultuous life as these rock stars do" — especially because she was so young. (Austin was 19 when she met Mercury, and he was 24.)
Overall, though, it's the relationship that has the biggest lasting effect on Boynton, and that could be the case for audiences, too. "I hope that people are most impacted by the undefinable nature of their relationship and the undefinable nature of Freddie Mercury himself," Boynton explains. "He seemingly so effortlessly transcended this need to be boxed in by society, by labels, by categorization that people understand or interpret about him. I think that is a really powerful thing to be and position to be in."
Boynton believes their relationship teaches people to do what's right for them in their relationships, not what's right for those looking in. It's about "shaking off the need to define yourself for someone else," she says. And if that's not a good lesson to take from a biopic about Freddie Mercury, then what is?