A Cher Musical Is Coming In 2018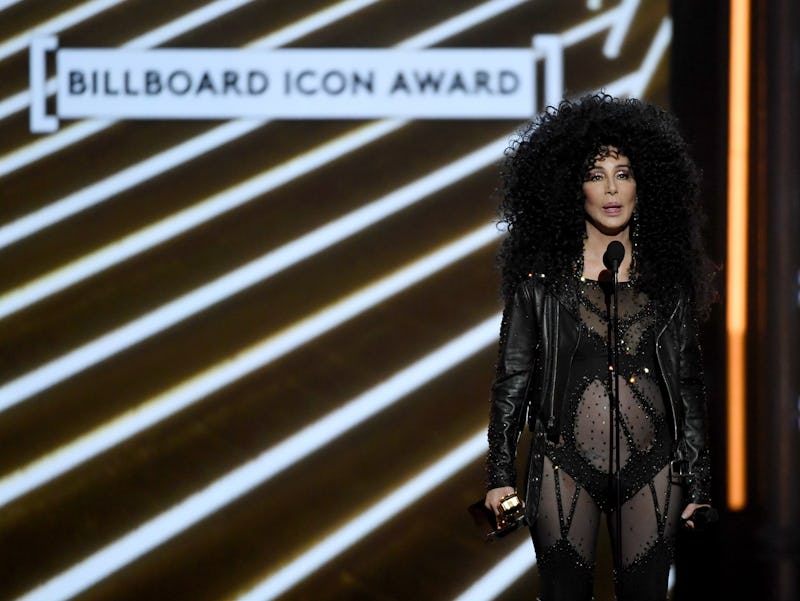 Ethan Miller/Getty Images Entertainment/Getty Images
The Goddess of Pop has got you, babe. If you've been yearning for an appropriate tribute to the singer, you'll be excited to learn that Cher is getting a musical based on her life. But what moments will the Cher musical extravaganza draw from? According to Entertainment Weekly, back in January, she attended a reading for what the media is dubbing The Cher Show, and there were three actors there to represent the star at three different stages of her life. As such, it sounds as if the show will follow a pretty extensive timeline.
Playbill alleges the cast of characters will include her former husbands Sonny Bono and Gregg Allman, as well as Bob Mackie, David Geffen, Robert Altman, Rob Camilletti, and Sigmund Freud. They also quote a breakdown of the plot:
"In this production, the characters of BABE, LADY, and STAR represent Cher at different moments of her life- starting as a teenager who falls for Sonny Bono (BABE), a successful music star navigating the challenges of the entertainment industry (LADY) and the lady we know today with a fascinating wealth of life experience, successes, and failures (STAR). Aside from Babe, Lady, Star, Sonny Bono, and Georgia, other roles may be paired together to have the actors double or triple up on the roles."
Still, this implies there's a whole lot of ground to cover. I imagine that pretty much every musical, even one about one of the most epic singers of the 20th (and 21st) century, has to clock in at a reasonable time. So what moments from Cher's life will the musical cover? Let's explore.
Meeting Sonny Bono
According to Blank On Blank, Cher met Sonny in 1962 when she was just 16 and a "high-school dropout who wanted to be a star and he was 28 and an assistant to record producer Phil Spector." Together, they became musical dynamite. This makes for an obvious place to start since he was both one of her most important romantic partners and part of the reason she became successful; she first became famous as one half of Sonny & Cher, recording alongside her boyfriend.
The Release Of "I Got You Babe"
When the pair released "I Got You Babe," it reached number one on the Billboard Hot 100 in August 1965, and, according to AllMusic's Bruce Eder, became "one of the biggest-selling and most beloved pop/rock hits of the mid-'60s."
The Release Of "Bang Bang (My Baby Shot Me Down)"
On releasing her second solo record, Cher's song "Bang Bang (My Baby Shot Me Down)" (penned by Sonny) reached number two in America.
Enduring Difficulties At Home And Work
According to You Haven't Seen The Last Of Me, 1968 marked the end of Cher's contract with Imperial Records and Sonny & Cher were dropped from their record label, ATCO Records, though the record label was interested in signing Cher as a solo artist. To make things even more awkward, they only wanted to sign her if she could commit to an album without Sonny there as a producer. Cher signed with them for two years. This was also a profoundly difficult time for her private life, too; "Throughout 1968 Cher would miscarry four times."
Getting Married And Having A Baby
Their relationship began to unravel when Sonny "cheated on Cher repeatedly." But in an effort to win her back, he proposed to her. They got married, and, on March 4 1969, she gave birth to a daughter, Chastity Bono.
Getting A TV Show With Sonny
When their records stopped selling, they put together a lounge act. According to Salon, "It was a slow, dark period of hot plates and humiliation. Nobody liked them, they didn't like themselves...Their lounge act was so depressing, people started heckling them. Then Cher started heckling back... The heckling became the best part of the act and the audiences slowly returned." They got offered a TV show in 1971, The Sonny & Cher Comedy Hour, and reached a whole new peak of fame.
Filing For Divorce And Remarrying Greg Allman
According to Blank On Blank, "Cher filed for divorce in 1974, citing 'involuntary servitude' as the reason for the split." But, according to Sonny's diary, which his fourth wife Mary made public following his death, they had been having problems since 1972, when he wrote in November "We are now the stars of our TV show. We have a million-dollar house, and I guess you could call us rich. We have a lot of money in the bank. Now for the bad news: Everything exploded between Cher and myself." She then married musician Greg Allman before divorcing him nine days later. Blank on Blank report that they "eventually reconciled, had a son and even made a debut album" before their divorce in 1979.
Making Disco Music
Following disappointing sales of her 1976 album I'd Rather Believe In You and her 1977 album Cherished, Cher switched to a whole new sound for her album Take Me Home to capitalize on the disco trend. Both the album and the single of the same name were certified gold by the RIAA.
The Death Of Sonny Bono
Sonny died in a skiing accident at South Lake Tahoe in California in 1998.
Releasing "Believe"
You know what they say, the 22nd time is the charm. Cher reached brave new heights of superstardom with her 1998 disco-infused release, which sold 10 million copies worldwide and was certified quadruple platinum by the RIAA.
Modeling For Marc Jacobs
Aged 69, she agreed to pose for Marc Jacobs' Fall 2015 line after the designer dressed the star for the Met Gala that same year.
Cher's certainly led a long, rich life, and the only difficulty the musical writers will have will be finding a way to keep the production anywhere under a five hour running time. There are just too many fascinating parts to choose from.