What Queen Elizabeth II's Coronation Was Really Like, According To One Of Her Maids Of Honor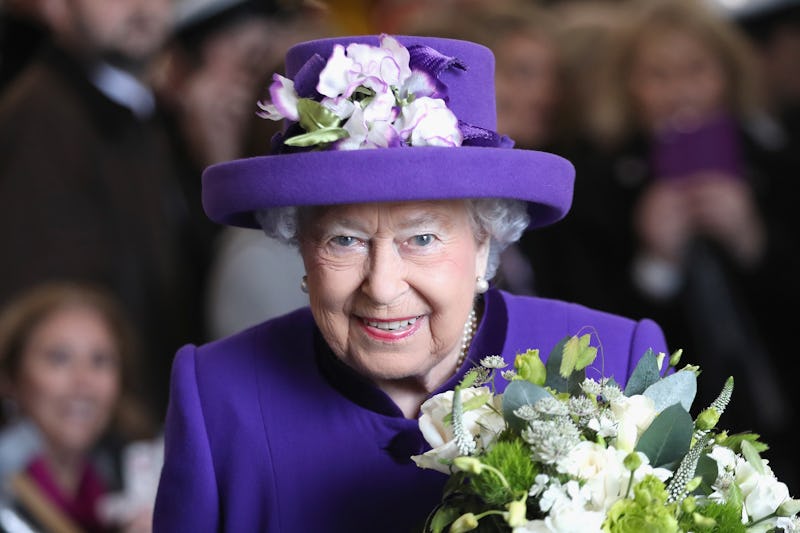 Chris Jackson/Getty Images Entertainment/Getty Images
Even as the 65th anniversary of her coronation approaches, Queen Elizabeth II remains one of the most well-known and beloved icons the world has ever seen. Her reign has been dramatized through countless films and television shows, and studied in courses across the globe. But, as this noteworthy milestone nears, one program is showcasing Her Majesty in a completely new way. In a joint venture between the BBC, Australian Broadcasting Corporation and the Smithsonian Channel, The Coronation will feature the Queen speaking publicly for the very first time about the day she took the throne. Before the documentary airs on Jan. 14 at 8 p.m. on the Smithsonian Channel, a very select number of people know what Queen Elizabeth II's coronation was really like. One of them shared her memories with Bustle, speaking over the phone ahead of the special.
Lady Anne Glenconner was one of the Queen's maids of honor on that fateful day, and her memories of the occasion are astonishing. As a girl, she attended the birthday parties of the then-Princess Elizabeth and Princess Margaret, and played with them on the beach in Norfolk near one of the royal homes. Though she had this background with the heads of the royal family, Lady Glenconner still had to meet a set of specific criteria to walk by the Queen's side that day.
"We had to have been unmarried, and we had to be the daughters of some earls, marquesses or dukes," she says. "And we had to, obviously, you know, [be] chosen because we had nice figures and we were the right height and that sort of thing. The Duke of Norfolk [Bernard Fitzalan-Howard] took great trouble to see that we all looked perfect."
Every pearl earring and strand of jewelry, Lady Glenconner recalls, had to be very carefully thought out and orchestrated. In the days leading up to the coronation ceremony, the maids of honor dutifully honed their skills — they'd be carrying the Queen's train and following her wherever she went. "We were drilled to perfection, and so when the actual coronation happened, we weren't really nervous," she says.
Excitement for the coronation was so intense that there were quite literally no beds left in the city of London the night before — even for those involved in the ceremony. Lady Glenconner says she got her beauty sleep on a mattress on the floor in her uncle's home as she prepared for the big day. "I was woken up very early by somebody coming to do my hair. And then we were made up quite strongly because it was the first time that anything's been televised and they also had a color film that was being made," she says. "These very, very bright lights in the Abbey, they thought, would sort of leech us of color … so we were all made up strongly. There's this old actor named George Robey, and I looked rather like him — very dark eyebrows and very very bright red lipstick," she adds with a chuckle.
The maids of honor waited at the door of the famed Westminster Abbey for the Queen to arrive that morning, and Lady Glenconner says they heard her presence long before they saw it with their own eyes. "We could hear her coming. We could hear everybody shouting. And then, round the corner came this golden coach. It was like a sort of fairy tale," she says. "We hadn't seen the Queen in her dress before, and she looked absolutely beautiful. She had a wonderful figure, very small waist, and beautiful skin and eyes. And this fantastic dress, the whole thing was embroidered."
As the maids of honor helped the Queen out of the carriage and took up her train in their practiced hands, Lady Glenconner said the sovereign remained mostly quiet. "People always say, 'Oh, did she say anything to you?' And we say no," she says. "The train had these satin handles underneath, so we all put our hands underneath. And she just turned round and looked at us, and said, 'Ready, girls?' And off we went."
The walk through the Abbey went seamlessly, even if the maids of honor did have to adjust their pace — they'd been practicing with the Duchess of Norfolk, Lady Glenconner says, who walked a bit faster than the Queen did that day. She recalls the whole of the Abbey exploding with color as people from all over the Commonwealth arrived in their countries' traditional dress. When the maids of honor were through escorting the Queen to her position, it might have seemed that the difficult part was over — but Lady Glenconner says she encountered a bit of a hiccup of her own.
"I felt very faint during the coronation," she says, adding that she had Black Rod, a parliament official standing next to her during the ceremony. "He realized [I felt faint] and he just sort of pinned me to the wall in the back with his arm to sort of stop me fainting. I remember thinking that we were told to wiggle our toes in our shoes to stop from fainting, and we also had ... little vials of smelling salts tucked into our gloves. But it didn't seem to help me very much," she laughs. "I thought, 'I just cannot faint! There are millions and millions of people watching the coronation — I mustn't spoil it.'"
Luckily, despite the fact that she says she'd hardly eaten that day and her dress was extremely tight, Lady Glenconner remained on her feet during the crowning. She says that the love the British people had — and continue to have — for their Queen was palpable that day. "We came out on the balcony with her, which was absolutely extraordinary. [There were] so many people you couldn't get a pin between them," she says. "And they were all shouting and cheering her and you could sort of see the love coming off of them. It was like a physical wall of sound. It was very extraordinary."
The day of Queen Elizabeth's crowning was so special to so many, Lady Glenconner says, because it brought with it a sense of hope following World War II. "There were really awful years. And suddenly, there we were with this beautiful young woman who was going to be our Queen," she says. "And I think everybody thought it was the start of a new Elizabethan age. Queen Elizabeth I had had such an amazingly successful reign, and everybody thought this is going to happen again. I think people were just thrilled to have something to celebrate."
Lady Glenconner, among other royal insiders, will appear in The Coronation to speak about the importance of the day. Most importantly, though, viewers will get the rare opportunity to hear from Her Majesty herself about how the occasion changed her life, and changed the course of the British monarchy forever.