We Asked 6 Queer Women & Nonbinary Folks What Safe Sex Means To Them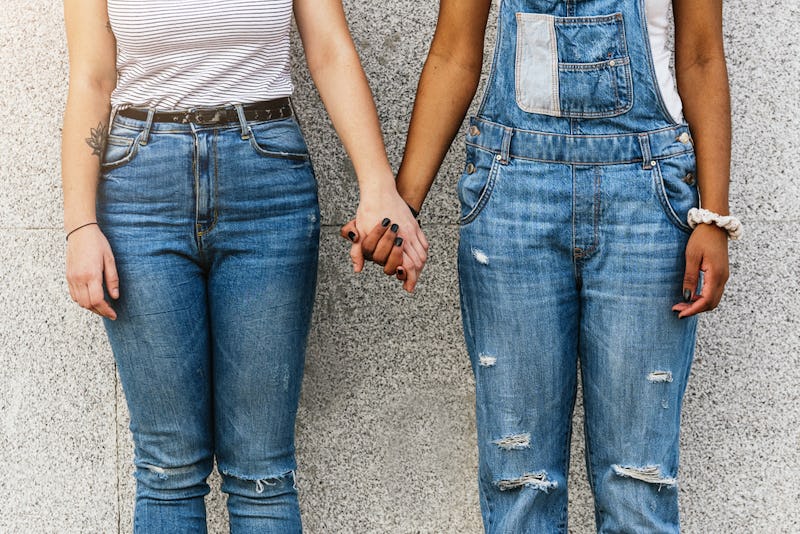 Santypan/Shutterstock
Safe sex is often discussed in the context of pregnancy and how to avoid it — but because your classic sex education so often privileges opposite-gender relationships, for queer people, safe sex is often learned as people are beginning to explore what sex, period, looks like for them. Six queer women and non-binary femmes tell Bustle that there's a lot more to safe sex than pregnancy, or even the prevention of STIs.
"While pregnancy is not always a risk in LGBT+ relationships, it is always important to protect yourself and your partner(s) by being tested regularly and by using barrier methods (condoms, dental dams, etc.)," LGBTQ+ expert Kryss Shane, MS, MSW, LSW, LMSW, a licensed social worker who specializes in sexual and gender minorities, tells Bustle. "This prevents interactions with bodily fluids and skin infections that can become health hazards."
While there's a widespread myth that people with vaginas can't get STIs from one another at all, it's not correct; a study in 2011 found that women who have sex with women are no less at risk of STIs like chlamydia than women who have sex with men. Some queer women report that when it comes to sexual health, they have to be their own advocates for testing and treatment.
Here are six people's journeys towards understanding sexual health and safe sex as queer people.