We Finally Know Rihanna's Fenty Foundation Shade Thanks To Her Makeup Artist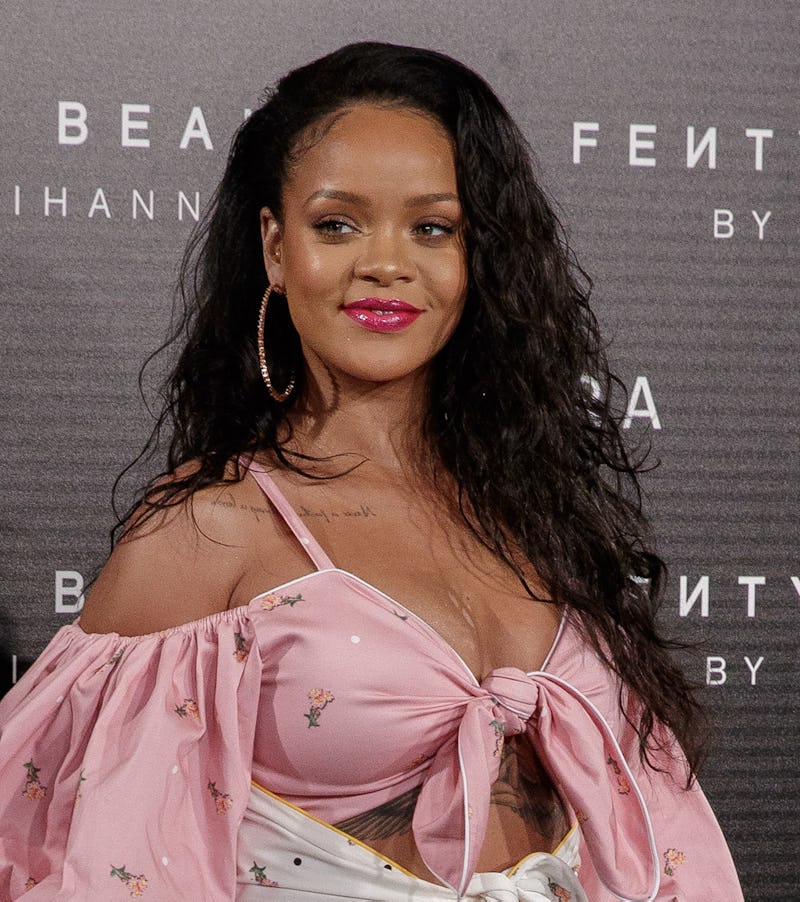 Eduardo Parra/Getty Images Entertainment/Getty Images
Just when you thought you had the entire 411 on Fenty Beauty, there's even more to learn. Not only did Rihanna reveal the details of her Holiday Galaxy Collection this week, but now fans know exactly what shade of Fenty foundation Rihanna wears. According to PopSugar, the singer and actress uses not one but two Fenty foundations. Like the vast majority of women, one foundation won't work year around, and Rihanna and makeup artists Priscilla Ono and Hector Espinal — the global artists for the brand — have two foundations they use to achieve Rihanna's perfect skin.
According to the Fenty Beauty Instagram, Ono has cited that Rihanna uses both Shade 330 and Shade 340. The two shades have different undertones according to the Sephora website, but why would Rihanna need two shades with different undertones? PopSugar cites skin changes due to sun exposure and environmental factors. Basically, it just shows that no matter how perfect you are — and Rihanna is as close to perfect as a person can come — everyone has to keep their shifting skin in mind when choosing a foundation at different points in the year. But hey, isn't that just an excuse to buy more Fenty Pro'Filtr, and who doesn't want that?
Based on makeup details on the Fenty Beauty Instagram account, both artists tend to switch up foundations. Rihanna herself also cited 340 as her shade when the brand initially launched. A few days later, she posted another image tagging Fenty Beauty with the caption "360." While some might cite the changes in shades as a sign of inconsistency in the brand, it actually appears to be the opposite.
Fenty Beauty famously features 40 shades of foundation, and with such a range comes nuance in the shades. Rihanna's ability to shift between foundations shows just how accurate to real skin the brand can be.
While many may not be able to notice a true difference in Rihanna's skin both she and her makeup artists can, and the power of Fenty Beauty is the way its 40 shades can fit her — and everyone's — skin no matter the season.
Of course, the Pro Filt'r Foundation isn't the only product that Rihanna rocks well and often. Like a true creator who is proud of their art, she wears Fenty Beauty on the regular.
In fact, on her recent Elle cover, she wore a literal full face of Fenty. Using the Unicorn Match Stix, Rihanna had a large heart drawn over her face. Of course, no one could pull off that look other than Rihanna, but it show cased just how stunning, pigmented, and consistent the product is.
The Fenty founder has also slayed the game in her pressed powder highlighters. No one can think of Fenty Beauty without immediately thinking of the now-iconic Trophy Wife highlighter. From gurus going nuts for it to fans singing its praises on Twitter, it may just be Rihanna's most popular product. Clearly, however, Rihanna had to rock it first.
The actor and singer used the Trophy Watt Killawatt Highlighter to create a stunning golden glow at the launch event for Fenty Beauty, and it's brilliance was almost too much to handle. According to the brand's Instagram, however, Rihanna was actually rocking a full face of Fenty Beauty, including on her eyes. She slayed Trophy Wife combined with the Blonde Match Stix.
Basically, no one does Fenty like Rihanna, but would fans expect any less?
If you've got a similar complexion to Rihanna or have just been curious about what shade she wears, her makeup artists have officially spilled the news. Here's hoping we can all achieve a #FentyFace like Rihanna.