Glossier Just Released Two More Cloud Paint Shades You Need ASAP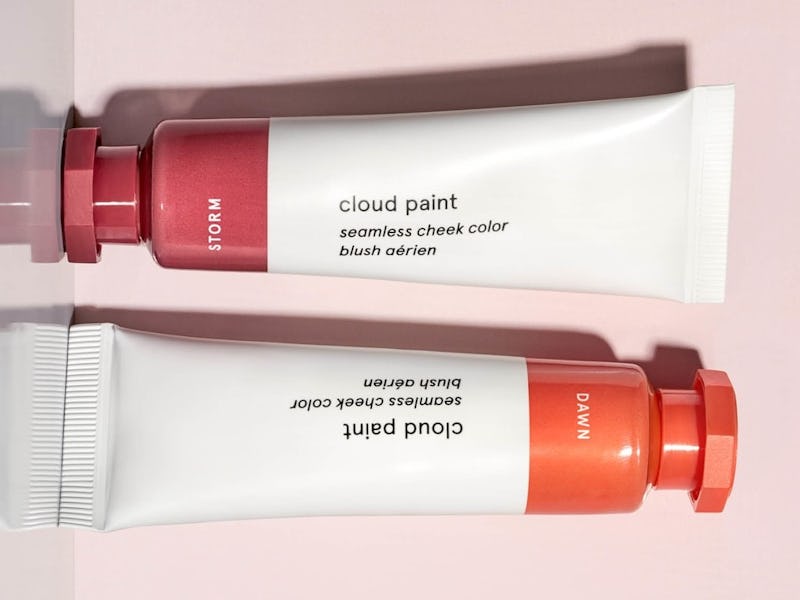 Glossier
It seems like Glossier is popping into the news almost weekly with exciting new updates and product drops, spoiling minimalist lovers with options. And their newest release will have you just as excited as the previous ones: Glossier is expanding its Cloud Paint range to include two brand new shades, giving your summer beauty staple a refresh.
This is following right on the heels of a Skin Tint upgrade, which made the formula more hydrating, as well as a Glossier Lash Slick Mascara launch, which took a year and a half to perfect the lash lengthening formula. Back in 2014 when the brand first launched, it only had four beauty products to choose from, touting a "less is more" mentality. The makeup is meant to be the fun part of beauty, not the fix, and so all of their cosmetics are very light weight, sheer, and boast a light coverage.
The brand's goal wasn't to sell the beauty lover a vault of makeup in every color imaginable, but to provide a few pieces that they will reach for day in and day out. And most importantly, it's meant to be so easy to put on, that a person would only need their fingers. That's where Cloud Paint comes in.
A cream blush with a gel-cream formula that is sheer and buildable, it makes it almost impossible to accidentally put too much on. "If you can finger paint, you can Cloud Paint — simply dab it onto cheeks wherever you please," the product description reads.
Originally launched with four different colors that were inspired by the gradient pink NYC sunsets, the different hues were meant to give your complexion a naturally flushed look.
"Dusk" is a brownish nude, "Puff" is a light, cool pink, "Haze" is a deep berry, and "Beam" is a coral peach. And now there are two new additions to the color range that you could experiment with, bringing a new pop to the natural shades.
"Dawn" is a sunny coral that looks like a bright orange when swatched from the tube, but dabs on as a punchy pink. It's meant to look like you fell asleep napping on a boat, giving you cheeks a pinkish-orange hue.
"Storm" is a warm rose color that looks almost brick red when out of the tube, but buffs into a rosy red on your complexion. This color is meant to look like you just came in from the cold, offering a cooler undertone.
Thanks to the sheer and buildable nature of the product, people like to mix and match the different colors together to create customized hues, so two new shades are a welcome addition. The red will definitely add a vibrant punch of color to any of the more nude selections, and the orange coral shade would look beautiful when mixed in with the more light pink hues.
The Cloud Paint blushes retail at $18 a piece, and you can now pick up "Dawn" and "Storm" directly at glossier.com, no waiting necessary. If you really love both and want to treat yourself to the set, save yourself a few dollars by taking advantage of the Cloud Paint Duos, which cost $30.
The Cloud Paint Duos are a bundled deal, where you not only save six dollars but also receive free shipping, allowing you to get more bang for your buck. Right now Glossier ships to the U.S., Canada, the U.K., and Ireland, and will soon be branching out into Sweden, Denmark, and France as well.
Which means having glowing, lit-from-within cheeks will become more available to all.