Katy Perry Could Perform A New Hit At The Grammys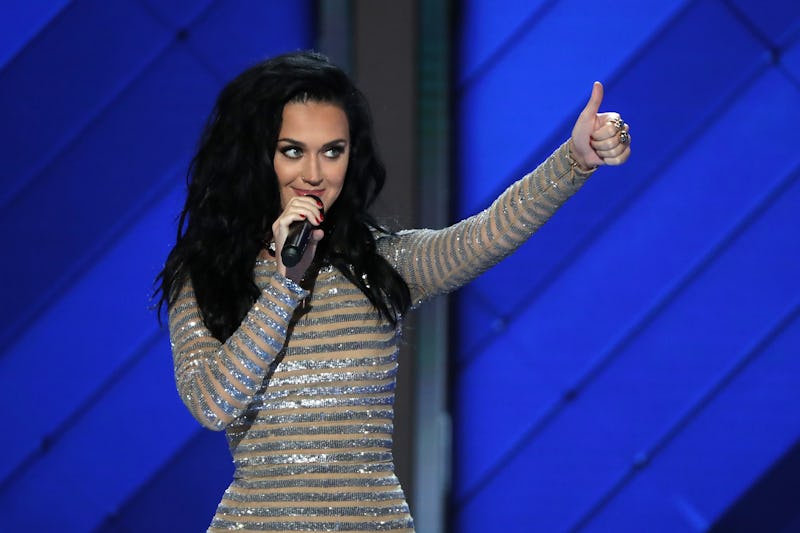 Alex Wong/Getty Images News/Getty Images
The 2017 Grammys performer lineup keeps expanding, and not just because Beyoncé will (probably) be there with her twins. On Monday, a very blonde Katy Perry announced that she'll be joining the ranks of Adele, Chance the Rapper, the Weeknd, Daft Punk, John Legend, et al. As for the songs Katy Perry will sing at the 2017 Grammys? Rumor has it that she'll be releasing a new song this week (allegedly called "Chained to the Rhythm" which Billboard first reported, but has since reportedly taken down) featuring Skip Marley. Unless she goes with a Perry classic, it's looking like the singer might debut something fresh — and this might be it.
Since Perry hasn't put out an album since 2013's Prism, her options are a bit more limited than say, some of the other performing artists who had full albums out this year. She did release the single "Rise" in 2016, which she performed at the Democratic National Convention this past summer, alongside her 2013 hit, "Roar." But, at this point, both of those are a little dated. Especially the latter.
Perry hasn't confirmed anything about new music, but, with the new icy blonde hair, the announcement of this performance, and a cryptic Instagram caption that reads "new life who dis" is it really a stretch to assume that her next album is imminent? All signs point to a February 2017 Katy Perry album release date, or, at the very least, a single.
Right before the 2016 Grammys (a show that Perry did not attend), the singer told The New York Times, "Right now I'm taking a little time. I don't want to jump on any trends. I just need to evolve." When asked about her new album, she conceded that it was in its "research and development phase." Perry told the publication,
I do my records in a more traditional way, where the cycle is three years, so that once I start writing them, I know exactly where I'll be in spring of 2018. That can get a little bit like 'Ugh.' I need a little bit more freedom, especially when I've been doing it for this long.
Her last album was released in 2013. By that math, we were due for one in 2016. Does another year's time give her enough quote unquote freedom to produce some songs in time for the 2017 Grammys?
Of course, if the tunes aren't ready, she could go with something classic like "I Kissed A Girl," "Firework," "Dark Horse," "Teenage Dream," "California Girls," etc. But it appears that Perry's entering a new era and reinventing herself, "evolving" as she puts it. Songs from years ago wouldn't help with that development, and it would be in her best interest to put something new out.
Still, if she's looking to go the quintessential Perry route, there's always room for left shark on that stage. I'm sure he's available.