Here's What Lady Gaga Will Sing At The Super Bowl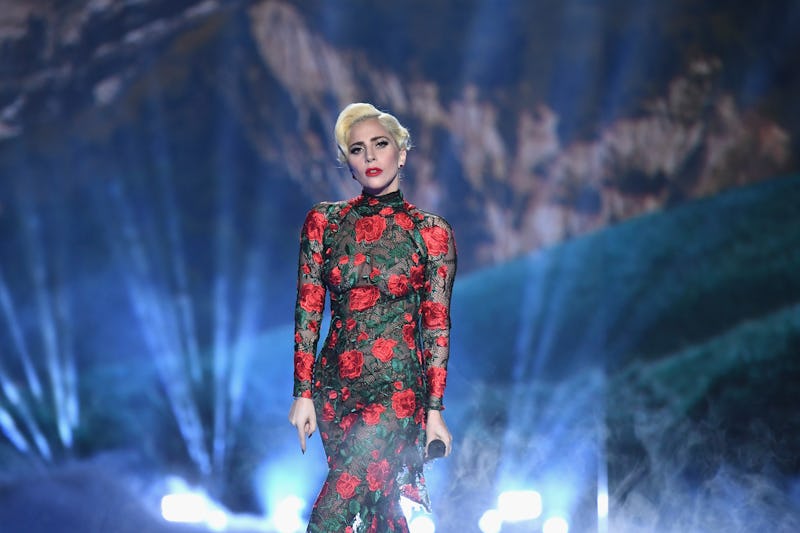 Pascal Le Segretain/Getty Images Entertainment/Getty Images
It's definitely no illusion: Lady Gaga is headlining the Super Bowl 50 Halftime Show on Sunday, Feb. 5. But what will Gaga perform when she graces the stage at NRG Stadium in Houston, Texas? Pepsi showed her dancers rehearsing moves to her 2009 track "Bad Romance," so it's a good bet that you'll be hearing that one on the big day. Mother Monster has been staying mum as far as the other songs that will make the cut on game day, but she has been teasing the details of the show in other ways.
Gaga trained like an athlete for this performance, even building a stage in her backyard so she could practice at any hour of the day. In a new video set to "Perfect Illusion," Lady Gaga said she plans to command every inch of the stage, which she reportedly won't be sharing with any special guest like Coldplay did last year when they brought out Beyoncé to slay the day. She also posted an Instagram shot of her riding a horse with the caption, "Halftime warm up, giddy up," leaving fans wondering if she'll enter the show on horseback.
Sure, none of this gets us any closer to knowing the track list for the halftime show, but, based on previous performances, there are some things we can assume.
1. It Will Be A Medley
To make the most of the 12 minutes performers get, it's best to pull out a medley of songs. Of course, the amount of songs in a medley varies. For instance, Coldplay sang eight songs at last year's Super Bowl — this includes Beyoncé's "Formation" and Bruno Mars "Uptown Funk." In 2015, Katy Perry performed nine songs, the same amount Beyoncé performed two years earlier. In 2014, Mars performed six songs. Let's guess that Gaga will perform somewhere between seven and nine songs. Seems like a lot, until you realize how many hits Gaga has had over the years.
2. She'll Perform Songs From Joanne
Gaga dropped her latest album Joanne last year, so it's still fairly new. That's why it's a safe bet that she will perform a few songs from the record, including "Perfect Illusion," which has been used in ads for the Super Bowl Halftime Show. "A Million Reasons" is another good guess. While it's more of a ballad, it allows Gaga to have a bit of Prince moment. Who can forget when he performed "Purple Rain" in the rain at the 2007 halftime show?
3. Gaga Could Honor Prince And/Or David Bowie
Sure, Gaga already honored Bowie at the 2016 Grammys, but there's no such thing as singing too much Bowie. As previously mentioned, it's also the 10th anniversary of Prince's halftime show, which may convince Gaga to throw in a cover of one of the Purple One's songs.
4. She'll Send A Message With "Born This Way"
Obviously, it's one of her most famous songs, but, since Gaga has never been shy about her political leanings, this feels like a song that will make a quiet statement. Of course, don't be surprised if Gaga decides to speak up for those groups that are being marginalized by President Donald Trump.
5. She'll Perform Her Biggest Hit
That would be "Poker Face." Expect her to be bluffin' with her muffin at some point during her medley.
6. She'll Sing "Applause" For The Applause
If you have a song that's all about convincing people to clap for you, can you really not perform it in front of millions? The answer is simply no. Expect Gaga to at least perform the chorus from this 2013 song in the hopes that people will follow its instructions.
7. She'll Throw In An Underrated Favorite
That would be "Edge Of Glory." The track off 2011's Born This Way wasn't a No. 1 hit for Gaga, but it's a fan favorite that fits the theme of the day. Call this a win for Mother Monster.
8. She'll Go Back To Her Roots
This is going to be a journey for Gaga, who's said that this performance is one's she's been preparing her whole life for. "I've been planning this since I was 4," she said in a behind the scenes video. "So I know exactly what I'm going to do." What I think she'll do is revisit her first single "Just Dance," which, way back in 2008, gave the world its first taste of Gaga. It was her first step to getting where she is today.
These are only guesses of what Lady Gaga will perform, but, since she's never been one to stick to the norms, don't be surprised if she's got a few surprises up her sleeves. Like performing on the roof of NRG stadium, for example.