What Comey's Testimony Reveals About Trump's Lust For Loyalty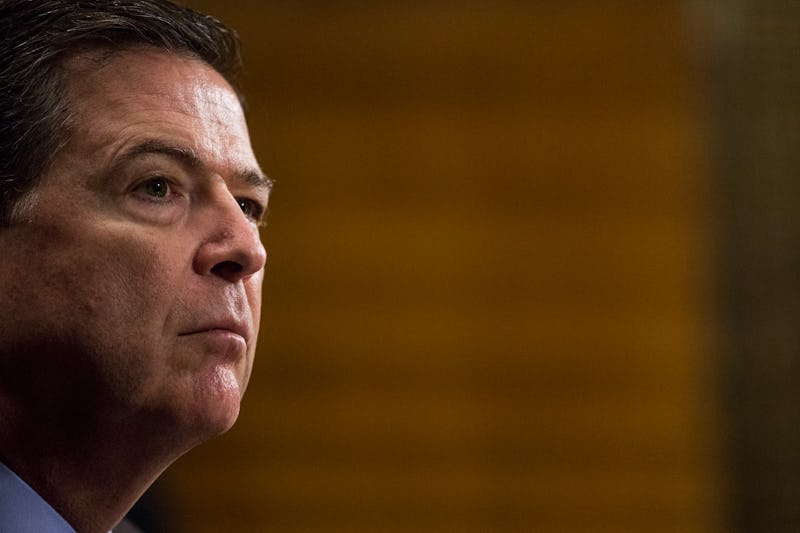 Zach Gibson/Getty Images News/Getty Images
Former FBI Director James Comey will testify before the Senate Intelligence Committee on Thursday morning, but the committee has already released Comey's prepared remarks ahead of time. One thing becomes quickly apparent from the transcript: Trump's repeated demands of Comey's loyalty may have left Comey and Trump to interpret "honest loyalty" in completely different ways.
According to Comey's remarks, Trump first broached the topic of loyalty on Jan. 27, when they had dinner together at the White House. Over the course of this dinner, Comey's remarks indicate that Trump demanded his loyalty several times — and Comey was clearly uncomfortable.
"My instincts told me that the one-on-one setting, and the pretense that this was our first discussion about my position, meant the dinner was, at least in part, an effort to have me ask for my job and create some sort of patronage relationship," Comey plans to say during his testimony. "That concerned me greatly, given the FBI's traditionally independent status in the executive branch."
Later on during the dinner, Trump's intentions were confirmed. The two men did indeed discuss Comey's job, and his plan to finish his 10-year tenure as FBI director, but Trump's main goal in inviting Comey to dinner that night was to obtain a promise. "I need loyalty, I expect loyalty," the president insisted.
"Near the end of our dinner, the president returned to the subject of my job, saying he was very glad I wanted to stay, adding that he had heard great things about me from Jim Mattis, Jeff Sessions, and many others. He then said, 'I need loyalty.' I replied, 'You will always get honesty from me.' He paused and then said, 'That's what I want, honest loyalty.' I paused, and then said, 'You will get that from me.' As I wrote in the memo I created immediately after the dinner, it is possible we understood the phrase 'honest loyalty' differently, but I decided it wouldn't be productive to push it further. The term — honest loyalty — had helped end a very awkward conversation and my explanations had made clear what he should expect."
From this exchange, it's quite clear that it was not honesty that Trump sought. Comey compromised by promising "honest loyalty," but Trump seems to expect loyalty from those around him with no compromises.
More worrisome, however, is Trump's insistence that the head of an independent agency risk a conflict of interest and worse for the sake of pledging loyalty to the president. This isn't just completely undemocratic; it essentially screams authoritarian tendencies.
Trump's language in these exchanges is not what one would expect of a president interacting with the head of an intelligence agency in any democratic context. Instead, it is symptomatic of a man who seeks control and power, and who will attempt to surround himself with people who are loyal rather than those who do their jobs.
When Comey delivers his remarks on Thursday, it will be worth noting that he chose to carefully document his one-on-one interactions with Trump — something he did not do with former President Barack Obama. Comey must have anticipated that Trump would try to distort accounts of their conversations — indeed, when Comey was fired, Trump insinuated that Comey had not been honest with him — and his prepared remarks contain some concerning revelations. Now that Comey's remarks have been released, however, Trump is reportedly feeling "vindicated" because Comey has publicly confirmed that the president was not under investigation.
Comey may not have given Trump his loyalty, but he has certainly left the American people with a number of questions about the president's compliance with the rules governing his office.