Here's When The Women's March On Washington Starts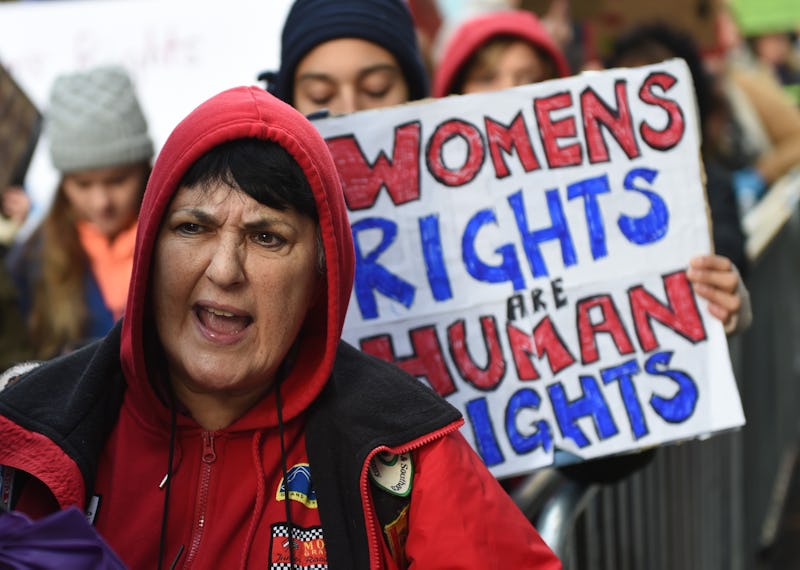 TIMOTHY A. CLARY/AFP/Getty Images
More than 200,000 people are preparing to gather in Washington D.C. the day after the inauguration of Donald Trump to march in solidarity with the belief that "women's rights are human rights." What time does the Women's March on Washington start? Participants will gather in Washington D.C. at the intersection of Independence Ave. and Third St SW, at 10:00 am on January 21, 2017.
In the wake of an election cycle fueled by hatred, the Women's March on Washington is intended to show the incoming administration that Americans will stand strong for women, their families, and the many people whose lives stand to be made more vulnerable by the attitudes of the new government. "We stand together, recognizing that defending the most marginalized among us is defending all of us," the event's mission statement reads.
"We want to ensure that this country knows women are not happy," event co-founder Tamika Mallory told NPR. "And when we get angry, change happens. We make things happen." Mallory stressed that the march isn't meant as an attack on Donald Trump. "This effort is not anti-Trump," Mallory said. "This is pro-women. This is a continuation of a struggle women have been dealing with for a very long time. In this moment, we are connecting and being as loud as possible."
Following a change in the march's proposed meeting place, the Women's March on Washington is now set to convene at 10 a.m. at Independence Avenue and Third Street SW, near the U.S. Capitol. If you are not able to get to D.C., but you still want to participate, look into attending one of the sister marches being planned in cities across theUnited States and abroad. (You can find a listing here). Just be sure to check your city's schedule, as its start time might be different from the one in Washington.