Here's When To Expect Taylor Swift's New Single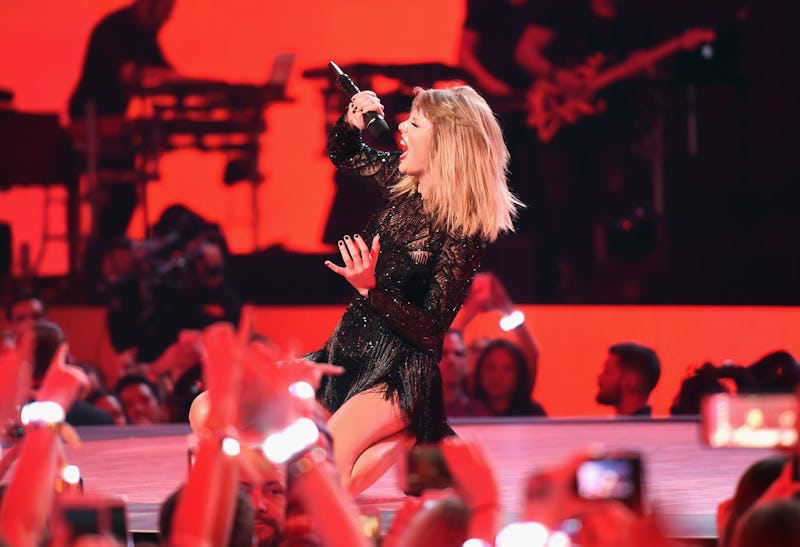 Kevin Winter/Getty Images Entertainment/Getty Images
Fans now know that they're getting new music from Taylor Swift on Thursday, Aug. 24, but they're not 100 percent sure when. So naturally, what time Swift's new single will drop is the question that everyone is asking right now. And who could blame them? It will be just over 18 months after the last time she released a new track, "New Romantics," which dropped way back on Feb. 23, 2016. No wonder her fans are so, so primed to hear new work.
Update: According to ABC News correspondent Clayton Sandell, Swift's single will drop at 12:01 a.m. EST. Which makes it more of a Friday morning surprise than a Thursday night one, but who's complaining?
Earlier: Swift has given the first clue — instead of just telling everyone it would be out "tomorrow," she's specified it will be out tomorrow night. But since this is still pretty general, pinpointing exactly when involves using a bit of common sense. After all, her team are nothing if not digital natives — as the Verge has already noted, they've previously done things like buy up all conceivable adult-themed domain names with "Taylor Swift" to avoid potential abuse, and her massive social media following figures speak for themselves (at the time of writing: 102 million followers on Instagram, 85 million followers on Twitter, 74 million followers on Facebook). So the smart bet is on the singer releasing her music at a time that's savvy, not spontaneous.
Given that she has the widest reach on Instagram, presumably she would try to post at a time when most users are active on the channel. This seems supported by her choice of day — "#1" Instagram marketing platform Later.com cites Wednesdays and Thursdays as the best time to post on Instagram in terms of engagement, suggesting she's already done her research. CoSchedule also cites Thursday (along with Monday) as one of the week's best days to post on Instagram. And what about the hour? According to Later, 7-9 p.m. is the optimal time, and The Daily Dot tentatively agrees, depending on a user's Instagram audience. ("If the majority of your audience works the conventional 9-to-5, it makes more sense to post between 7 p.m. to 9 p.m. on a weeknight rather than at 10 a.m.")
This said, it also depends on whether Swift is aiming to focus primarily on North America, or if she's hoping for world domination. In the latter case, she'd probably want to post extremely late at night, so Central Europe would wake up to a news cycle dominated by her song.
In short, there's sadly no cut-and-dried answer for this one. The safest possible option? Keep your eyes trained on your Instagram stream from 7 p.m. onward.