Here's What You Can Do If You're Triggered By The Logan Paul Video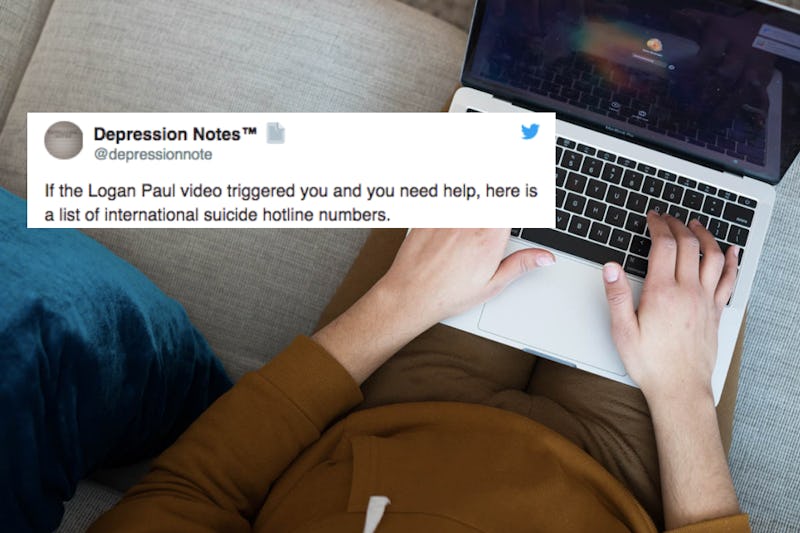 Ashley Batz/Bustle
YouTuber Logan Paul has faced widespread criticism after he uploaded a video of himself walking through Aokigahara, the forest at the base of Mt. Fuji in Japan that is commonly known as the "suicide forest," where he filmed what appeared to be a dead body. The video has now been taken down, and Paul has issued two apologies on both his Twitter and his YouTube page, saying he "intended to raise awareness for suicide and suicide prevention" and "was misguided by shock and awe." A spokesperson for YouTube told Bustle the video violated its community guidelines. Many people found the Logan Paul video triggering for its tone deaf attitude toward death by suicide. If Paul's actions and continued coverage on social media and the news are triggering to you, there are a number of things you can do.
Dr. Lata McGinn, director of the Cognitive Behavior Therapy Training Program for Anxiety and Depressive Disorders at the Ferkauf Graduate School of Psychology and the cofounder of Cognitive Behavioral Consultants, tells Bustle that the primary thing to do if you're feeling triggered is to seek professional help. The fact that you're being triggered means the traumatic event(s) and associations you have need to be addressed in a controlled way, likely through cognitive behavioral therapy, McGinn says.
Paul's video may be particularly damaging to folks who have associations tied to its content because it exposes them to their trauma in an uncontrolled, "gratuitous" way, she says. "When we do exposure therapy to help people, we're not exposing them to gratuitous things," McGinn explains. "If someone has been traumatized, then to be unexpectedly shown something like this [...] could trigger someone who is vulnerable."
It's also important to be gentle with yourself, and to avoid internalizing feelings of weakness, guilt, or shame, McGinn says. "It's a matter of not seeing [yourself] as weak, not seeing [yourself] as not being able to handle it, but to essentially acknowledge [those feelings] and come to seek help," she says. Being gentle with yourself may sound nebulous and maybe even a little weird, but it's essential. Know that your feelings are valid. Videos, tweets, and news stories can be legitimately triggering.
Another thing that could help if you're feeling utterly overwhelmed is to step back from social media for a while, or filter what it shows you. With so many viral tweets about the video from people who have millions of followers, the lifetime of this story may feel endless. It will fade, but until it does, it may be helpful for you to disengage from social media for a while.
Since that may not be possible for everyone, there are a few helpful apps that can assist you with filtering your social streams: Twitter's TweetDeck, which has a built-in mute function into which you can input words, phrases, or hashtags you want removed from your feed; Social Fixer for Google Chrome, which can help filter Facebook, since there's no Facebook equivalent of TweetDeck; and Tumblr Savior for Tumblr, where you can blacklist words and tags. There's also the Google Chrome extension Sadblock, which developers say will block sad and triggering content across your browser, from social media to news sites.
Again, remember that with stories like this one, where the embedded triggers feel not only present but everpresent, you may also want or need repeated assistance from your support network outside your chosen mental health professional. That's normal. Many people who have needed support during bad mental health times know it can be easy to feel like you're burdening the people in your support network; however, while you should definitely be mindful of folks in your support network who might have similar triggers, you should also never hesitate to reach out to people who are willing and able to help you.
And if you feel like your support network isn't helping you, please remember there are trained people waiting on the other end of every hotline, and that there are also organizations that offer text chat for folks who don't want to or aren't able to talk on the phone. Some of these resources are:
No matter what your personal situation is, or how you have been affected by the video and its fallout, make sure to take care of yourself and your mental health, and reach out to others if you need to. You are not alone.
If you or someone you know is dealing with suicidal thoughts, call the National Suicide Prevention Hotline at 1-800-273-8255, or go to their website, suicidepreventionlifeline.org.