21 Small Changes To Make To Your Relationship When You're Feeling Bored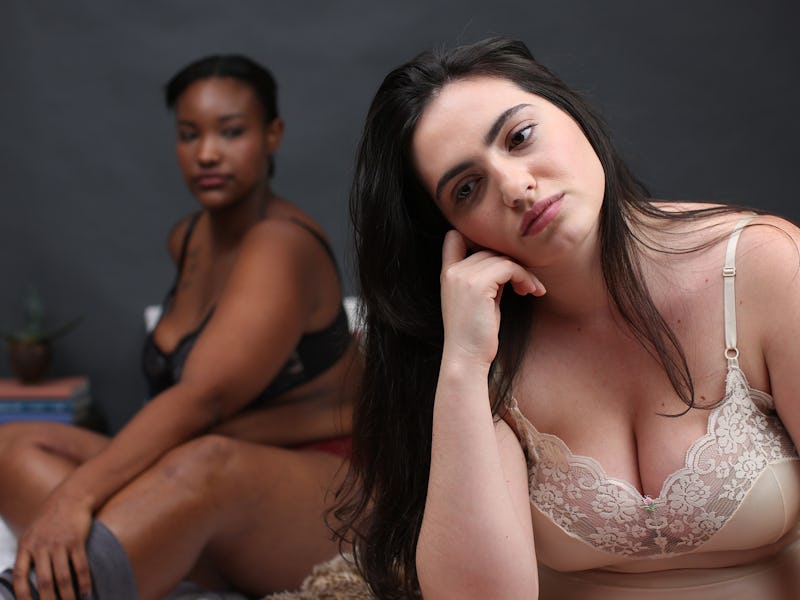 Ashley Batz for Bustle
As much as many of us would like to believe otherwise, healthy long-term relationships require work. And one great reminder that love takes effort is when you're feeling bored in your relationship. After all, if you're not willing to get a little creative, how else are you supposed to get out of a rut?
In a recent Bustle survey of 427 women, ages 18 to 35, 43 percent of those in relationships said they sometimes feel bored in their relationship, so you're definitely not alone if you've ever felt this way. Only three percent of participants said it was extremely likely they'd breakup over feeling bored, so ruts are not an automatic death sentence to your relationship. But they are a sign it's time to make a change.
It's only when things don't change that boredom becomes a bigger relationship issue. According to the survey, 56 percent of those in relationships believe if things didn't seem like they were improving, they'd end it. So, it's really all about taking actions to get out of boredom. The good news is, there are so many things you can do to freshen up your relationship, and they don't have to be grand gestures. But before you start to make any changes, it's important to think about why you may be feeling tired of the relationship in the first place.
"Are you each so busy leading your private lives that you have no time for each other and have drifted apart, or do you spend too much time together?" Caleb Backe, health and wellness expert for Maple Holistics, tells Bustle. "Spending time together is essential for a healthy relationship, but it is also just as important for couples to have their separate 'me' time. When partners can each lead separate lives outside of their relationship, whether this is with their career, job, social circle, or personal hobbies and passions that they're pursuing, they are less likely to get bored of each other. Couples who aren't satisfied with their personal lives may have unrealistic expectations of what they would like to get out of their relationship, leading to boredom and disappointment when the relationship does not satisfy all their personal needs. For some couples, their separate careers or jobs are enough to offer them personal fulfillment, but for other couples, especially if they are in the same career or one partner isn't working, they may need something more."
Once you identify the source of boredom, it's time to figure out a way to switch things up that makes sense for you as a couple. And as you'll see below, a lot of these small changes involve breaking out of your everyday routine. "It's easy to get stuck in same old same old, but that can drain your energy and even reduce your interest in your partner," Jill Whitney, licensed marriage and family therapist, tells Bustle. "The best way to reduce boredom in a relationship is to add novelty. Anything new that shifts your routine or helps you see your partner in a new light can liven things up."
Here are 21 small changes to make to your relationship when you're feeling bored, according to experts.