What To Eat At Panera Bread If You're Vegan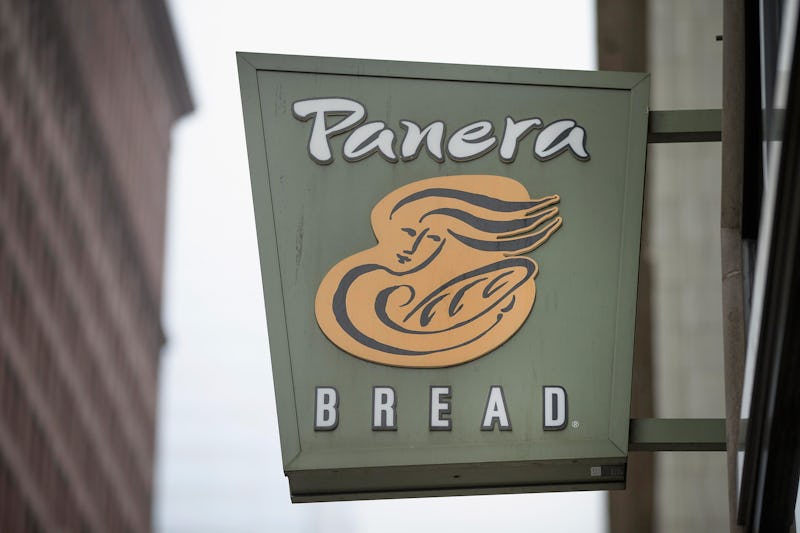 Scott Olson/Getty Images News/Getty Images
It took a lot of guts and courage, but Panera Bread came through with their promise: to supply a 100 percent clean menu for customers by the end of 2016. Now, with their fully unveiled clean menu and detailed nutritional and ingredient lists for every single product they sell, it's actually possible to be a vegan at a place like Panera. So what can vegans eat at Panera Bread?
According to an article published by Fortune, back in 2015 Panera Bread actually released a list of 96 different ingredients that they were hoping to completely scrap from their menu. The thought process came from Panera Bread founder and CEO Ron Shaich, who expressed that he would rather serve his kids (who eat at Panera often) to eat food that wasn't considered junk. Their No-No list is easily downloadable on their site, as well as their food policy that lets customers know upfront exactly the ingredients being used and what to expect from these products.
Now what's important to note about Panera bread is their use of honey in different bread products. Although honey is considered a clean ingredient, it's actually not an approved ingredient for vegans to consume. So that still cuts out a lot of possible items for vegans to order. Still, having an exposed menu allows for vegans to fully understand what is in their products and still feel safe ordering lunch at Panera Bread.
Here are the products available for vegans to order:
Bagels
Blueberry bagel
Everything bagel
Plain bagel
Sesame bagel
Bread
Country
Hoagie
Sourdough
French baguette
Sea salt focaccia
Ciabatta
Sesame semolina
Rye
Soup
Low-fat vegetarian black bean
Salad
Drinks
Espresso
Hot tea
Fresh brewed coffee
Carrot pineapple smoothie
Green passion smoothie
Iced coffee
Brewed iced tea
Lemonade
Pellegrino
Strawberry paradise juice
Grapefruit soda
Spindrift seltzer