Kate Middleton Will Be Back From Maternity Leave Soon — Here's What She May Be Doing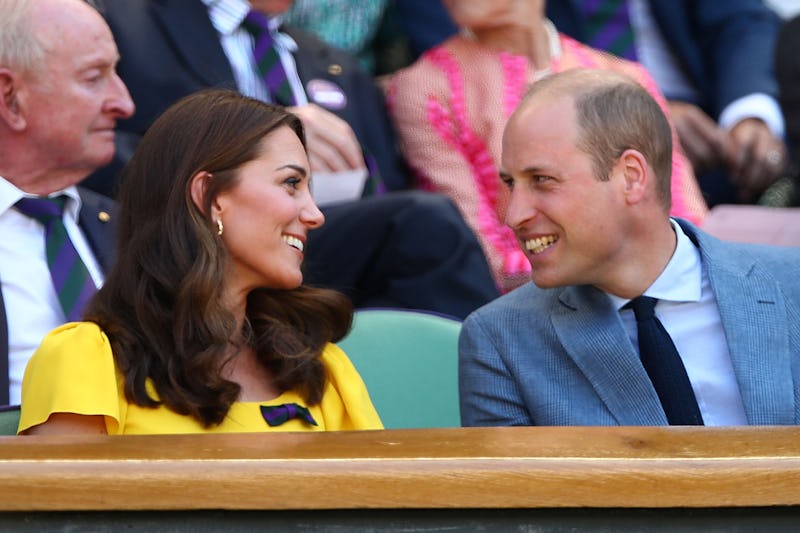 Clive Brunskill/Getty Images Entertainment/Getty Images
Kate Middleton is expected to return from maternity leave soon, after giving birth this past spring on Apr. 23 to Prince Louis, her third child. Since the birth of the new prince, the Duchess of Cambridge has kept her public commitments to a minimum, according to Marie Claire. Marie Claire further reports that Middleton is expected to wrap up her six-month maternity leave — which is the customary break for new royal moms — in October.
The Duchess of Cambridge did prioritize a few family occasions while on maternity leave, and attended the wedding of Prince Harry and Meghan Markle on May 19. (She also dropped Prince George off at school just one day after giving birth to his younger brother, which is pretty impressive for any new mom.) Middleton was also seen at Wimbledon with her now sister-in-law in July, and made an appearance at the Royal Air Force Ceremony that same month. Marie Claire further reports that the Duchess also joined the royal family at the Trooping the Colour event in June. And now, with her appearance this week at the farewell ceremony of Prince William's private secretary and former senior advisor, Miguel Head, Elle UK speculates that Middleton probably plans to return from maternity leave soon — though Kensington Palace hasn't confirmed an official return date yet.
So, once Middleton is back to her royal duties, what will she be up to? Popsugar reports that Middleton's interest in various charities is extensive, and with seven years as a member of the royal family under her belt, she's shown a lot of commitment to the causes she's most passionate about. Popsugar further reports that the Duchess of Cambridge has always held a clear vision about those issues she's chosen to dedicate herself to.
With Prince William's recent public mention of his own struggles with mental health after serving in the Royal Air Force, according to Cosmopolitan, it's possible that Middleton will re-dedicate herself to work in the mental health arena — an area she has previously supported, Popsugar notes. Both she and Prince William are supporters of the Mental Health at Work site, a UK site dedicated to improving access to mental health resources in the workplace. Mental Health at Work supports workers by offering information from top mental health organizations in the UK, including courses, videos, and online guides — all aimed at boosting mental health and well-being while on the job.
Regardless of what her upcoming schedule might be, the Duchess of Cambridge is sure to be as busy as ever. Popsugar notes that in addition to her support of mental health and addiction initiatives, Middleton is also a keen supporter of charities emphasizing the well-being of children, sports programs, and the arts, including Action on Addiction, The Natural History Museum, and East Anglia Children's Hospices. Middleton and Prince William, along with Prince Harry, also head up the Royal Foundation of the Duke and Duchess of Cambridge and Prince Harry, which serves as the main vehicle of their combined charitable works. And with involvement in over a dozen charities overall, plus her calendar of official royal engagements, we'll surely being seeing more of the Duchess again soon.