What Prince William & Kate Middleton Will Name Their Baby Is Still Anyone's Guess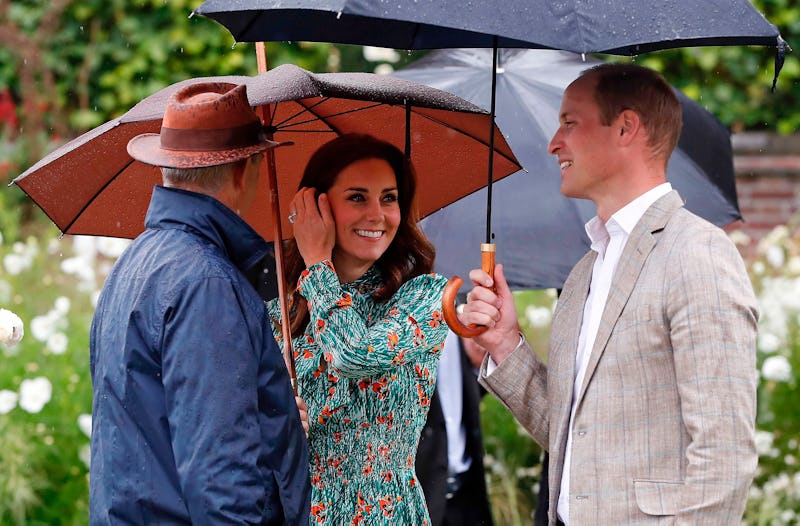 KIRSTY WIGGLESWORTH/AFP/Getty Images
The British royal family is officially getting bigger, as Prince William and Kate Middleton are having a third child, which Kensington Palace confirmed on Monday via a press release. Middleton is still early on in her pregnancy, so details are scarce, and what William and Kate will name their baby is a mystery. Still, there are some predictions to be made.
In the past, the couple has kept things quite traditional. Their first child, George Alexander Louis, shares name with Queen Elizabeth's father, King George VI, who reigned the U.K. from 1936 until his death in 1952. According to CNN, it's also considered a patriotic choice: Saint George, patron saint of England, is known for his legendary defeat of a dragon in the third century. George's middle name, Alexander, has historical ties.
The same applies to William and Kate's second child, Princess Charlotte Elizabeth Diana. Though, per CNN, Charlotte has not been used by a member of the royal family in over two hundred years, it is the feminine form of Charles, William's father's name, and has deep roots within the royal family, as does Elizabeth. Diana, of course, is the name of William's late mother, Princess Diana of Wales.
At this point, William and Kate don't even know whether they're having a boy or girl, which makes picking out a name rather difficult. But whatever they land on, you can be sure it will be something with both historical and familial significance, and with a monarchy that spans literal centuries, they have plenty of options to choose from.