Meghan & Harry's Kids Could Have Pretty Cool Titles, But It's Not That Simple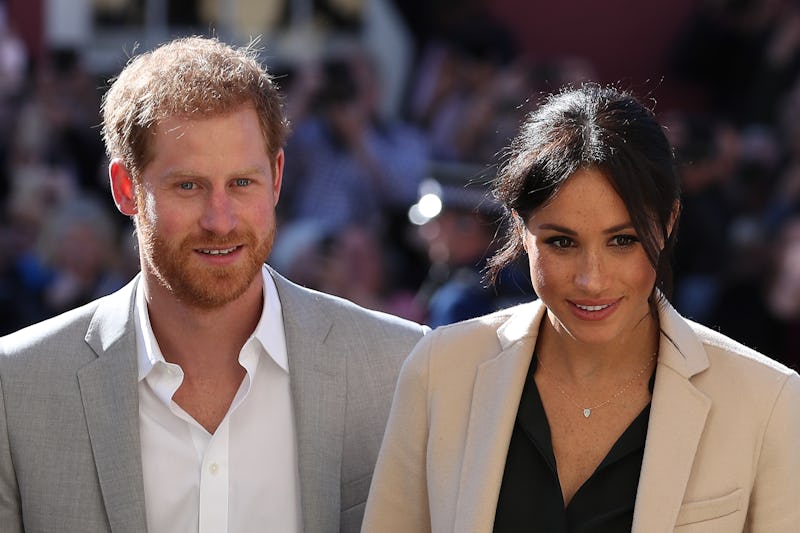 WPA Pool/Getty Images Entertainment/Getty Images
There is no denying it, when it comes to titles within the royal family things can get a little bit confusing. Not least because it is such a big family — and it is about to get a little bigger as Kensington Palace announced that Meghan Markle and Prince Harry are expecting their first child. The Duke and Duchess of Sussex revealed they will welcome the baby in spring 2019, but what will Meghan Markle and Prince Harry's children's title be?
Well, it turns out, if you are born into royalty you get a title at birth — but it is all very confusing. I mean, will they be a prince or princess? In short, maybe not. Limits to titles implemented by King George V in 1917 mean that the grandchildren of the sovereign (currently the Queen) can enjoy the titles of Duke and Duchess. However, Harry and Meghan's child is the great-grandchild of the Queen, so this rule will not apply to them.
This means that if Harry and Markle have a boy, he will most likely be an Earl. Alternatively, if they have a girl, she will get the title of Lady. As the child will be their first, if it is a boy he can take on one of Prince Harry's subsidiary titles. He could therefore have the title Earl of Dumbarton, which was given to Harry on the morning of his wedding day by the Queen. Meanwhile, all other boys the couple may have will be known as Lord (first name) Mountbatten-Windsor and any girls will get the title of Lady (first name) Mountbatten-Windsor.
However, just as you have got your head around that, changes are afoot. When the Duke and Duchess of Cambridge had their first child, Prince George the Queen granted him the title of 'His Royal Highness'. In fact, the Queen granted the same titles to all of Prince William and Kate Middleton's children. This is why Charlotte and Louis are also a princess and prince. If the Queen makes the same exception for Prince Harry and Meghan Markle's child, they will be known as prince or princess, however, this is unlikely.
I contacted a press representative for Prince Harry and Markle to see if there is any further clarity as to what the titles of their future children will be. A spokesperson for the royal couple tells me that there will be no further comment at this stage.
Prince or Duke? Princess or Lady? It looks like nothing is set in stone right now. However, there is one thing we know for sure, that's that the new royal arrival is going to be one extremely cute baby. Whilst I wouldn't call myself a royalist, there is something so accessible about Prince Harry and Markle, you can't help but really like them. As they start their royal tour which will take them to Australia, Fiji, Tonga, and New Zealand, I wish them all of the luck in the world. Personally, I can't wait for the new royal baby, whatever title the little one will hold.