Miss America Contestants Won't Be Judged On Swimsuits & Glam Gowns Anymore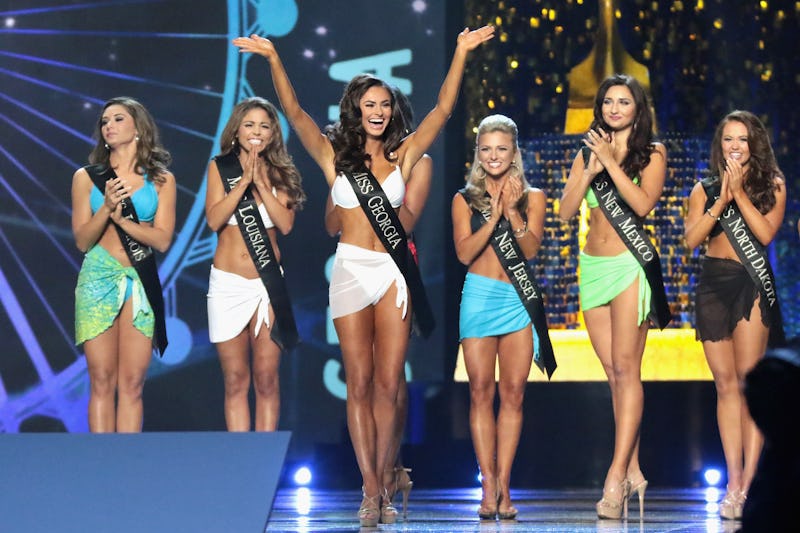 Donald Kravitz/Getty Images Entertainment/Getty Images
On September 9, 2018, in Atlantic City, New Jersey, 51 women will gather on stage to see who will be crowned Miss America 2019 in the Miss America Organization's 98th year. However, this year's winner may be crowned in jeans and a T-shirt.
On June 5, Miss America 1989 Gretchen Carlson and the new chairwoman of the organization, appeared on Good Morning America to share the changes that will come to the pageant, starting with a name change from "pageant" to "competition."
"We are no longer a Pageant. Miss America will represent a new generation of female leaders focused on scholarship, social impact, talent, and empowerment," said Carlson.
The former Miss America also announced that there will no longer be a swimsuit phase of the competition, despite the pageant's origins as a swimsuit pageant to bring tourism to the Jersey beach town. This is one change resulting in a move away from judges judging contestants on their outward physical appearance.
The organization released a press release saying, "In its place, each candidate will participate in a live interactive session with the judges, where she will highlight her achievements and goals in life and how she will use her talents, passion, and ambition to perform the job of Miss America."
Along with the changes to the swimsuit portion of the competition, the evening gown phase will also be revamped. The 51 contestants can choose any evening wear of their choosing that expresses their personal style and self-confidence. During this phase, they also will discuss how they plan on advancing their social impact initiatives.
"We're no longer judging women when they come out in their chosen attire, evening wear. Whatever they choose to do. It's going to be what comes out of their mouth that we're interested in when they talk about their social impact initiatives," Carlson said.
While the organization has long been under scrutiny for years to a relevant example where the competition was widely criticized? regarding their swimsuit competition, the pageant came under direct fire in December 2017. Leaked emails from the CEO and top executives of the company revealed sexist and vulgar remarks about past contestants and winners. In the wake of the #MeToo movement, these men resigned, and a new female-led board of trustees took over. These changes were decided by the nine members who make up the Board of Trustees with six the members being former titleholders in the Miss America system and seven of the nine members being female.
With these big changes happening, the organization hopes that it will allow the competition to be more open to women who may not have felt welcomed in the pageant before. Carlson spoke in the same Good Morning America interview about how the organization is now open, inclusive, and transparent. She hopes that these changes inspire young women of all shapes and sizes to join the program because the organization is interested in what makes you-you.
"Who doesn't want to be empowered, learn leadership skills and pay for college? And be able to show the world who you are as a person, from the inside of your soul. That is what we are judging," said Carlson.
The former Miss America pageant was judged with five phases of competition with each phase contributing a certain percent to the overall score. Interview (25 percent) , on-stage question (5 percent), Talent (35 percent), evening wear (20 percent) and lifestyle and fitness swimwear (15 percent). The new scoring guide has not yet been released.
These changes will not affect the pageants in 46 states and the District of Columbia which have not yet held their state competitions this year.
Carlson says that this is a new beginning for the organization. These changes definitely will embark on a new era for the Miss America Organization.