This Is What O.J. Hopes To Do If He Gets Paroled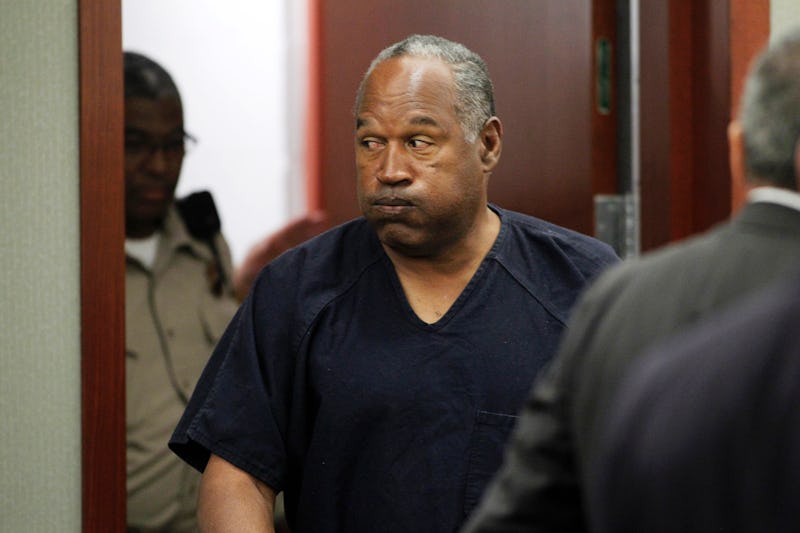 Pool/Getty Images Entertainment/Getty Images
Now 70, O.J. Simpson has spent the last nine years of his life in a medium-security prison in the Nevada desert. Not, of course, for the 1994 double murder of his ex-wife Nicole and her friend, Ron Goldman, but for an armed confrontation over sports memorabilia more than a decade later. Simpson was found guilty of that crime in 2008 and sentenced to nine to 33 years in prison. Now, he has the opportunity for release. What will Simpson do if he is paroled? The odds are good that that will happen when he has his Nevada Board of Parole hearing on Thursday, legal experts say.
If that's the case, a friend of his, Tom Scotto, told ABC News that Simpson wants to "to just keep a low profile, be with his kids, be with his family, play golf." He might not be totally free and clear when he gets out of prison, though: There's a very real possibility that he'll be required to stay in Clark County, Nevada, and perform community service.
Parole hearings are not new to the former NFL star. Simpson already went through the process four years ago, and the board voted in his favor. He noted that he was regretful of the incident in which he stormed a hotel room with a gun to take back sports memorabilia he claimed was his. "My crime was trying to retrieve for my family my own property that was stolen from me," he told the parole board at the time. "I wish I had never gone to that room. I wish I had just said keep it and not worry about it."
O.J. was not released because the sentences had to run consecutively, ABC News reported. Nine years was the minimum sentence, but he could stay in up to 33 years — a steep punishment that some suspect has more to do with the murder charges of which he was acquitted than the actual crime in question. CBS News reported that legal experts suspect he'll be granted parole.
The decision will be granted the same day, based on factors like his conduct as a prisoner, participation in prison programs, and a risk of reoffending assessment. Nevada defense attorney Dan Hill told CNN that therefore it's likely he will be released: "Simpson's age, the fact that he was given parole on the first sentencing batch, weigh in his favor," Hill told the news channel. "So does the fact that he was by all accounts a model prisoner, as does any acceptance of responsibility for his actions."
The double murder case returned to the national conversation last year when FX's American Crime Story recounted the whole drama on cable television. The miniseries won nine Emmy awards out of 22 nominations. It drew some 8 million viewers during its premiere episode, the largest ever for FX.