What Robert Mueller Will Be Tasked With Investigating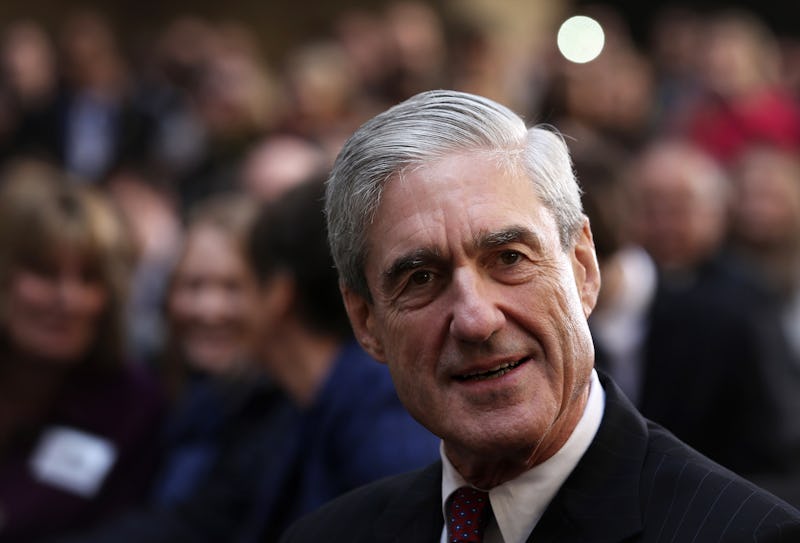 Alex Wong/Getty Images News/Getty Images
The investigation into Russian interference in the 2016 election and possible collusion between President Trump's campaign and Russian officials has been underway at the FBI since last July. Unlike with Hillary Clinton's emails, there was no public announcement until this March when then-FBI Director James Comey testified in front of the House of Representatives' Select Intelligence Committee. Since the announcement, much has changed. Now that Trump has fired Comey, the investigation will be overseen by a special prosecutor. So what will Robert Mueller investigate? He's been tasked with overseeing the probe into Russian interference in the 2016 U.S. presidential election. So far, Trump has denied any ties between his campaign and Russian officials.
What exactly that entails was made most clear by Comey himself when he acknowledged to that House Committee there was an investigation in March. He was very clear about what the probe included at the time. Comey told the committee:
I've been authorized by the Department of Justice to confirm that the FBI as part of our counterintelligence mission is investigating the Russian government's efforts to interfere in the United States' 2016 presidential election. That includes investigating the nature of any links between individuals associated with the Trump campaign and the Russian government, and whether there was any coordination between the campaign and Russia's efforts.
Exactly who is under investigation wasn't made clear in that moment. Comey explained that as the case is open and classified, he could not share anything more. Nonetheless, it would seem that Michael Flynn is most certainly being investigated. His name has been most tied to the case since it became clear that he had misled Vice President Pence about his contact with the Russian ambassador.
But Flynn may be just one of several figures under investigation. Reuters reported Thursday that there are at least 18 calls and emails between Trump campaign associates and Russian officials and individuals with ties to the Kremlin during the last seven months of the presidential campaign that were not previously disclosed. Some of these were calls between Flynn and the Russian ambassador, but not all. That could widen the circle of individuals under investigation. A spokeswoman from the Russian embassy in Washington, D.C. told Reuters, "We do not comment on our daily contacts with the local interlocutors." Bustle has reached out to the White House for comment.
Trump has tried to make it very clear that he is not being investigated. When he fired Comey, he included in his letter that he had been told by the FBI director three times that he wasn't being investigated. "I greatly appreciate you informing me, on three separate occasions, that I am not under investigation," Trump said.
Also, when Deputy Attorney General Rod Rosenstein appointed Mueller as special prosecutor, Trump professed not only his own innocence, but that of his campaign, too.
"A thorough investigation will confirm what we already know — there was no collusion between my campaign and any foreign entity. I look forward to this matter concluding quickly," Trump said after the appointment.
With the new special prosecutor, working completely independently of the Department of Justice, the investigation could take a turn or expand to include more individuals, just as it could wrap up quickly. But Mueller's starting place will most likely be where Comey left things before his dismissal.