The GOP May Not Be Done With Health Care Just Yet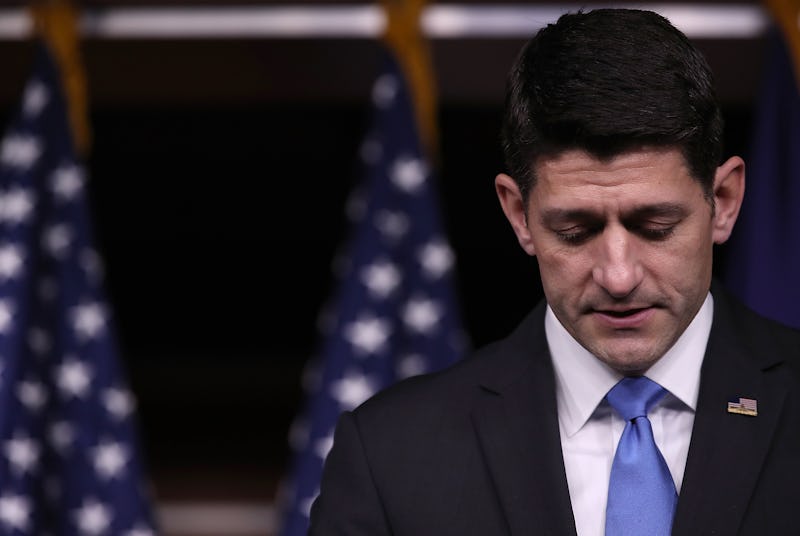 Win McNamee/Getty Images News/Getty Images
Unable to secure the necessary number of votes needed to pass the American Health Care Act, House Republicans withdrew their health care bill Friday, in a major blow to House Speaker Paul Ryan and President Donald Trump. With the GOP's plan to repeal and replace Obamacare effectively sidelined for the time being, many are wondering what Republicans' next steps will be. Will the GOP attempt to resurrect the American Health Care Act through new legislation or table the issue in favor of moving on to tackle other legislative issues, like tax reform?
Following a delayed Thursday vote and a scramble of unsuccessful 11th-hour negotiations, President Trump and senior House Republicans opted to pull legislation aimed at dismantling former President Barack Obama's Affordable Care Act from consideration at the last minute Friday. With the withdrawal of the American Health Care Act, House Republicans are left with some (more) tough choices to make regarding their plans for health care reform.
Empowered with what they learned in negotiations with moderate party members and members of the conservative House Freedom Caucus, Ryan and company could head back to the drawing board, so to speak, to hammer out legislation that would bring enough votes from either group on board. (As Ryan and Trump learned this week, any legislative changes meant to appease conservatives are not likely to find support with moderates, and vice versa.) Similarly, they may decide to table the first prong of their "three-pronged approach to repealing and replacing Obamacare" for a while in favor of focusing on the second and third prongs, which include making regulatory and administrative changes and creating three pieces of legislation aimed at inspiring bipartisan health care reform.
Conversely, Republican Party leaders might also decide to move on from health care reform for the time being, concluding there's no viable means to passing legislation aimed at repealing and replacing Obamacare at this time. Indeed, previously President Trump said he thought the best move politically-speaking would have been to do nothing about Obamacare for two years as he felt the system would "implode" on its own.
"The Dems would come begging to do something," the president said in February at the GOP's annual Conservative Political Action Conference in Philadelphia. "They will come to us."
Although Republicans have a few different options available to them following Trump's request they withdraw the American Health Care Act from consideration, it's still relatively unclear which path they'll head down as neither the White House nor senior House Republicans seemed open to discussing the possibility of failure ahead of Friday's planned vote.
"We're not looking at a Plan B," White House Press Secretary Sean Spicer told reporters Wednesday when asked what the president planned to do if negotiations for "yes" voted failed to overturn the support needed to pass the legislation. "We have Plan A. It is going to pass, we are going to go from there."
While Friday's withdrawal has certainly puts the fate of Republicans' health care plan into question, things might get especially dicey for the GOP when it comes to the 2018 elections. Along with dealing a major blow to Trump's reputation as a deal-maker, the decision to withdraw the American Health Care Act also means one of Republicans' major campaign promises will go continue to go unfulfilled.