Which Wines Pair Well With Cheese?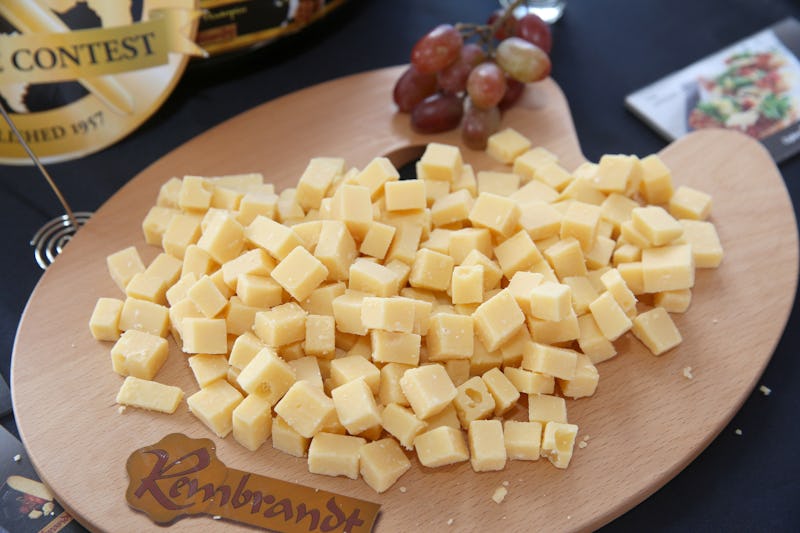 Aaron Davidson/Getty Images Entertainment/Getty Images
Ahhhh. Smell that? No, it's not the scent of florals wafting through the spring air… it's a pungent cheese smell, and that can only mean one thing: National Cheese Day is right around the corner! There's no better way to celebrate this funky holiday than with a hunk of aged cheese and a glass of fine wine. But if you're new to the cheese game, you might be a little uncertain about which wines pair well with cheeses. Fear not! I've got your quick and dirty guide to fine wines and stinky cheeses right here.
If pairing wine with cheese sounds like a bit of mystery to you, you aren't alone. But, there are a few shortcuts to remember that can help you out if you're in a pinch. The best pairings usually come from the same regions, so look for a wine and cheese that hail from the same country. Cheeses with higher fat contents usually pair better with smooth, oily wines, while acidic cheeses are normally best suited for sweeter, more alcoholic wines. And if you're going for a salty cheese, choose a wine with a high acidity.
A couple notes before we dive in: when it comes to wine and cheese tasting, half the battle is finding something that suits your palette. Not everyone will love the tanginess of a funky blue cheese, or the liquid gold that is epoisses. Similarly, if you hate white wine, don't pucker your way through it in the name of National Cheese Day. Instead, stick to what you love, and ask your local cheese-monger or sommelier for suggestions.
Or, consult this handy list below, which is chock-full of enough cheese and wine hacks to keep you cheesed out and happy until next year's celebration.
A BLOOMY CHEESE
Creamy, decadent, soft rind
Go for...
Camembert And Champagne
According to Fiona Beckett on Matching Food And Wine, this pairing works even better if the Camembert has been baked.
Brie And Rose
Preferably a fruity, dry Rosé — just in time for summer!
Goat And Chardonnay
The tangy creaminess of goat cheese was nearly made for the good balance of a dry chardonnay.
A HARD CHEESE
Stiff, sharp, salty, aged
Go for...
Parmesan and Prosecco
If you're nibbling during the day, this Prosecco and parm combo might be your best bet. Both are light and airy without sacrificing flavor. And the bubbles in the bubbly curb that parmesan's saltiness quite nicely.
Sharp Cheddar And Chilean Pinot Noir
Because the sharpness of the cheddar is so intense, it's best to go with an ultra-fruity wine as a pairing. A Chilean Pinot that's been aged a few years offers a nice, fruit-forward sweetness.
Cloth-bound Cheddar And Cabernet Sauvignon
Although many naysayers would turn their nose up at the idea of pairing red wine with cheese, others say something nutty and mild like a Vermont Cloth-bound cheddar pair beautifully.
Gouda and Merlot
It takes a full-bodied wine to stand up to gouda's nuttiness, and Merlot does just that. The pair is fairly mild together, so it shouldn't overpower your taste buds.
Gruyére And Sauvignon Blanc
A basic cheese for a basic wine… judgment aside, Gruyére and Sauvignon Blanc are great for when you want a nice, mild afternoon cheeseboard snack.
Manchego And Rioja
A Spanish cheese for a Spanish wine! The sweeter notes in the Manchego pair well with a Rioja.
A BLUE CHEESE
Pungent, salty, blue veins.
Go for...
Gorgonzola With Chianti
You'll want something well-structured to balance gorgonzola's spice. A nice Chianti (middle shelf, if you can swing it) will be perfect.
Stilton With Port
Preferably a vintage port, but if you're not yet living your best wine life, a newer one will do the trick.
Blue With Riesling
Because blue cheese is so salty, pungent, and rich, you're going to want a sweet wine to counteract that delicious moldy funky. A German Riesling or a French Sauternes offers the perfect counter-balance.
A FRESH CHEESE:
Soft, spreadable, tangy or mild
Go for...
Humboldt Fog With Pinot Gregio
The ash of the rind plays wells with Pinot Gregio's dry nature.
Goat With Chenin Blanc
This pairing is all about the sweet and sour flavor profile. Pair a Chenin Blanc with an herb goat cheese and rosemary crackers.
Epoisses With Beaujolais Nouveau
The boldness and brightness of a Beaujolais tends to fare nicely with a similarly bold cow's milk cheese, and the ultra-rich epoisses might just be its perfect match.
Burrata With Pinot Gris
The fairest cheese of all (in my humble opinion), a creamy, pillowy, light burrata needs a light wine to go with it. Pinot Gris is a perfect choice.