Dolly Parton's Creative Process Will Definitely Inspire You If You're In A Writing Rut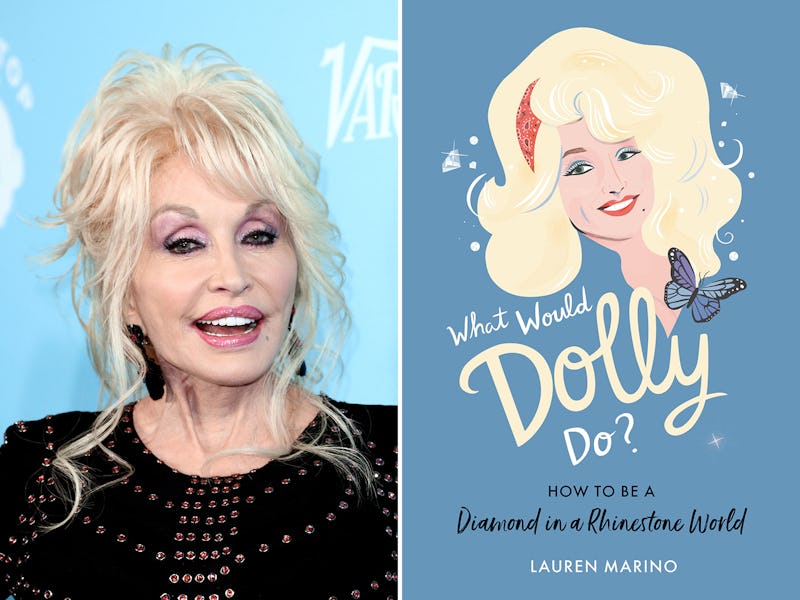 Frederick M. Brown/Getty Images Entertainment/Getty Images; Grand Central Publishing
Singer Dolly Parton has long been a feminist icon for many — including me. From her unabashed (and often hilariously tongue-in-cheek) honesty about her looks, to her iconic roles in female-centric films 9 to 5 and Steel Magnolias — and, most importantly, her incredible commitment to spreading literacy through her nonprofit Imagination Library — Parton has been a constant fixture in the public consciousness for decades. And in her new book, What Would Dolly Do?: How To Be A Diamond In A Rhinestone World, out April 24, Lauren Marino expands on Parton's influence through a tribute that is part biography, part inspiration, and part words of wisdom, highlighting the very best of Dolly Parton.
Marino was inspired to write the book after a rough patch in her own life, in which she turned to Parton, a personal icon during her teen years, and learned as much as she could about the singer's life story. She writes:
"She gave me hope and reminded me what I was made of at a time when I needed it most through both her song and her example. None of us get out of this life unscathed. We only get one time around, so we need to make the most of it. There's no better example on how to do this than Ms. Dolly Parton. As a result, I find it helpful when faced with a dilemma to ask the question, 'What Would Dolly Do?' and it makes me stand a little taller.'"
Whether you're looking for tips on cultivating your own unapologetic personal style, want to become a better businesswoman or need some help getting out of a bout of the blues, Parton is here for you. And creative inspiration? She's got that in spades. Although many of us might think of Parton as mostly a singer and actress, she is actually an intensely creative person who can multi-task with the best of them. And, as Marino reveals in What Would Dolly Do?, she is someone all creatives — especially writers — should look up to. When it comes to my own creative pursuits, Parton has definitely inspired me to do things a little differently.
What Would Dolly Do? by Lauren Marino, $22, Amazon
Marino writes:
"The extent of [Parton's] creative powers deserves repeating and her ability to generate ideas and see them come to fruition takes many forms: songwriter, singer, musician, performer, actress, writer/author, film and television producer, Broadway show writer, theme park and dinner theater developer, storyteller, and teller of tall tales."
If you felt exhausted just reading that, remember that Parton is 72-years-old and has been at this for almost six decades. So, how does she do it? Turns out there is a simple secret to her success: joy. Have you ever told yourself that you would wake up early to paint or write or practice an instrument only to groan and hide your head under the covers when the alarm rings? I know it's happened to me all too many times. But for Parton, that simply will not do.
Marino quotes Dolly saying, "I love thinking. I love coming up with great ideas. I just get excited. Sometimes if I get a big idea, I'm just like a kid, like I've found a new toy. I love to make things happen, I love to see things happen. I love to be a part of things that are happening." It's thanks to this pure excitement that Parton tries to wake up at 4 a.m. every morning to write during what she calls the "wee hour of wisdom." But if you think the only way you can be as successful as Parton is to be stringent with your wake-up calls, think again. Marino relates that Parton always stays open to ideas, keeping a notebook, pen and tape recorder with her at all times, even by her bed, her bathtub and in her kitchen.
We tend to hear a lot about creatives who keep a very strict working schedule, one that often includes being up before the sun and being in bed by 10 p.m. — something that has just never quite seemed do-able to me. So it's heartening to know that one of the most talented and successful people of our time gives herself the freedom to follow her joy, and find her inspiration, while just simply living her day to day life. And another way that Parton finds fulfillment in her work is by never limiting herself or second-guessing what she can do — surely a lesson that I, and I'm sure so many others, could stand to learn.
Marino writes:
"It isn't just songs that [Parton] writes. Over the years, Dolly has often talked about countless other things she was writing or planned on writing: self-help books, children's books, short stories, a Broadway show about her life, volumes of poetry, movie scripts, and, of course, her own memoirs...She says she wakes up with new dreams every day and feels like there is still so much for her to do. And the only way to really do that is to take care of yourself and be conscious of your habits and keep focusing your energy on the things you love. That advice works whther you are 30, 50 or 70."
So whatever creative goals you have this summer, this year, or in the next 10 years, take a page out of Marino's book and "be productive, positive, and work as hard as you can." After all, it's exactly what Dolly would do.