'Real Housewives' Star Carole's Ex-BF Adam Is Super Busy Post-Split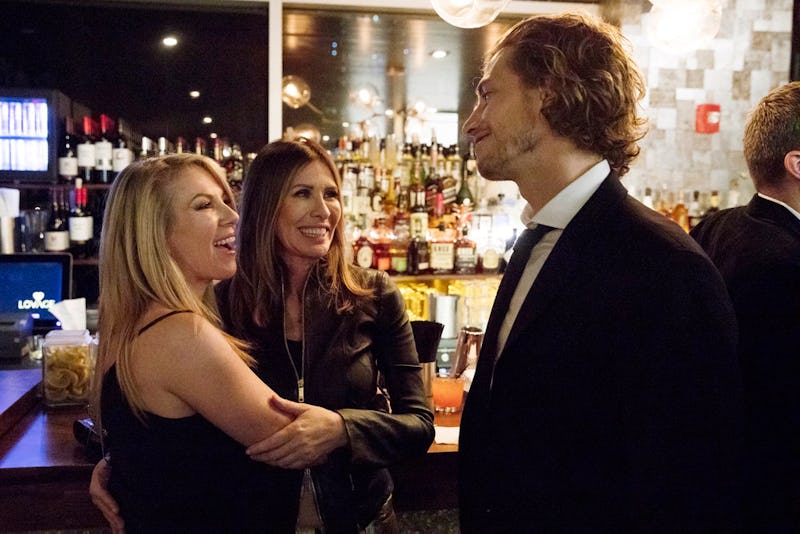 Heidi Gutman/Bravo
Men come and go on the Real Housewives all the time. And speaking of men coming and going on Bravo, Adam Kenworthy, ex-boyfriend of Carole Radziwill, was a fixture on the show until the two split last year-ish. They remain friendly, but what is Adam doing after his breakup with Carole on Real Housewives Of New York?
Adam and Carole met through Luann — after Luann's first divorce, she bought a pad in Sag Harbor (aka the Hamptons) and invited all the ladies to come see it. Well, Adam is a chef, and he was there cooking for the cast, and Adam and Carole hit it off, to say the least. This caused a lot of friction between Luann and Carole, because Adam sort of dated Luann's niece for a minute? Allegedly? And Luann kept making all these statements about how Carole was "robbing the cradle," even though Adam is a grown man and Carole is also a grown woman who can make her own decisions. Nevertheless, the two persisted, and their relationship continued until sometime last year, when they split up. Carole had said on Real Housewives Of New York that they both felt like the relationship went a little too far too fast, so it makes sense — Adam and Carole needed some space to chill out. They did a friends-with-benefits thing, but ultimately, it didn't work out.
That doesn't mean that there's any ill will between the two. Of the breakup, Carole told Page Six TV, "At the end of the day, he's a great guy… we saw it was time to... part ways a little bit. But we might come back together — who knows?" Well, they may have run the New York City Marathon together, but Carole and Adam are certainly not dating. From the looks of his Instagram, it doesn't seem like Adam's dating anyone. Most of his photos involve him traveling, so it looks like he's living quite the life.
Adam is also still a vegan chef, but there's no word about the cookbook, The Reluctant Vegan, that he and Carole were working on a few seasons back. As of 2016, it hadn't happened. Carole and Adam appeared on Watch What Happens Live and Carole said, "We've sort of put it on the backburner… we were just arguing about every time we got together to work on it. It wasn't fun." Well, that's a good reason to stop doing something — it probably would have led to Carole and Adam breaking up faster. Still, Adam's Instagram is full of delicious-looking recipes for his followers, and they look pretty simple, too. Even if you can't cook (or you think you can't), you can probably make some of these healthful dishes.
As far as Adam's love life, it's a mystery. Radar published a report in January 2018 that Adam was allegedly seen on celebrity dating app Raya, but who knows if it's true? It doesn't seem like he's going steady with everyone else, and if he and Carole are still in contact, who's to say that these two aren't just going to get back together? It could happen.
For now, Adam and Carole are living separate lives, and that's cool. Everybody deserves time to do what he or she wants to do, and besides, Carole doesn't have time right now to deal with man drama. She and Bethenny — aka the best friendship to come out of Real Housewives Of New York (sorry, Jill) — need to mend their fractured relationship, and they need to do it before the season ends. Hopefully, they'll have a heart-to-heart and let bygones be bygones.