Here's What Annaliese Is Doing After 'The Bachelor'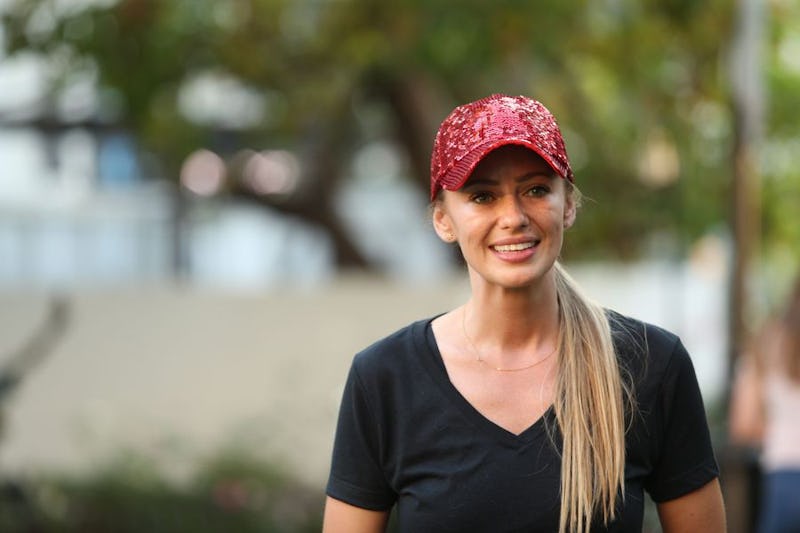 Paul Hebert/ABC
Nothing gold can stay, and eventually, everyone's time on The Bachelor (producers: Fallon Jethroe, Nikki Lazaran) must end. Such is the case with Annaliese Puccini, the masked Bachelor contestant who failed to capture Arie's heart this time around. (Don't sweat it — there's more for you out there.) She's not in the running for a rose anymore, so what is Annaliese doing after The Bachelor?
Poor, poor Annaliese. You may know her as the only Bachelor contestant (to my advanced knowledge of the franchise, at least) to get two dramatizations dedicated to her childhood traumas. She also showed up in a mask on the night of the limo arrivals, and this separated her from her peers on the show and made her a little mysterious. Unfortunately, Arie's excitement about Annaliese didn't move from the limo arrivals night to after the second group date, and he bid her adieu. I have to say, it was kind of harsh — Annaliese basically wanted a smooch, and he was like, "Nah, this isn't going anywhere for me. Sorry though." Maybe let the girl down gently or something, Arie? Annaliese left the Bachelor mansion bruised but not broken, and now she's trying to get back into her everyday life.
That life — at least that life before the show — was one of an actor and event designer. She doesn't have a LinkedIn page, but she does have an IMDB account page. The last thing that Annaliese worked on was a show called Callbacks in 2013. Her social media doesn't say anything lately about designing any events though, and her IMDB page isn't updated with any new projects. Just a spin through her Instagram shows an array of interviews, Bachelor-related projects, and model-type shots.
She's also spending some time with her friends and family.
Most importantly, though, Annaliese seems to be showing her true personality on Twitter following her episodes of The Bachelor — this is good, since we really didn't get to know her that well when she was on the show. First, she explained her whole "dog trauma" thing.
And she definitely has some witty commentary about being the one to head to the candy after the group date (this would have been me, also, so I totally get it).
This is also an important question:
(I think the answer is yes, by the way.) But the best tweet that Annaliese has sent or highlighted in regards to The Bachelor has to be this one:
Um, 100 million ways yes to #AnnalieseInParadise! And it seems as though Annaliese could be coyly saying yes to her involvement on Bachelor In Paradise. Or maybe she's just asking the producers via Twitter for a casting call. Either way, Annaliese is the perfect Bachelor contestant to continue her journey for love on Bachelor In Paradise.
Annaliese is basically made for Bachelor In Paradise — the dramatic reenactments that the producers created from her past traumas are comedy gold for The Bachelor, and they're exactly the kind of content that Bachelor In Paradise fans love to see. If Annaliese joined Bachelor In Paradise, can you imagine the kind of hilarity that could ensue? Annaliese talking to birds and crabs and raccoons like Ashley Salter and Clare Crowley? Maybe she'll have an edited love affair with pizza like Josh Murray? Hell, Annaliese could be the new Wells Adams and fill in as a bartender, doling out relationship advice and margaritas with ease.
The more I think about it, the more I'm not sure that Annaliese's journey with The Bachelor is over. I think she has a real shot at Bachelor In Paradise, and we'll just have to hope and pray until the end of the season to learn whether or not she'll be looking for televised love again.