'The Bachelorette's Aspiring Drummer Also Has A Real Job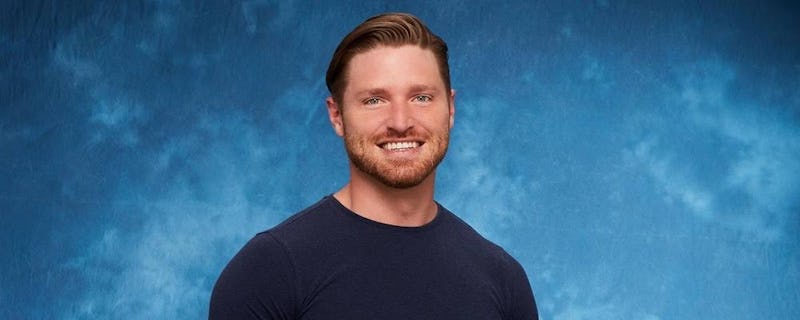 Paul Hebert/ABC
Besides drama, fancy dates, and over-the-top romance, I think the one thing that the Bachelor/Bachelorette is known for has to be the contestants' unique way of describing their jobs. In Ben Higgins' season, I thought we had reached the pinnacle when one woman said she was a Chicken Enthusiast and two other women described their career as "Twins." Well, hold onto your hats because we have another entry into the job pool. Blake E. will be a contestant on Rachel Lindsay's upcoming season of The Bachelorette. In his ABC profile, Blake describes his job as, Aspiring Drummer. Since that is likely not his actual source of income, what is Bachelorette contestant Blake E.'s real job?
According to his LinkedIn page, Blake is a personal trainer, nutritionist, model and yes, an aspiring drummer. He is listed as working for Blake Elarbee Fitness, so it looks like he works for himself, which is pretty impressive. Because a lot of fans were likely questioning his job as listed on his ABC profile, Blake decided to clear everything up while also poking fun at himself. On his Instagram page, he posted a photo of his degrees and certifications with a caption that read, "Don't worry folks, I actually do have a real job." In the photo, not only can you see that his real name is William Blake Elarbee, but he also possesses a Bachelor of Science in Food and Nutrition from Florida State University, a certification as a Strength and Conditioning Specialist, and another certification as a Sport Nutrition Specialist.
Basically, Blake is extremely employed, extremely experienced, and extremely well-educated. I suppose this will show me how not to judge a book by its cover or by its ABC profile. I know when I saw "Aspiring Drummer," I immediately assumed he was unemployed. As it turns out, Blake has more jobs than most of us probably have and just really likes to play the drums.
If he is even half as good at the drums as he obviously is at his chosen profession (see above photo of his personally trained self), I don't think he will be "aspiring" for long.