What 'Queer Eye's Original Style Expert Carson Kressley Is Working On In 2018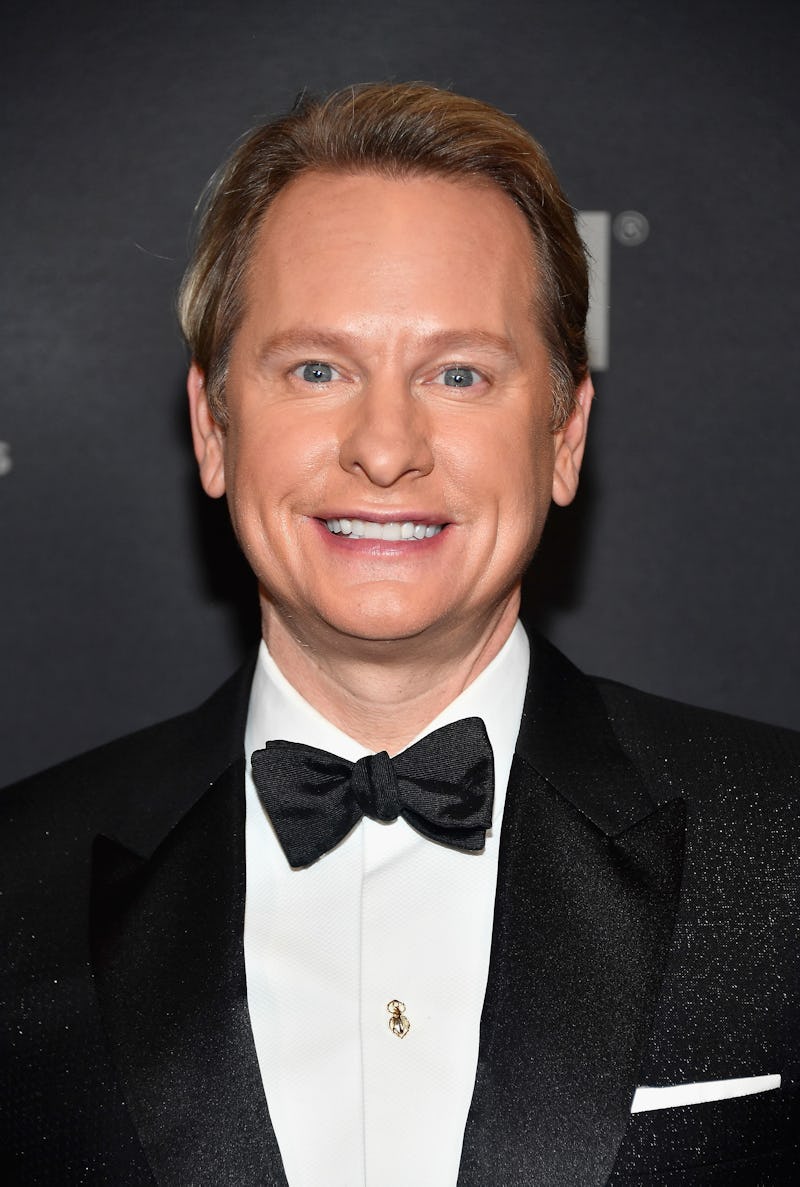 Frazer Harrison/Getty Images Entertainment/Getty Images
Now that the groundbreaking series Queer Eye has returned to Netflix with a 2018 reboot, the fandom is getting nostalgic for the good old days. The new show has a whole new cast, but original fans want to know what Queer Eye stylist Carson Kressley is doing now.
Unlike other '00s reality TV stars who have moved away from the spotlight by chance or by choice, Carson is still in the public eye. The former Queer Eye for The Straight Eye fashion expert (the reboot shortens the name of the Bravo series) has so much going on that it's actually a little difficult to keep track of his latest updates.
Kressley really is a jack of all trades and his expertise actually goes beyond style. Obviously fashion is still his forte, but Kressley has become a pop culture icon, building on his initial Queer Eye fame. According to Kressley's bio on his official website, he has appeared on many talk shows to share his insights, including Good Morning America, The Wendy Williams Show, Live With Kelly And Ryan, and Fashion Police — among many others.
Aside from his talk show appearances, Kressley has plenty of other projects in the works these days. This is just a small sampling of everything the Queer Eye alum has going:
He Is A Judge On RuPaul's Drag Race
Kressley's fans will definitely miss his presence on Queer Eye, but Carson has been appearing as a judge on episodes of RuPaul's Drag Race since 2016.
He Does Stand Up Comedy
Whether he's on a reality TV show, doing an interview, or just posting on social media, Kressley is just always hilarious. That's why it makes perfect sense for him to get into stand up comedy. Carson even has some gigs coming up in New York and Pennsylvania in March.
He's An Avid Equestrian
Kressley loves horses. According to an article from Equestrian Living, Carson grew up on a farm in Allentown, Pennsylvania and he lived next door to his grandparent's pony farm. It makes sense that Kressley has loved horses ever since childhood. In 2018, he received the Gordon Jenkins International Award from the American Saddlebred Horse Association. He received this award for going "the extra mile to introduce and promote" American Saddlebred horses to countries all around the world.
He Was A Commentator At The Miss Universe Pageant
After previously serving as a judge, Kressley served as a commentator during the last Miss Universe pageant. He worked the event alongside hosts supermodel Ashley Graham and Steve Harvey.
He Is An Author
Thanks to his devoted following that has purchased his books, Kressley is a New York Times best-selling author. His books include a style guide for women called Does This Book Make My Butt Look Big? A Cheeky Guide To Feeling Sexier In Your Own Skin & Unleashing Your Personal Style, a style guide for men titled Off The Cuff: The Essential Style Guide For Men And The Women Who Love Them, and a children's book called You're Different and That's Super.
He Competed On Worst Cooks In America
Kressley stepped out of his comfort zone when he competed on Worst Cooks In America Season 11 with other celebrities looking to improve their skills in the kitchen. He didn't win the reality TV competition, but hopefully he was able to learn some kills that he could use in real life.
He Is Philanthropic
In October 2017, Kressley was a speaker and event participant at the annual Aids Walk in Los Angeles. He is also involved with the American Red Cross, United Way, and the Salvation Army's efforts for hurricane relief.
He Is On The Board At Jefferson University
Kressley is a member of the Board of Trustees for Jefferson University, the integration of Philadelphia University and Thomas Jefferson University. He's been on the board since he received an honorary degree and spoke at Philadelphia University's commencement ceremony in 2013.
He's Hanging Out With Bravolebrities
Considering that the original Queer Eye For Fhe Straight Eye series was on Bravo, it makes sense that Kressley would have relationships with current Bravolebrities. He has hung out with Southern Charm matriarch Patricia Altschul and Real Housewives of Atlanta star Cynthia Bailey pretty recently.
Thanks to his breakout role on Queer Eye, Kressley became a household name and has been able to be involved in a variety of different fields. But he and rest of the original Fab Five have still made themselves available to the new makeover team as the reboot series is getting off the ground.