Clay From 'The Bachelorette' Is Living His Best Life After The Show & Yes, That Involves Dogs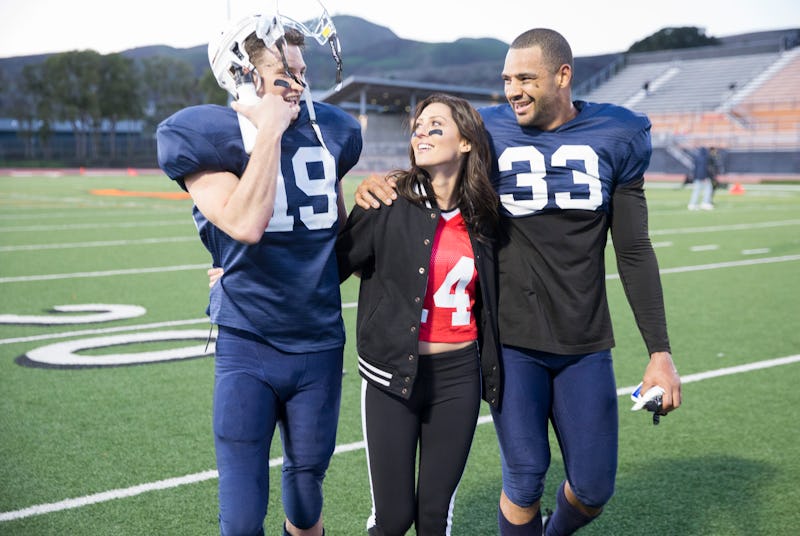 ABC/Paul Hebert
Clay has flown a little under the radar this season on The Bachelorette, but when he gotten screen time, he's been a treat. It remains to be seen just how far Clay will make it on the show as he competes for Becca's heart, but in the meantime, fans can dissect his social media for any possible clues. So what is Clay doing after The Bachelorette?
There's likely still football on the horizon. According to USA Today, Clay is an "unrestricted free agent" in the NFL, currently associated with the New Orleans Saints as a tight end. He has been with the league since 2010, and played with the Philadelphia Eagles, Jacksonville Jaguars, New England Patriots, and Detroit Lions, before landing with the Saints, according to Sports Illustrated.
Clay is on injured reserve right now, per CBS News, so there's really no telling when he might return to football, especially as the specifics and severity of the injury are undisclosed. Press photos from this week's episode of The Bachelorette show Clay displaying some football prowess, and some recent Twitter videos show him absolutely killing it on a treadmill, though, so a quick return there definitely might not be out of the realm of possibility.
Other than that, though, he appears to be living his best life, with or without Becca. Case in point: this photo of him with some very good boys.
These dogs have shown up a couple times on Clay's Instagram, so there's undoubtedly unconditional love in his life, regardless of if it ends up being there with Becca, too. There are also plenty of photos from the past month or so of him hanging out with his friends, traveling, hitting up events, and spending time outside. He also shared an adorable snapshot of him with two of his grandmothers, showing he's a family man — a point he made sure to emphasize when he arrived on The Bachelorette.
All of his most recent posts, though, relate directly to his time on the show. The cast is sworn to secrecy, so he's not divulging too many details about his post-show life, as Becca's presence or lack thereof would spoil the ending. But he seems to be having a good time, and that's all that matters.
In an interview with Access Live, Clay made it clear that there is more to him than the fact that he's a football player. "I do do some other things, so I might just tell her one of my other jobs," he told former Bachelor star Ashley Iaconetti, noting that he would like to keep his job as a football player on the down-low, at least at first. He also said in the same interview that he told producers during the casting process that Becca was one of his favorite contestants on Arie's season — though he couldn't remember his name, he knew he liked the girl from Minnesota. And lo and behold, she ended up being the one whose heart he'd be competing for.
Clay hasn't been as dramatic or polarizing a character as some of the guys have been already this season. He hasn't broken anything, cried over anything, or roamed the house in his skivvies for no apparent reason — all things that other contestants have done in just the first two weeks. And most importantly, there doesn't appear to be any controversial social media activity in his past, something that also can't be said for at least one suitor (ahem, Garrett)!
But though he hasn't been in the spotlight for the majority of the show, that doesn't mean Clay doesn't deserve to stick around. He doesn't seem to be playing a character or dying for the camera to be pointed at him at all times. He comes across as sweet, soft-spoken, and gentlemanly — all traits that viewers should treasure in a world of Bachelorette suitors who get questioned about being on the show for "the right reasons."