Colton Is Living The Dream Post-'Bachelorette' & By Dream I Mean Taking Tons Of Naps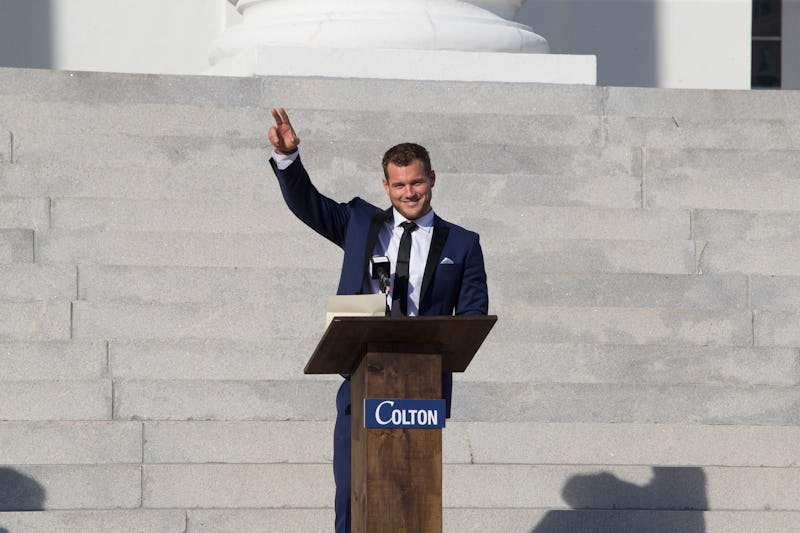 Paul Hebert/ABC
The Bachelorette is winding down, and that crunch time means that social media scrutiny is about to reach a fever pitch in the search of some accidental spoiler. Barring that, at the very least looking at how the contestants spent the last couple of months can be revealing in its own way. What has Colton been doing after The Bachelorette? He's taking a break this summer, and the future is uncertain.
Colton is one of the four men remaining in pursuit of Becca on Season 14 of The Bachelorette. Whether he makes it to the finale or there some impending drama with Tia on the horizon, his post-Bachelorette activities are of interest. Who has he been hanging out with? Where has he been? Is he headed to a new relationship on The Bachelor or Bachelor In Paradise?
For the most part, Colton's 2018 has been pretty chill and normal. A little charity work here and there, and a little leisure as well. While he is invested in The Bachelorette online, there's not too much to tell about his future on the franchise. If you're curious, here are a few things Colton has been doing in this new kind of off-season.
Busting A Move At His Brother's Wedding
How can one be worried about The Bachelorette finale when surrounded by family and celebrating love? That said — this kind of points to Colton being single at the end of the season. If Colton is the winner, wouldn't Becca be there? Logistically it might be difficult to move an occasion such as this for a TV show, but it would be a bummer not to be able to show off your new significant other (or even fiancé) at your brother's wedding.
On Vacation
He's basically just been taking a break, not exactly unplugged but definitely unwinding.
Catching Up With Old Friends
He met up with some of his fellow castmates in Chicago. Do you think he shopped at Joe's grocery store?
Holding A Puppy
Truly the most important bit of catching up when you're home. On his Twitter, Colton captioned this photo saying "I flew home to surprise my family for the 4th [of July] and spent most of the day with the puppy or napping." We've all been there, honestly.
Taking A Lot Of Naps, Actually
Then tweeting about them. Dogs and naps are pretty much all Colton tweets about. He also retweeted an Ant-Man And The Wasp teaser, so odds are he's been catching up on the Marvel Cinematic Universe post-filming as well.
Live-tweeting The Bachelorette
Come on, PopTarts! Nobody likes a rude subtweeter.
Supporting The Other Contestants
Who says the ultimate goal of The Bachelorette isn't friendship? It's definitely one of the perks. Whether it's tweeting gifs of the other guys or asking for fans to console one of the guys with dog content, he's here for them.
Having An Incredibly #Relatable Reaction
Gotta go! Time to pack up and leave!
Having Some Very #DeepThoughts
Wait, what does this mean? Hang on.
Hanging With The Chicago Cubs
He's attended a few games since The Bachelorette, it seems.
Doing Good Deeds
Colton has also been doing a lot of work during the summer of 2018 with his Legacy Project and foundation. Their mission statement is as follows.
"The Legacy Foundation is a non-profit organization that was created by former NFL player, Colton Underwood to empower people with Cystic Fibrosis to live fully, dream big and support each other. The Foundation raises funds for research and provides equipment and resources for people of all ages living with Cystic Fibrosis."
Right now they're working on raising the funds to provide treatment and equipment to kids with Cystic Fibrosis in all fifty United States.
So as you can see, Colton has kept busy since filming The Bachelorette. As for what happens with Becca next, that all remains hanging in the balance.