Why The Colton & Tia 'Bachelorette' Saga Is FAR From Over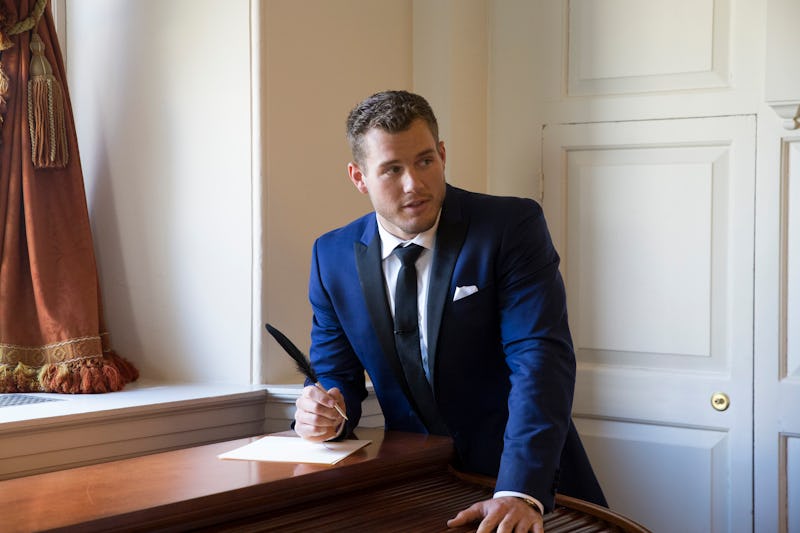 Paul Hebert/ABC
Seasoned Bachelor fans are experts at detecting the rhythms of a year in Bachelor Nation. First, there's The Bachelor, then The Bachelorette, and then Bachelor in Paradise. Oh, and a great deal of the cast members will be on your screen all year — take, for instance, Tia Booth and Colton Underwood. Tia first appeared on Arie's season of The Bachelor, and later showed up on Becca's season of The Bachelorette to give her friend advice on picking a suitor — one of whom is Colton Underwood, whom Tia previously dated. And now, thanks to some dramatic internet sleuthing from Reality Steve (and made more public by tweets from previous Bachelor contestant Bekah), we know that both Colton and Tia will be on Bachelor in Paradise. But relationships on Paradise are rarely smooth sailing. So will there be drama between the two this summer?
Let's back up just a little bit and catch everyone up. Tia and Colton have some history, having dated before Becca's season of The Bachelorette. Colton told Becca on The Bachelorette that he had a relationship with Tia, saying, "I wanted to make sure to explain, sort of, that we had a weekend together, and we had a good time, but for me, the timing wasn't right to grow what was a spark into a flame." Colton ultimately didn't think that he and Tia could go the distance. "If my feelings were strong enough, I wouldn't have came on this. And I think that, what I know of you, we could have a ton, whereas it wasn't there with her," he said.
Of course, The Bachelorette brought Tia and Colton together on a very awkward group date, on which Tia told Becca her side of the story. "I mean, I was nervous. The last time we saw each other, this wasn't the scenario at all, but the most we did was kiss," she told Becca. "And we never really had like, an established conversation about what we were, he just… told me early, like within a few days of talking to him, he told me about applying for the show." Yeah, Colton told Tia that he applied for The Bachelorette when he and Tia were semi-dating. Yeah, that's weird. Tia continued, "I was like, 'What are the odds of actually making it?' So say that I know you apply for the show, and we stop talking. What does that accomplish?"
Fast forward to Reality Steve spilling the dirt that Tia and Colton were on a date in Mexico on Bachelor in Paradise:
The initial Bachelor in Paradise cast was already announced, and Colton is not on that list — but that doesn't mean that he won't show up, as ABC usually waits to announce the casting of Paradise contestants who are still in the running for The Bachelorette's final rose until they are eliminated from the show. So that's likely what will happen here, if Reality Steve is to be trusted.
How will Tia and Colton react to each other when they get to Bachelor in Paradise? Well, I'm sure that Tia will have a bone to pick with Colton over the fact that he said they didn't have any chemistry. There's also the question of Colton's timing of being on the show. He went out with Tia, but then he went on The Bachelorette, and now he wants to be on Bachelor in Paradise?
A few weeks ago, a Twitter user noticed that Tia had posted something on her social media that was an almost exact match to a caption of Colton's. When asked about it, Tia said that she doesn't follow Colton, so it was a coincidence.
These two don't follow each other, but Bachelor in Paradise happened already and they've gone on dates? Oh, honey, you are bad at keeping secrets or you really hate Colton. Or maybe it's all just a ruse to keep dedicated Bachelor Nation fans interested. Whatever it is, it all spells drama for the upcoming season of Bachelor in Paradise.