'Project Runway' Host Hannah Jeter Is Impressive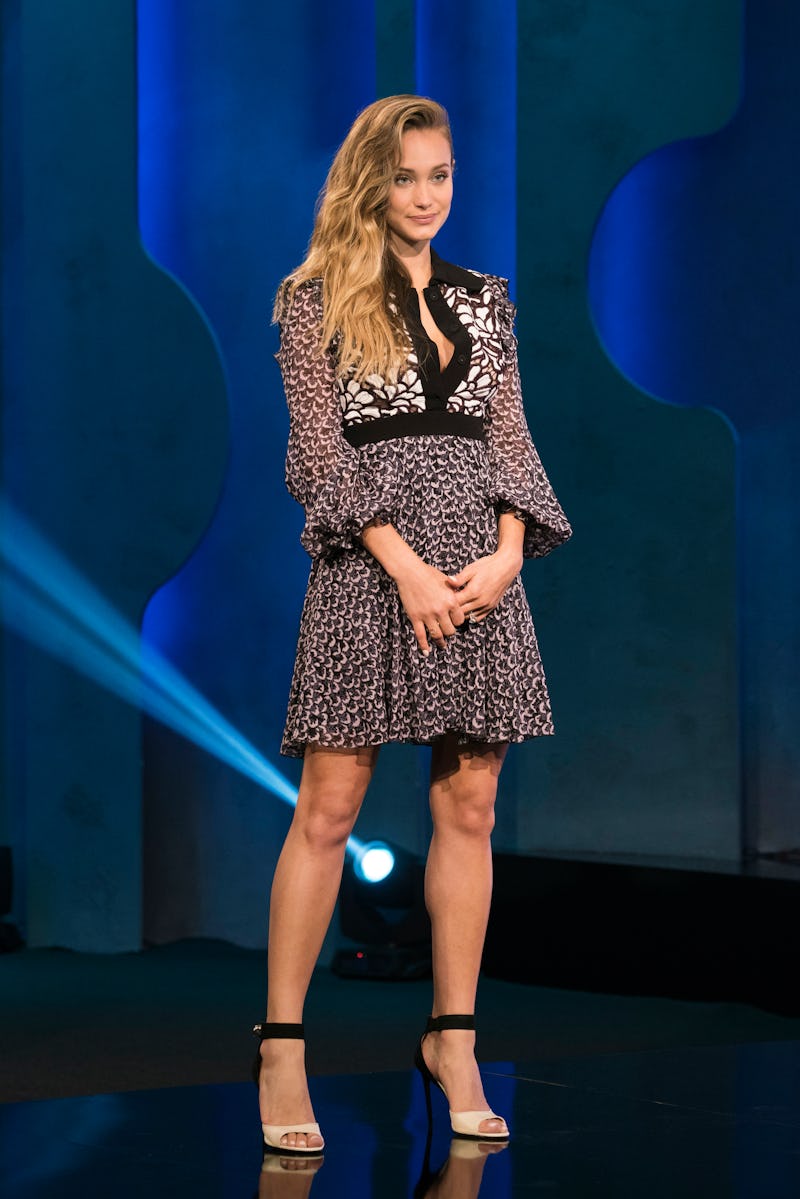 Barbara Nitke/Lifetime
Are you already feeling a little glum now that Project Runway has officially crowned a winner and won't return until 2017? Me too — but, luckily, a spinoff is here to step in. In Lifetime's latest edition of showcasing tweens and teens who have talents that put ours (or maybe just mine) to shame, Season 2 of Project Runway: Junior premieres on Lifetime on Dec. 22. We'll be introduced to a new group of talented young designers, but the hosts and judges will remain the same — the beloved Tim Gunn will co-host with Hannah Jeter, and the panel consists of fashion designers Kelly Osbourne and Christian Siriano and Seventeen Magazine and Cosmopolitan Executive Fashion Editor, Aya Kanai. Tim Gunn is basically a legend in the fashion world, but what's Project Runway: Junior host Hannah Jeter's job?
Like Project Runway host Heidi Klum, Jeter is a fashion model with a lengthy and impressive portfolio. You may remember her as Hannah Davis, which is the name she went by last season. She married athlete Derek Jeter earlier this year and officially changed her professional billing name over the summer. Jeter is most recognizable for being a staple in the Sports Illustrated Swimsuit Issue, but her resume shows that she's modeled for a diverse range of designers including Ralph Lauren, Victoria's Secret, American Eagle, and Levi's.
Jeter is represented by IMG Models and, according to her official biography, she dreamed of becoming a professional tennis player when she was growing up in the U.S. Virgin Islands. A local scout spotted Jeter while she was playing on the Caribbean Tennis Circuit and she was thrilled about the new opportunity. Her big break came when she was photographed by Terry Richardson for an editorial feature in New York City — and, well, the rest is history. IMG notes that her most significant achievement is landing the cover of the 2015 Sports Illustrated Swimsuit Issue just two years after making her "rookie" debut.
Although Jeter is best known for her work with Sports Illustrated, she's also dabbled in acting — in 2015, she made a cameo in the comedy movie Vacation, a reboot of the classic National Lampoon's Vacation. She's also appeared in a series of televised advertisements for DirecTV, in which she plays the "DirectTV Genie." Jeter has shown an interest in acting, so perhaps we'll see more of her on the big and small screen in the future.
When Project Runway: Junior premiered last year, Jeter had big shoes to fill because many Project Runway fans hoped that Heidi Klum would host the spinoff. Luckily, she proved herself in Season 1 by being an amazing host and I can't wait to see what Season 2 has in store for Jeter and the talented young designers.