The 'Project Runway: Junior' Judges Are Fierce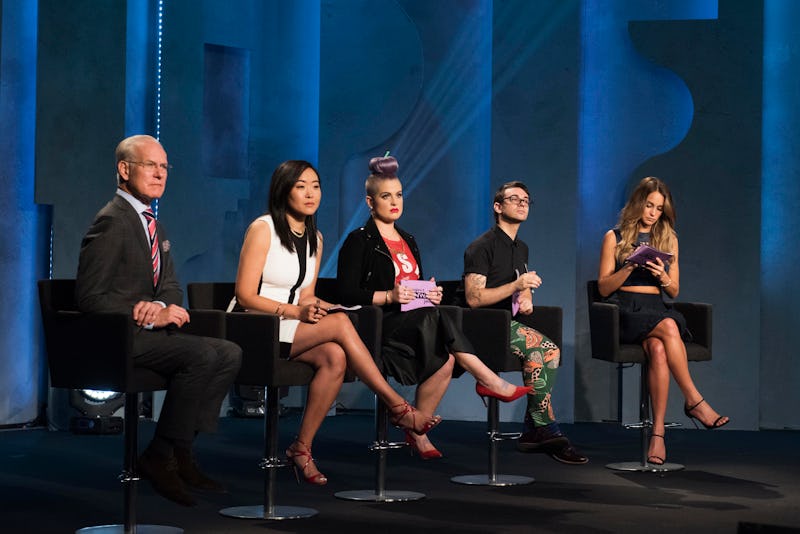 If the end of every season of Project Runway makes you as sad as it does me, then get ready to wipe those tears away. The new spinoff series Project Runway: Junior premieres Thursday night, and it looks like it's going to be just as over-the-top and dramatic as Project Runway but with an adorable bent to it. Of course, who the Project Runway: Junior judges are is going to be a big part of the show's success.
Talented and entertaining contestants only add so much value to a reality competition like Project Runway: Junior. The judges can make or break a show, not only because they determine who stays and who goes every week but also because the way in which they deliver their critiques provides much of the dramatic tension. If the evaluations are boring, we're all going to remember Project Runway: Junior as one big snoozefest.
Well, five of the fiercest experts in fashion today have been rounded up to serve as four judges and a mentor to 12 aspiring fashion designers, ranging in age from just 13 to 17 years old, on the premiere season of Project Runway: Junior. So who are these fashionistas, and what makes them so qualified to ultimately determine the winner of Project Runway: Junior? Read on to find out who you're either going to adamantly agree with or oppose all season long.
Hannah Davis
Before she grabbed headlines as the future Mrs. Derek Jeter, Hannah Davis, who will serve as host and judge on Project Runway: Junior, not only grabbed headlines but magazine covers as a supermodel. Davis was featured on the cover of this year's Sport Illustrated Swimsuit Issue , has modeled in campaigns for Ralph Lauren, and had a memorable turn in a recent DirecTV commercial. Davis also served as a guest judge on this past season of Project Runway, so she hopefully picked up some pointers from Heidi Klum, who is one of the best hosts/judges on reality TV, in my opinion.
Kelly Osbourne
Over the years, Kelly Osbourne has become so much more than just the daughter of Ozzy and Sharon Osbourne. The Brit is now a well-known TV personality, competing on Dancing with the Stars Season 9, interviewing on red carpets, and starring on E!'s Fashion Police before leaving in February 2015 after co-star Giuliana Rancic made a controversial joke about Zendaya's hair.
Well, clearly it didn't take long for Kelly to snag another gig. Osbourne has appeared as a guest judge a couple of times on Project Runway. She was her usual outspoken self during this past season of the fashion competition, which made for one of the most memorable runways during this installment of the show. She was also visibly excited when contestant Ashley Nell Tipton presented the first plus-size collection in Project Runway history during this season's finale. So with all of that being said, I am eager to see what Osbourne brings when she's able to let loose as a full-fledged judge on the show, although she might have to pull back a little considering the fact that there will be kids involved.
Christian Siriano
Any Project Runway fan knows Christian Siriano. He's a Project Runway legend. Siriano was something of a wunderkind when he competed on Season 4 of the show. The then-21-year-old, carefully coifed designer put together exceptionally crafted, avant-garde pieces in what seemed like half the time it took his competitors to slap together a cocktail dress. Siriano ended up winning that season of Project Runway, and rightfully so.
Since then, Siriano has been a working designer, showing at New York Fashion Week, as well as having his designs worn by the likes of Gwyneth Paltrow, Taylor Swift, and Tina Fey. He has also appeared as a guest judge on Project Runway and as a full-time judge on what seemed to be the Project Runway: Junior warm-up, Project Runway: Threads. If there's anyone who's going to be able to relate to what the youngsters on Project Runway: Junior are going through and offer some constructive criticism tailored to that, it's Siriano.
Aya Kanai
In the fashion editorial role filled by Marie Claire Creative Director Nina Garcia on Project Runway will be Aya Kanai, the executive fashion director of Cosmopolitan and Seventeen . Knowing that the points-of-view of these magazines vary wildly, it's a safe bet that Kanai will be using more of her expertise from Seventeen than Cosmopolitan to guide her in judging teen contestants on Project Runway: Junior. Kanai has worked with a bunch of top models and celebrities in the past, including Davis, Nicki Minaj, and Sarah Jessica Parker, as well as on advertising for companies such as Cole Haan, Victoria's Secret, and Macy's. Clearly, Kanai has connections, so if there's someone the Project Runway: Junior contestants want to impress, it's her.
Tim Gunn
Last but certainly not least is Tim Gunn, who, like on Project Runway, will be serving as not technically a judge but a mentor to this group of young whippersnappers hoping to jumpstart their fashion careers on Project Runway: Junior. In addition to serving as a mentor on all 14 seasons of Project Runway , Gunn is one of the show's producers, and he and co-host Klum won the 2013 Emmy Award for Outstanding Host for a Reality or Reality Competition Program for their work on the show. I don't think I can effectively communicate how happy I am that Gunn will be on Project Runway: Junior. He hasn't served as mentor on any of the Prioject Runway All Stars seasons, which is one of the series' biggest flaws, in my opinion. His warm personality coupled with his thoughtful guidance for each and every contestant is the heart of Project Runway.
If you're not familiar with Gunn's Project Runway work, you're bound to have seen him somewhere in the past 11 years as he has just become a big figure in pop culture in general. In addition to having his own short-lived makeover show called Tim Gunn's Guide to Style, Gunn has written books, made guest appearances on shows like Gossip Girl, and was named one of PEOPLE's "Sexiest Men Alive" in 2006. So yes, I think Gunn can handle giving advice to some teenagers on national television, mmmkay?
Images: Barbara Nitke/Lifetime (5)