'Our Girl' Fans, THIS Is Where Fingers Has Been & It Could Be Bad News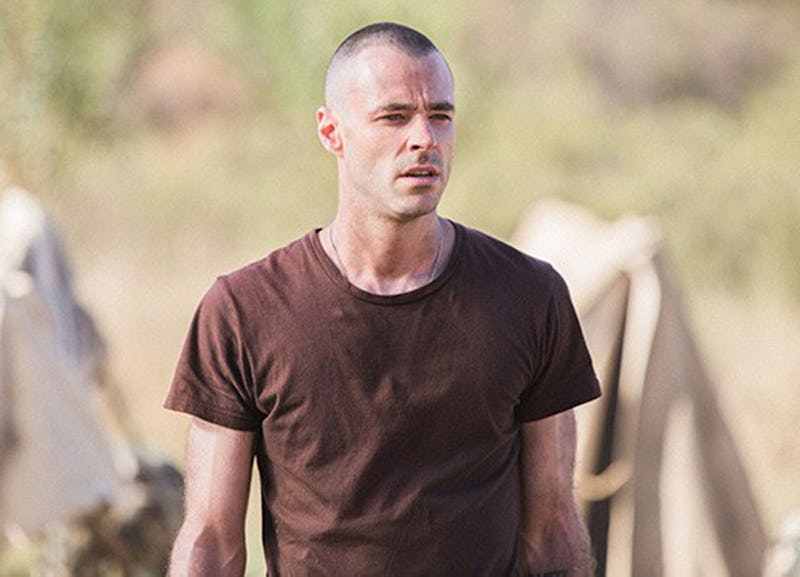 Our Girl/BBC
If you watch Our Girl, you may have noticed a fan favourite character has been missing for a few weeks now. Social media certainly has. In fact, Twitter has been awash with viewers wondering what happened to Fingers in Our Girl, and when the longstanding 2-Section team member will be returning to the show. I mean, seriously, where has he been?
With Georgie Lane and Captain James' relationship taking a turn for the rather interesting in recent episodes, not to mention new character Bones stepping into the spotlight, perhaps it's not surprising that Fingers (played by Sean Ward), has taken a back seat lately. But that hasn't stopped fans missing the mischievous Fingers, who's been a part of the show for five years. The 2-Section soldier has been the source of much of the squad's jokes and affectionate mickey-taking since series one, and many fans have felt it just hasn't been the same without him. So, where has he been?
Well, after previously revealing that he was interested in becoming part of special forces last series (aka the team that swoops in and cleans up all of 2-Section's messes, or at least that's what Bones would like to think anyway), Fingers was picked for selection. Great news for him, not so great news for fans, as his potential career change has already meant less screen time and could lead to even more stints away from his 2-Section pals.
Unfortunately, a move to special forces could mean less Fingers airtime for viewers to enjoy, as he'll only be around when his team is. And despite having significant overlap, and what Elvis and Georgie's complicated relationship history might have made it seem, SF and 2-Section are actually two completely separate teams.
That being said, Bones is part of special forces and viewers have certainly been seeing plenty of him this season, thanks to his undercover operation and the tension between him and Georgie. Either way, as there's only a few episodes of the current series left, Fingers fans most likely don't need to worry about him being transferred away during this run. Surely the producers wouldn't be cruel enough to deprive the show of his jokes for any more episodes.
Well, the good news is, he's definitely back for the meantime. Fingers finally returns to Our Girl in Wednesday night's episode. He'll be joining the rest of 2-Section, who are back from Belize and missing a leader thanks to Georgie and Captain James' misguided rescue mission (resulting serious-looking leg injury). Now, the team are working in Rohingya refugee camps. Overseeing them in their new assignment is Bones, but his tough-talking management style doesn't have the same effect on the team as Captain James' more softly, softly approach. He's already been threatening to send one of them home and call out a replacement, but with one man down as it is, can he really afford to let go of another?
Thanks to Georgie's questionable choices in previous episodes, her place on the team is looking far from assured. But the 2-Section squad may have bigger things to worry about as they find a suspect parcel under a chair at a charity gala. Yes that's right, 2-Section is getting all glamorous for an episode, or at least for a little bit before the inevitable knife-edge drama ensues.
Confused and can't wait to find out more? Me too. Unfortunately while Fingers and most of the gang (bar Captain James) will be back in this week's show, viewers have had to wait an extra day for their weekly slice of Our Girl action, as Tuesday's episode was delayed until Wednesday, thanks to the football. But it's just for one show, as it will be returning to it's regular Tuesday night slot next week.
Our Girl continues Wednesday July 4 at 9pm on BBC One.