Here's Why Violent Protests Rocked St. Louis This Weekend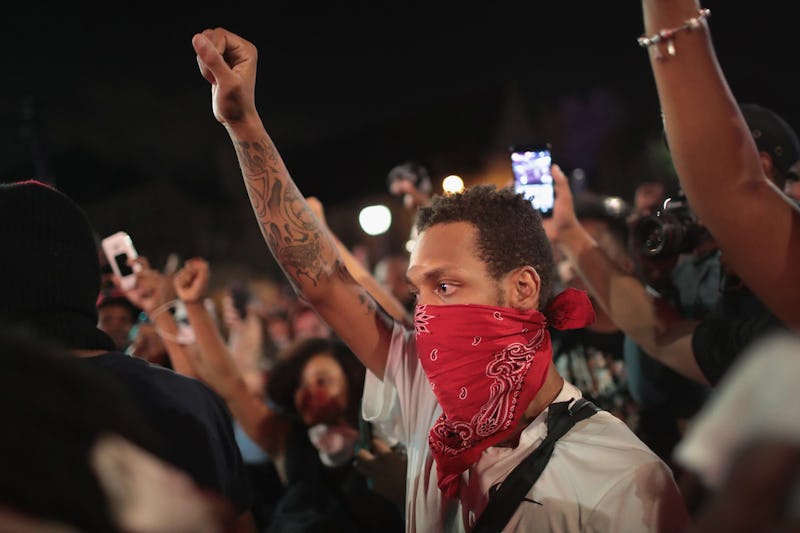 Scott Olson/Getty Images News/Getty Images
Angry and at times destructive protests continued in St. Louis on Saturday for the second night in a row, following a former police officer's acquittal in the 2011 death of a black man, Anthony Lamar Smith. Large and peaceful demonstrations held Saturday afternoon and early evening gave way to a smaller violent demonstration Saturday night as protesters broke windows and threw debris at police.
Demonstrations began peacefully Saturday afternoon as several hundred protesters marched to two shopping centers and later the location of a popular annual food event, local NBC affiliate KSDK reported. A second large and peaceful protest was held in University City, a suburb of St. Louis, early Saturday evening. It was reportedly disbanded without incident.
At St. Louis' Delmar Loop area, however, a small group of protesters turned destructive and violent, breaking the windows of shops and businesses and throwing what the St. Louis County Police described as "debris" at officers. The gathering was declared an unlawful assembly by police who struggled to get protesters to disperse. According to the St. Louis Post Dispatch, the window of a Starbucks was broken after a chair was thrown through it and a police SUV was damaged by a protester who hit it repeatedly with a hammer.
The St. Louis County Police Department said it made seven arrests Saturday night on charges that included resisting arrest, destruction of property, and assault on a law enforcement officer. Five of those arrested Saturday were adults and two were juveniles, county police tweeted. Another two people were arrested Saturday by the St. Louis Police Department for failure to disperse, the department said in a tweet.
Saturday was the second consecutive night that St. Louis has seen violent protests break out over the acquittal of a former white police officer in the killing of a black man. Police reported some demonstrators threw rocks or bricks at them Friday evening as they attempted to control a crowd that had gathered around St. Louis Mayor Lyda Krewson's home and were breaking windows. Eleven law enforcement officers were injured while responding to Friday night's protest, a spokesperson for the St. Louis Metropolitan Police Department said in a statement to USA Today.
In a press briefing held Saturday, acting St. Louis Police Chief Lawrence O'Toole said that while the majority of Friday's protests were peaceful – like the majority of those held Saturday – "after dark the agitators outnumbered the peaceful demonstrators." According to NBC News, O'Toole described the crowd of protesters who wreaked havoc Friday night as "a mob," noting that fires had been set, car windows had been smashed, police cars had been damaged, and 10 buildings were vandalized or damaged in some way. Police reported arresting 33 people during Friday's protests.
Former St. Louis police officer Jason Stockley was found not guilty of first degree murder Friday in the death of Smith. 24-year-old Smith was shot and killed by Stockley following a high-speed car chase on Dec. 20, 2011. At the time, Stockley and his partner had reportedly been attempting to arrest Smith on suspicion of engaging in a drug deal. In dashcam footage recorded during the car chase preceding Smith's death, Stockley can be heard telling his partner he was "going to kill this (expletive), don't you know it." At the trial, prosecutors alleged Stockley had planted the handgun that was found in Smith's car.
Concerts scheduled for this weekend in St. Louis by the rock band U2 and pop singer Ed Sheeran were canceled for security purposes as a result of tension and protests in the city. Organizers behind Saturday's peaceful demonstrations told the St. Louis Post Dispatch they planned to hold a "die in" Sunday afternoon near the St. Louis Police Department headquarters.