Here's What You Need To Know About The Beef Between Trump & Harley-Davidson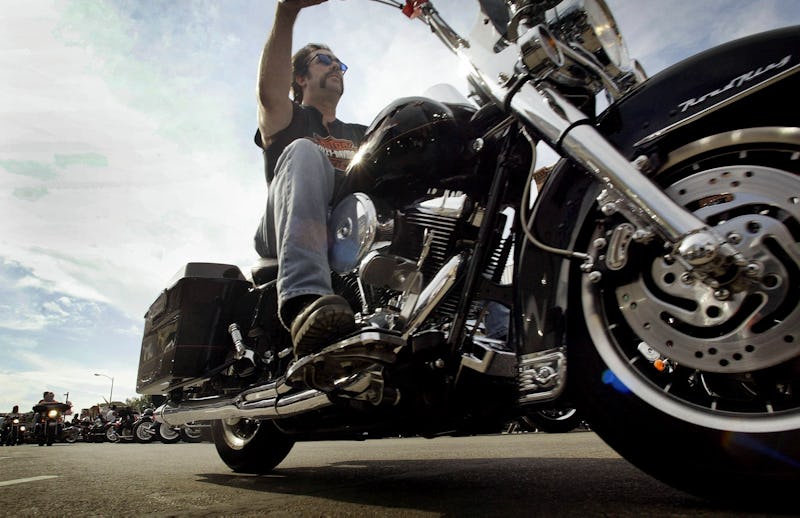 Scott Olson/Getty Images News/Getty Images
If you follow President Trump's Twitter feed, then you've been seeing a lot about motorcycle manufacturer Harley-Davidson lately. There's a lot of talk about the company leaving or waving the "white flag," but Trump's tweets don't exactly give the full scope of what's going on with Harley-Davidson.
"Surprised that Harley-Davidson, of all companies, would be the first to wave the White Flag," Trump tweeted on Monday. "I fought hard for them and ultimately they will not pay tariffs selling into the E.U., which has hurt us badly on trade, down $151 Billion. Taxes just a Harley excuse - be patient!"
Just looking at the president's tweet, it could seem as though the European Union (EU) was the instigator in a situation that has now led to Harley-Davidson, an iconic American company, conceding defeat in some area. But there's a lot more to that story.
According to the Washington Post, Harley-Davidson announced Monday that it would shift some of its production capacity out of the U.S. so that it could sell its products in the EU while avoiding tariffs that the EU applied on numerous American products. The EU didn't create these taxes for no reason, though. Although the group of countries previously had a policy of free trade with the United States, after Trump imposed tariffs on foreign steel and aluminum, they imposed some of their own in return.
According to the BBC, now Harley-Davidson motorcycles being imported into the EU from the U.S. will carry an additional 25 percent tax. Harley-Davidson isn't the only company that will feel the effects of these tariffs — the BBC reported that in many cases, the EU pinpointed products to impose tariffs on in order to affect Trump himself politcally. According to the Harley-Davidson website, the company has four assembly plants in the U.S., and they're all located in swing states: Missouri, Pennsylvania, and Wisconsin, where the company is headquartered.
According to statistics website Statista, the EU makes up part of Harley-Davidson's second biggest market, after the U.S. By shifting more of their production to their already existing overseas locations, they and their European consumers will be avoiding that 25 percent import tax that Trump's tariffs caused the EU to impose. And according to a regulatory filing that Harley-Davidson sent to the Securities and Exchange Commission, that tax means something significant in terms of their bottom line. By their calculations, the EU's 25 percent retaliatory tariff would cost the company $30 to $45 million in a year and add $2,200 to the cost of the motorcycles.
On Tuesday morning, though, Trump began tweeting about Harley-Davidson again, defending the tariffs and claiming that Harley-Davidson was "using Tariffs/Trade War as an excuse" for a prior decision to move more facilities abroad. Trump claimed in his tweet that Harley-Davidson had previously decided to close their Kansas City plant and move those operations to a new plant in Thailand, but according to the Kansas City Star, Trump's claim is a false one. The Kansas City jobs, the Star wrote, were actually moved to Pennsylvania, whereas the Thailand plant is planned for overseas markets — which now could include the EU.
In another Tweet, Trump threatened the motorcycle manufacturer, saying that "Harley must know that they won't be able to sell back into U.S. without paying a big tax!" As Harley-Davidson will still retain some American manufacturing plants, it's unclear how the president could actually enforce this threat. He ended his Twitter rant about Harley-Davidson with additional threats about what their move could lead to.
"It will be the beginning of the end - they surrendered, they quit! The Aura will be gone and they will be taxed like never before!" Trump wrote on Twitter. The president's tweets are already punishing Harley-Davidson's decision — but they ignore the fact that he set the process that their decision stemmed from in motion.
More to come ...