This Is What The Midnight Mint Mocha Frapp Is Made Of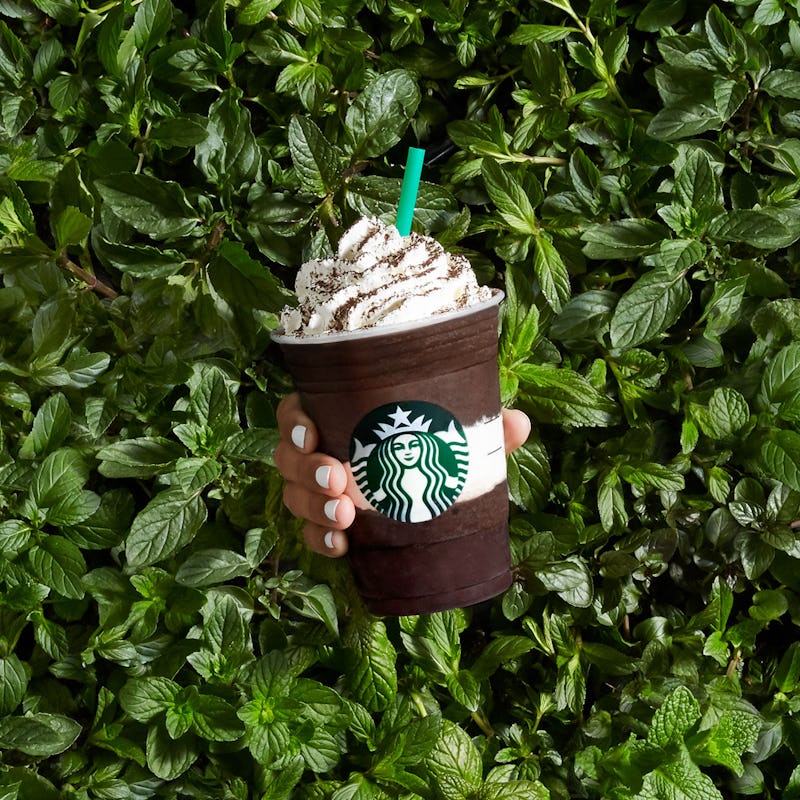 Starbucks
The Starbucks Frappuccino Train has made another stop on the way to Frappuccinoville. The latest blended drink to grace our palates is perhaps less mythological than other recent options, but it's special all the same. What's in a Midnight Mint Mocha Frappuccino? It's chocolatey. It's minty. It's the perfect complement to the warming temperatures. The Unicorn Frapp may be gone, but at least we've got this one to take its place (along with the unofficial Dragon Frappuccino and Mermaid Frappuccino, of course).
The Midnight Mint Mocha Frappuccino — available for a limited time only — is a chocoholic's dream come true. It'll cost you around $4.45 to $4.75 for a 12-ounce Tall, depending on the market, and will be available starting on May 2 at most Starbucks stores in the United States and Canada (just in time for Frappuccino Happy Hour, which returns May 5 to May 14). What's more, you've got a little longer to get this one than, say, the Unicorn Frapp — it'll be around throughout the summer or while supplies last. If the earlier Frapps weren't quite your jam, I'll bet this one will pique your interest, because chocolate. Coffee. Chocolate plus coffee. Can you really go wrong? (No.)
Don't expect it to stop raining Frappuccinos anytime soon, either, because the S'mores Frappuccino is also making its return for the 2017 summer season — marshmallow-infused with a ribbon of chocolate fudge and graham cracker crumbs. It's just like roasting 'mallows by the campfire, minus the mosquitoes and the smell of bug spray.
Nothing comes close to beating summer at Starbucks (except maybe winter, fall, and spring at Starbucks), so make sure you celebrate the season with the Midnight Mint Mocha Frapp. You get a Frapp! YOU get a Frapp! EVERYBODY GETS A FRAPP.
Here's what goes into it.