Cath Kidston's Entire Disney Bambi Collection Is 3 For 2 Right Now & Meep, CUTE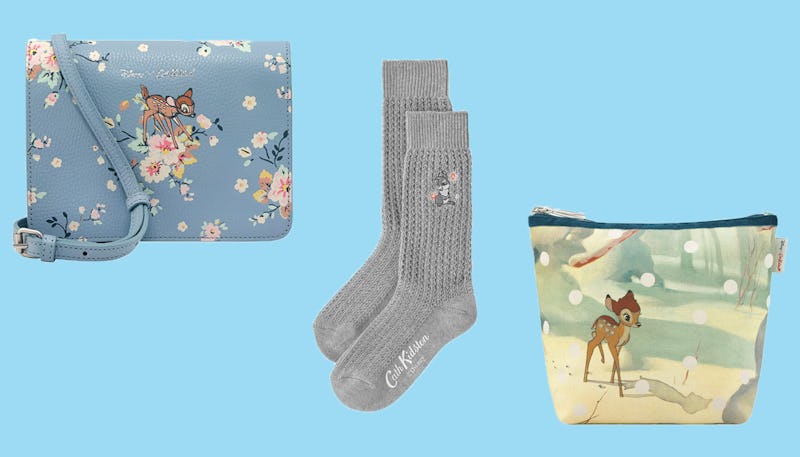 Cath Kidston
The world is rife with Disney collaborations, but some of the most heartwarming come from one of the UK's most adorable brands. Cath Kidston's Bambi collection is the latest nostalgic range to hit stores. Full of snow-covered prints and cutesy animals, the items will make the perfect Christmas gift for yourself as well as all of your family and friends. So what's in Cath Kidston's Bambi collection?
Cath Kidston's first venture into the world of Disney came about in June 2016 with Winnie the Pooh taking centre stage. Over the past year, the nation has seen Mickey Mouse, Snow White, and Alice in Wonderland-inspired collections. And now comes the turn of Bambi.
The 1942 animated film still sparks a tear in most people's eyes, so it's no wonder that Cath Kidston has chosen to adorn clothing, homeware, and a bunch of accessories with the famous deer and his best friends (Thumper the rabbit and Flower the skunk). The collection officially launched on November 30, but is still fully available online and in select stores. In fact, the entire range currently has a three for two discount going on so you'd better hurry if you want to buy anything before it sells out. As with any Cath Kidston collaboration, once it's gone, it's gone for good.
Cath Kidston's team have sourced original illustrations from the classic Disney film and mixed them with the brand's own iconic prints. There's Bambi in the snow teamed with Cath Kidston's Button Spot and the store's archive Trailing Rose print mixed with Bambi's head popping out here and there. Four exclusive prints in total feature in the collection.
The main pieces in the range are designed in a light blue-grey colour and showcase a bunch of floral and foliage decorations. There are also cream-based items for people who prefer something simpler.
Every design will appeal to children as well as adults. There are spacious tote bags trimmed in sumptuous velvet, practical leather purses and crossbody bags, and coin purses for those who need somewhere to store all of their cash.
Fashion-wise, the collection includes sweatshirts, perfectly printed pyjamas, and a wintry corduroy skirt with Bambi's head naturally poking out of the pocket. Sizes range from XS to L which correspond to a UK 6 to 16.
If you're still looking to decorate your Christmas tree, you'll find a bauble for £10, and a snow globe keyring if you want to carry the festive season with you throughout the entire year.
Homeware also features heavily. From tea towels and oven gloves to plates, mugs, and teacups and the odd cushion or two, Cath Kidston has your entire kitchen and living room covered. The travel-obsessed will also be glad to see that a patterned passport holder and luggage tag have not been forgotten.
Prices start from just £4.50 and range up to £85, proving that there really is something for every budget. People have already criticised Cath Kidston for designing a collection that is impossible to resist and are lamenting being "forced" to spend so much money right on top of Christmas.
I'm sure that's a criticism the brand will be more than willing to take on board.