ColourPop Is Releasing An ENTIRE Disney Princess Collection & It's An Actual Fairytale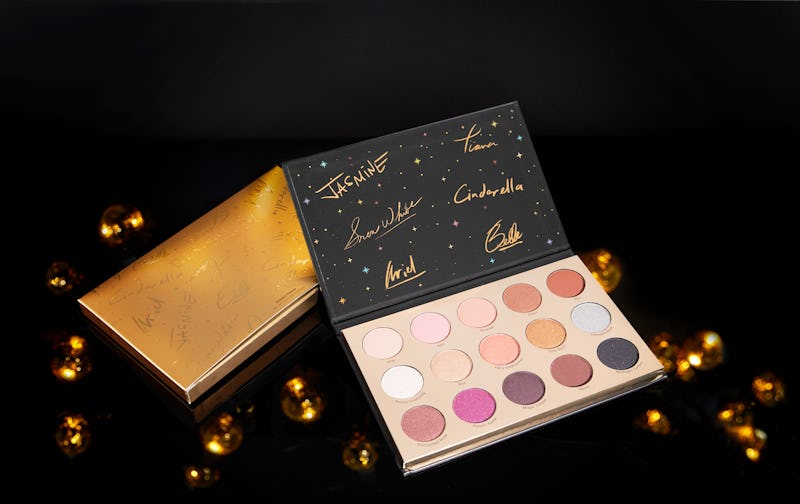 ColourPop
Get ready to add a little Disney magic to your makeup bag. ColourPop is launching a limited-edition Disney Designer Makeup Collection in honor of all your favorite Disney princesses. Snow White, Cinderella, Ariel, Jasmine, Tiana and Belle are all featured in the beauty collaboration, inspiring shades and products fit for a princess. And, darling, you certainly are that princess.
The collaboration is timed to the release of Disney's new Premiere Series dolls — and their couture looks — which come out on Oct. 6. The six dolls are all outfitted in high fashion looks that take these classic fairytale princesses to the modern runway. In honor of your favorite princesses revamping their looks, ColourPop is giving your makeup bag a makeover of its own. The Disney x ColourPop will hit ColourPop, ShopDisney and U.S. Disney stores on Sept. 28.
The Disney Designer Collection features an eyeshadow palette, six lipsticks, six individual shadows, three glosses, and three highlighters. All those products equal a whole lot to love.
And don't worry, the products won't break the bank. This is ColourPop, after all. An eyeshadow palette of 15 princess perfected shades is only $20, which a bundle of six lipsticks is only $42.
All the products feature clever shade names that will make any Disney lover giddy. From a silver shadow called Thingamabob to three glosses named Bibbidy, Bobbidy, and Boo, this collection is spot on.
Check out all of the products fit for a princess below to put together your shopping list before the limited-edition collection drops on Sept. 28.
It's a Princess Thing Eyeshadow Palette, $20
Featuring shades like Prince Charming and Fairy Godmother, this palette has classic Disney princess written all over it. Literally.
Ariel Lipstick, $7
For this princess of the sea, a peachy-pink nude is the perfect color for Ariel's couture debut.
Belle Lipstick, $7
A rosy berry tone is perfect for Belle, a princess known for her complicated relationship with roses.
Cinderella Lipstick, $7
A classic pink for a classic princess.
Jasmine Lipstick, $7
This vibrant fuchsia color is a modern take on Jasmine's lip color in Aladdin. And it's a lewk.
Snow White, $7
For the OG Disney princess, no other color but a classic red will do.
Tiana Lipstick, $7
The perfect compliment to Tiana's bright green dress is a deep oxblood lip. What a contrast.
Part Of Your World Highlight, $8
You'll want this pearly pink shadow to be a part of your world.
A Smile And A Song Highlight, $8
This perfect champagne highlight will have you smiling from ear to ear.
Heigh Ho Shadow, $5
This pearly shadow with gold glimmer has been mined just for you.
Almost There Shadow, $5
A bronze eyeshadow fit for a budding queen.
A Whole New World Shadow, $5
This certainly is a dazzling shadow.
Be Our Guest Shadow, $5
Be my guest, put this pretty pink shadow to the test.
So This Is Love, $5
After looking at this shadow, you'll be a believer in love at first sight.
Under The Sea, $5
This looks exactly like Ariel's tail, and I'm living.
Bibbidy, Bobbidy, and Boo Gloss, $8 each
These glosses are straight magic. Period.
Thank your fairy godmother that this collection exists. Now get ready to shop.