Here's What's In ColourPop's Pink Collection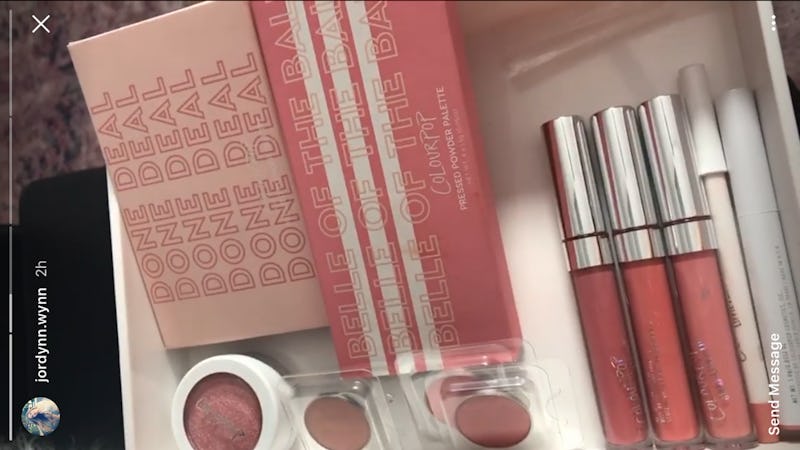 While I am someone who doesn't wear too much makeup, ColourPop might be changing my ways. After recently launching the first round of their Monochromatic Collection, The Nectar Collection, the beauty brand just announced the launch of Phase 2: The Pink Collection — and I'm shook.
As a part of the wider release of ColourPop's spring collection, Sprung On ColourPop, The Pink Collection will fulfill any feminine beauty desires you might have. Announced on the Instagram accounts of Sharon Pak and Jordynn Wynn, the two ColourPop girls showed off the gorgeous packaging, some of the goodies, as well as swatches to get you excited.
According to the Instagram account Trend Mood, The Pink Collection is complete with two pressed powder palettes, three pressed eyeshadows, one Super Shock Cheek, three liquid lip products, one Lippie Stix, and one Lippie Pencil. In a variety of pink shades? Yes, please!
If you're like me and that sounds like a dream to you, you won't have to wait too long before you can get your hands on these products. The Pink Collection will be available online on March 17. You already saw how quickly the Nectar Collection sold out, so it's only a matter of time before Phase 2 will be gone. Don't worry though, ColourPop will also be releasing Phase 3 soon, and if you're a fan of perfect neutrals, then you're going to love The Sand Collection.
Here's a look at the full Pink Collection.
Belle of the Ball Pressed Powder Shadow Palette, $18, ColourPop, Done Deal Pressed Powder Face Duo, $16, ColourPop, Phase 2 Lip Bundle, $15, ColourPop, Forget Me Not Super Shock Highlighter, $8, ColourPop, Birdy Pencil Lippie Pencil, $5, ColourPop
How about that packaging?
These swatches are everything.