Khloe Kardashian's Good American Line Now Has Activewear That Goes Up To 4X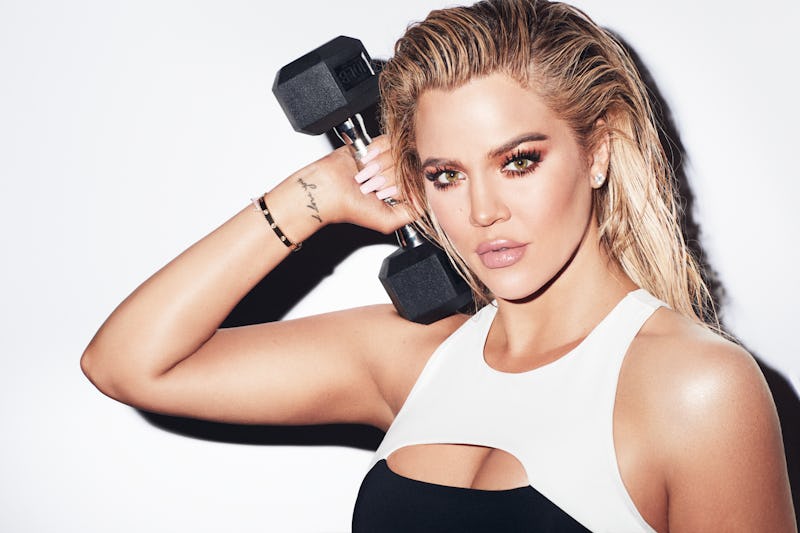 Courtesy Good American
You've seen these Kardashian-made jeans and even a maternity line, but now the brand is getting expanded once again. Khloe Kardashian's Good American brand now has an activewear line, and the sizes are pretty darn inclusive. This isn't just a trendy new line, either. It's for those looking to hit the gym.
Honestly, a Good American athletic line really doesn't come as a surprise. It's not secret that Kardashian love to work out. She's constantly posting videos of her routines and writing about it on her blog and social media. So when she surprised the world with an activewear line for Good American, it made perfect sense.
The collection, which is available right now on the Good American website, is all black and white. There's bike shorts, leggings, crop tops, hoodies, and sports bras. Some items are even hybrids between crop tops and sports bras. It's stylish, but made to last through your entire workout.
"The introduction of Performance is such a natural progression for Good American, building off of our best selling wardrobe staples," says Good American co-founder and CEO Emma Grede. "When we workout, we work out hard, and we wanted to create a line that is super comfortable and looks good enough to be worn throughout the day, but also withstand a tough workout."
The entire line ranges from $59 to $149, and this isn't your average line. The material used for the collection has four-way stretch, antiperspirant and anti-pilling materials, UV protection and cooling properties. So you'll stay cool and protected in the sun, while simultaneously not showing as much sweat. Not to mention that it won't pill when you throw it in the washer.
Whether you're all about looking good in your post-gym Instagram pics or just looking to stay comfortable through your workout, this is the line for you. The best part is that every single item is available in sizes extra-small to 4X. That makes it possible for even more people to love the Good American collection.
You don't have to order through the Good American website to get your hands on the activewear. The line is also sold at Nordstrom and SIX:02. That means that these won't throw off the shelves like those Lip Kits and limited edition fragrances do. There are more than enough sizes and items to go around.
The entire collection is a permanent part of the Good American brand too. That means that you can save up for all of your favorite pieces or put these items on your holiday wish list. If Khloe isn't your favorite Kardashian yet, she will be now.
If this is anything like Kardashian's other additions to her line, there will be plenty more designs and colors to come. The new mom is constantly expanding the line with her co-founder, and this will likely be the same.
When fashion and function combine, magic happens and this line is proof. Kardashian knows how to create clothing to make women feel comfortable, and it looks like Good American's activewear is no different.