Kendall + Kylie Sunnies Collection Offers Variety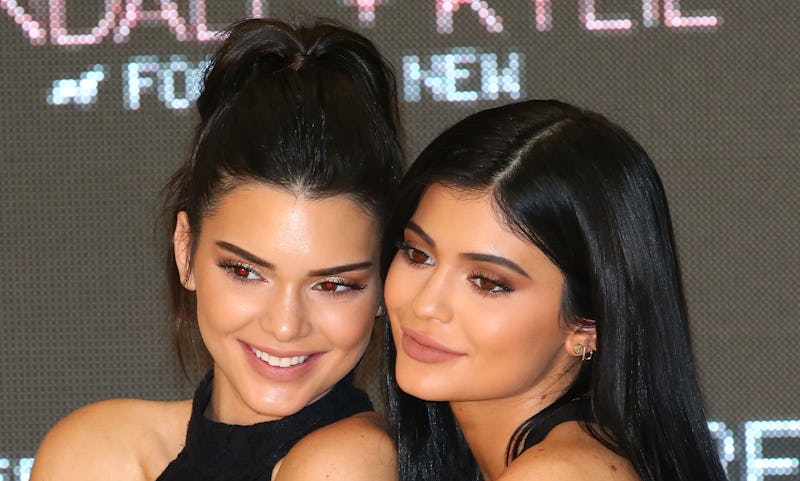 Scott Barbour/Getty Images Entertainment/Getty Images
Sunglasses complete any look and not just because they are usually the last thing you throw on before you venture outside into the bright daylight sun. They literally and metaphorically finish an ensemble. That's why I am stoked that Kendall + Kylie sunglasses finally arrive online on Monday, Jan. 23, according to Refinery 29. Remember, K+K first revealed they would be doing a sunglasses collection last year. Then, the brand teased that sunglasses were "coming soon" in an Instagram post from November 2016. In it, supermodel and big sis Kendall donned a pair of mirrored shades. So, what's in the Kendall + Kylie sunglasses collection?
Well, Refinery 29 also reports that eight items from the Kendall + Kylie sunglasses collection will go on sale at Revolve and the frames start at $145 and go up to $220. The debut frames come in a variety of silhouettes, from black cat eyes to geometrics to tortoiseshell wayfarers to gold or black aviators. Because #choices and #options are essentials with sunnies.
This appears to be a bit of a sneak peek, since the entire collection is slated to drop at Nordstrom in early March.
Bustle reached out to Kendall + Kylie PR to get details about further shopping locations, dates, and prices.
UPDATE: Bustle heard back from Kendall + Kylie's rep, who confirmed via email that "the assortment will also deliver to Bloomingdales, ShopBop, Lord & Taylor, as well as additional Better Department and Specialty Stores this Spring 2017." The collection also boasts matte black, black and white marble frames, and more, mixing acetate with metals.
The first pairs to be released are tight AF.
This is the Insta tease from November. Yes, Kendall's black and white striped pants are eye-catching, as are her sunnies
Kylie likes mirrored shades (and mirror selfies). She even had a cool way to accessorize them... like so.
This pair was so fashion-forward. Women's Wear Daily previously reported that the Sisters Jenner are thrilled to do a range of shades, because "eyewear is the finishing touch that elevates any look. We can't wait for our customers to see the world through our eyes."
Looking at life through Jenner eyes? Yeah, that's a POV that has to be incredibly rad. Oh! And remenber Kylie's pink and gold mirrored aviators by DIFF? They were for a good cause.
Here's Kenny, killing it in pink frames.
These four are launching via Revolve first.
As are these!
Welcome, K+K sunnies!
Images: Kendall + Kylie/Instagram (1); Kylie Jenner/Instagram (3); Kendall Jenner/Instagram (1); Courtesy of Kendall + Kylie (5)