Lime Crime's Mermaid Collection Is Beyond Adorbs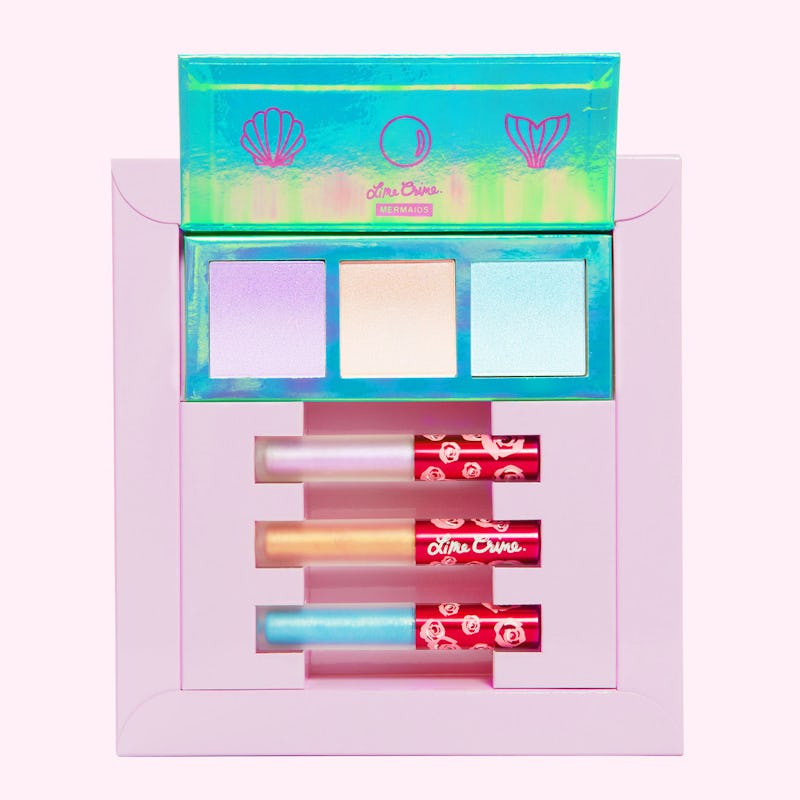 Courtesy of Lime Crime
Lookout, unicorn beauty enthusiasts! There's a mermaid makeup revolution on the horizon, courtesy of Lime Crime. The indie brand has been teasing its forthcoming Lime Crime Mermaid makeup collection for several weeks. Now, the Lime Crime crew has shared a lot of information about what exactly comprises the sea creature-inspired range.
Good news, mermaid makeup fans! There's a lot of products and shades to help you put your inner sea siren on an outward display.
Here's the quick rundown of what's in Lime Crime x mermaids.
There are three metallic Velvetines, which are the brand's signature matte liquid lippies, in seafoam, sunset, and lavender shades. There is the Hi-Lite highlighter palette with three pans of product that offer a serious translucent glow and also somewhat match the Velvetine shades. There are two bundles — the Collector's Set with all of the Velvetines with the palette and the trio of Velvetines.
It's the Aquarium Makeup Brush set that is everything, though. There are seven cruelty-free brushes —powder, blush, pencil, lip, fan, angled brow, and shadow blender— with a matching, totable pouch. The liquid glitter handles make these tools my favorite thing about this mermaid set.
Everything is cohesive and works in concert to tell a mermaid color story.
Swirl that around your brain for a few minutes, considering the impact the Lime Crime mermaid collection is going to have on your wallet. Now, let's inspect the products more closely.
Aquarium Liquid Glitter Makeup Brushes, $58, Lime Crime
The handles have liquid glitter floating in them and the bristles are pink and blue ombre. I cant.
Hi-Lite Palette, $38, Lime Crime
A fairytale glow-getter, indeed. The colors are so unique.
The Mermaid Velvetines Bundle, $44, Lime Crime
The liquid metal finish is beyond lit.
The metallic mattes are aptly named and the colors are so from the sea, as these swatches indicate.
Moonlight Mermaid, $85, Lime Crime
The bundle includes the lippies and the highlighter palette.
Mermaid's Grotto is a robin's egg blue lippie with gold sheen. The metallic lippies are sold a la carte for $20.
Siren is a sunset peach with a hint of gold, as well.
Seashell Bra is a pearly lavender.
Look at the suspended glitter? Seriously, though. These could not get any cuter.
The highlighter swatches... so siren-like. Imagine how summery your mornings will be when using the brushes to apply these glow-getters?! The collection will swim into your life soon. Sign up for further updates.