You Are Going To Want These Mermaid Makeup Brushes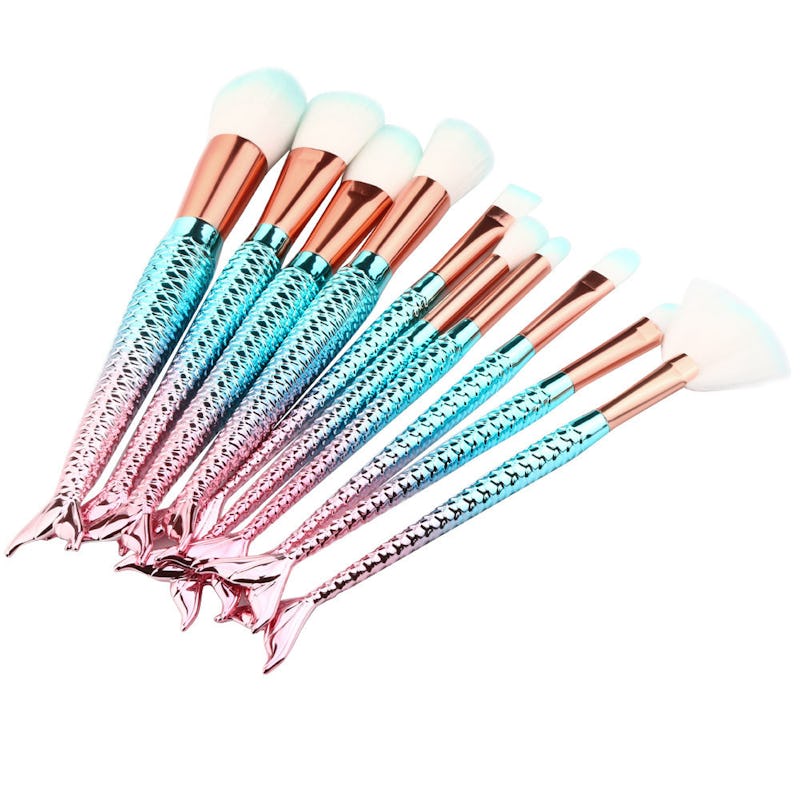 Courtesy of Flawless Lighting
The unicorn trend, which has shown no signs of slowing down, from Wet N Wild brushes to highlighters to hair dye, might get upended by mermaids… at least in the makeup brush realm. I stumbled upon the Mermaid Vibes Sirena Pro 10-piece brush set via Instagram and OMFG.
The collection is inspired by aquatic angels and includes both face brushes and eyeshadow brushes. The tools have pink and seafoam green handles, complete with scales along the length of those handles.
The bristles are white and seafoam green ombre. The tips look dusted with mermaid dust!
Ultimately, these tools are works of art. I can see myself almost hesitating to even use them. Somehow, soiling the pretty brush heads with foundation or powder shadow seems... wrong. Yep, they're that good.
The 10-piece set, which will eclipse any boring, black-handled brushes on the market, costs $45. So they shake out to less than $5 per tool. The brushes are cruelty-free and vegan, in addition to having the coolest tails.
These are almost prettier than Tarte's limited edition and vegan Magic Wand brushes, which are some of my favorite products of the 2017 unicorn beauty trend.
Have a look at these beautiful brushes below.
The detail in the scales and tails is extra, but in the best way.
These brushes have me rethinking my entire makeup applicator game.
See what I mean about the heads? The bristle tips look kissed with mermaid dust. The set includes a fan brush, tapered blending brushes, fluffy blenders, smudgers, and more.
Are you shaking and crying over that detail?! The Flawless Lighting site sells lots of products that help you take better selfies, too. Like lighting attachments.