Rihanna's Latest Lingerie Drop Is SO Unexpected & Nothing Like Your Average Undies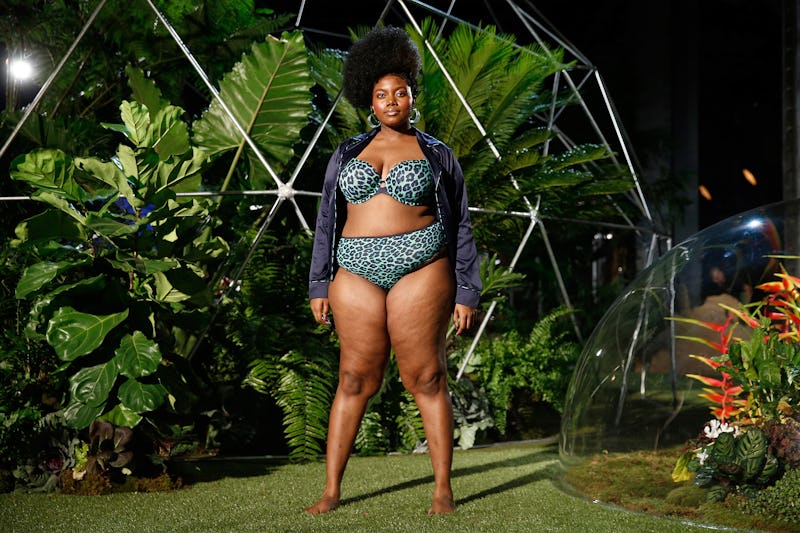 Brian Ach/Getty Images Entertainment/Getty Images
Underwear is hardly an afterthought here. Rihanna's Savage x Fenty lingerie brand (offers sizes 32A to 44DD in bras; XS to 3x in panties and sleepwear) showed its Fall/Winter 2018 and Holiday 2018 collections at NYFW — and they're exotic and full of twists, like denim. No, really. Several of the new collection pieces are currently available via the brand's site. New arrivals will drop every month from now through December. Prices start at $12.50 and go up to $115.
So if you need to upgrade your undies, this is the brand and the collections with which to do it.
The latest range siphons inspo from Rihanna's fave, go-to pieces and adds a street style vibe. The result is playful, fresh, sassy, an d sexy.
The collections are full of colorful twists and animal prints. Think neon green, bright blue, and animal prints. There are jewel tones, including ruby and amethyst shades. There's also a super sporty assortment.
There are new silhouettes, which are cut high on the leg and flatter all body shapes and types. Rihanna has always been all about inclusivity —whether it's her Fenty Beauty foundation or her lingerie range, which offers a wide variety of sizes.
Also, some of the selection of bralettes and undies are "barely there," as they come in mesh and fishnet fabrics.
The collection also boasts fitted bodysuits and roomy satin pajamas that can be worn as outerwear, since that trend never really fades.
Ultimately, the extensive collection, colors, cuts, and styles are meant to flatter a wide variety of bodies and skin tones.
According to the press materials received by Bustle, there's also the #iamsavage collection, with boasts the Savage X Fenty signature rose gold logo. Leggings, tanks, tees, and sweats are featured in that range. So your loungewear will be of the highest style.
The Holiday 2018 collection factors denim into the sleepwear and lingerie equation. No, that's not a typo or a joke. But it's reworked into the pieces and is light as air and comfy. Details include printed denim chiffon and jeanswear top stitching with lace.
There's also a Charm Thong and Bikini gift set so you can share the sexiness with friends this holiday season. The panty comes with three charms. Mix, Match. Give. Get.
Here's a quick look at a few of the many standouts.
1. High Leg Leopard Lace Bikini
2. Leopard Lace Bralette
3. Unlined Geo Mesh Bandeau
4. Satin Pajama Top
5. Satin Pajama Bottom
6. Bralette
7. Savage X Thong
Lingerie is so much more than what you wear under your clothes, thanks to Rihanna. It's luxurious, sexy, sporty, and stylish with Savage X Fenty. Each range is as good as and build upon the one that came before.