LaQuan Smith's ASOS Collection Is An Unapologetic Celebration Of The Female Body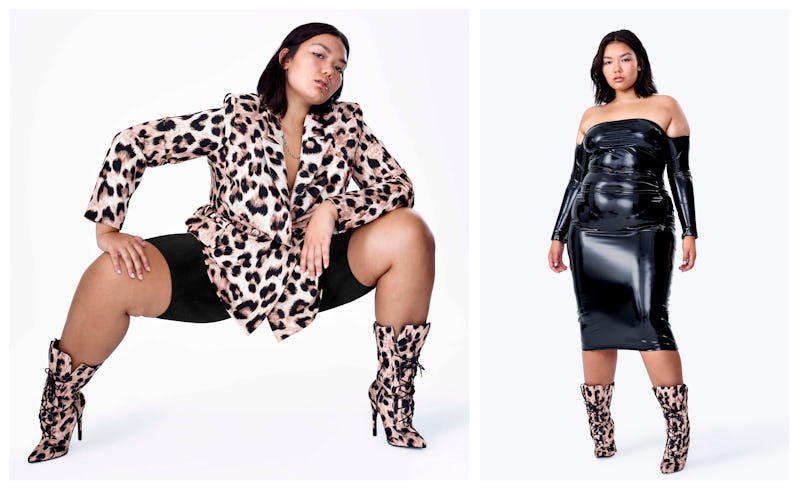 ASOS
Every so often, a fashion designer comes along that's a total breath of fresh air. LaQuan Smith is one of them. A string of setbacks and rejections has propelled the New York-based designer to entrepreneurial stardom, allowing the likes of Beyonce, Rihanna, and Cardi B to wear his fiercely feminine designs. Now, he is collaborating with one of the UK's favourite high street brands. So what's in the ASOS x LaQuan Smith collection?
The collab is set to hit the ASOS site on November 1. Each and every piece in the collection is glamorous with a capital G. There's Smith's signature off-the-shoulder skintight dresses in varying lengths, faux fur, and latex-like materials, and so many prints from leopard to camouflage to glittery stripes.
Along with the dresses, Smith has designed stripy legging shorts, barely there fishnet tops, '90s style low rise trousers, and a faux fur maxi coat you'll never want to take off. I can't possibly forget accessories which include lace-up camo thigh high boots (now that's a mouthful), futuristic sunglasses, and a crystal mesh durag.
ASOS is marketing this collab as its biggest one yet and has made sure no one is left out with men's and women's styles available as well as designs appearing in ASOS Curve and ASOS Plus sizes. Prices are said to start from £18, proving that affordability was top of the list for both ASOS and Smith.
Smith has taken over the American fashion scene in recent years. After his grandmother gave him a sewing machine at the age of 13, he learned how to create his own clothes, Fashionista reports. Several fashion schools turned him down but that didn't deter him. Instead, he wore his own designs out in his native New York, handing out free clothes to women he admired in nightclubs, Teen Vogue reports.
His own brand officially launched in 2013 and has risen to the top of many celebrity wish lists. That black latex dress Kim Kardashian wore to Tom Ford's 2016 show? LaQuan Smith. That see-through green fishnet creation adored by Rihanna? LaQuan Smith. The most eye-catching looks donned by Beyonce on her On The Run II tour? Yep, you guessed it, LaQuan Smith.
In other words, Smith has made it. Whether it's his sheer determination or the fact that he embraces all kinds of women or even a bit of both, his clothes are confidence-boosting works of art. "We are one of the few brands that are actually dressing women with curves. It means something to me," he told Fashionista. "I think it's great that women can rely on me to get their sexy back or to feel completely confident in a dress."
People have praised ASOS for giving a black designer the chance to showcase their work on a more global scale. Smith told VFiles about how the fashion world has held him back because of his name and identity. "If my name is in a subject box in an email, it most likely will not get opened. Or there was a time when it wouldn't get opened," he said.
"Still, magazines will call me like, 'Oh we have Nicki Minaj on the cover, we'd love you to get a feature.' OK, that's great, but no one calls me when Scarlett Johansson is on the cover, nobody's calling me when Anne Hathaway is on the cover. These have been my struggles and this is what I have been battling as a black designer. We don't get the same opportunities as everyone else."
He explained to Fashionista that his collaboration with ASOS is a way "for other potential partnerships to happen in the future for other brands like [his]." Let's hope the rest of the fashion industry is hearing that message loud and clear.