Coach Just Launched A Disney Line That Celebrates The Dark Side Of Fairy Tales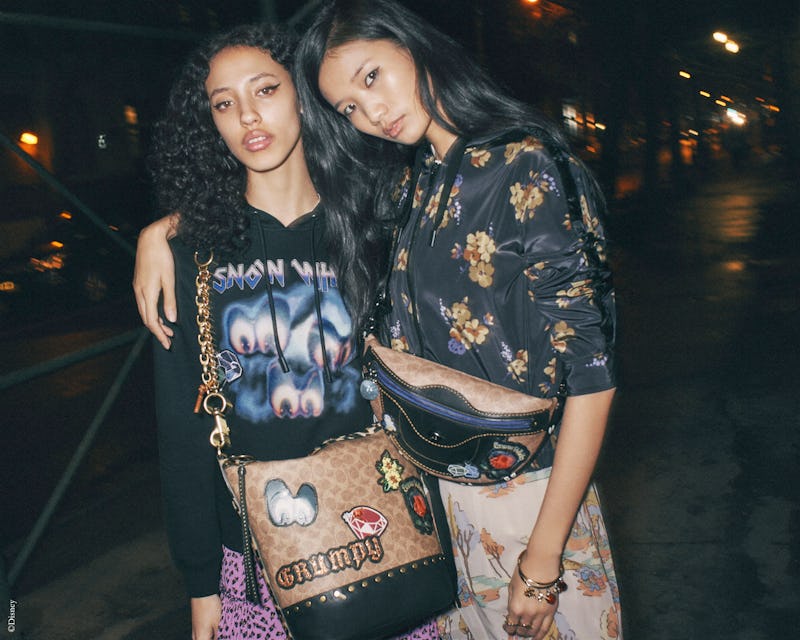 Courtesy of Coach
Even if you aren't a Disney fanatic, it's hard not to get major feels from seeing the company's beloved characters on any kind of merch. Seriously, beautiful princesses covering sneakers, magic fairies lining handbags, and iconic mouse ear prints taking over clothing — it's all so good. But the latest Disney x Coach "A Dark Fairy Tale" collection proves things can get a little edgy, too.
It's always a treat when top designers join forces with Disney. With stories of adventure, fantasy, and happy endings, it only makes sense to bottle that kind of beautiful magic and transform it into a wearable collection. Usually, it's the fan-favorite Disney princesses that get tapped to adorn wallets, purses, and handbags. After all, they're the faces of a "happily ever after", and it's always worth commemorating that sentiment. But as it turns out, there's a dark side hiding behind the dreamy castles, enchanted forests, and wide-eyed woodland creatures — a dark side that Coach is showcasing with their soon-to-be released collection.
Recontexualizing motifs from Snow White and the Seven Dwarfs and Sleeping Beauty, the special-edition collab takes beloved Disney princess tales and adds an American gothic fairy tale twist. It's like nothing Disney and Coach have ever done together before.
Set for a May 14 release date, the collection will launch in select Coach stores and on the brand's website. The line is truly a unique take on the Disney classics, reimagining the fairy tales through a retro-gothic lens.
"I have always loved Disney – both the movies and the fantasy worlds created that have captured my imagination for many decades," said Coach Creative Director Stuart Vevers via a press release. "It was fun to explore the darker side of these stories and mix Disney's nostalgic charm with Coach's creativity to bring my memories from these fairy tales to life within our world of accessories and ready-to- wear."
The collection of sneakers, fanny packs, hoodies, and leather goods plays with the often ignored spooky undertones present in the princess stories. Think the Evil Queen's poisonous apple or Maleficent's forbidden castle. It was all used for dark inspiration to craft this line loaded with rock-and-roll fonts, bold graphics, and bright purple detailing.
Prices range from $75 to $695, and there's so many luxury options to choose from.
Yes, to all of the badass leather jackets, adorned with creepy skull patches.
Of course, you couldn't have a proper Coach collection without a few handbags thrown into the mix. This bright, blood orange option is too good to pass up.
The line also includes a worthy selection of crossbody bags. There's one covered in spooky eyes that's truly a looker.
Quite the retro option, this fanny pack combines Coach's signature print with dark leather and the spookiest patches.
The collaboration even birthed a unique pair of Coach sneakers that's guaranteed to turn heads.
Paying homage to Snow White's emotional roommates, these mini crossbodys will shoutout your favorite Dwarf.
There are plenty of graphic tees and hoodies within the line that have dark, mysterious forest vibes written all over them.
Combining the poisonous apple with a skull, this gothic tee is just as hard to resist as the deadly snack Snow White couldn't help but bite.
Covered in special story patches created to commemorate the collection, these tote bags give a huge shoutout to Disney's ever-popular fairy tales.
Featuring plenty more jackets, backpacks, and handbags, this Disney-Coach mashup has so much in store for fans of retro-inspired streetwear and all things Disney. Even if you're not a princess lover, chances are you'll find a piece within the collection that speaks to your inner dark soul.