Here's Every Single Glitzy Product In Kim K's New Ultra Light Beam Collection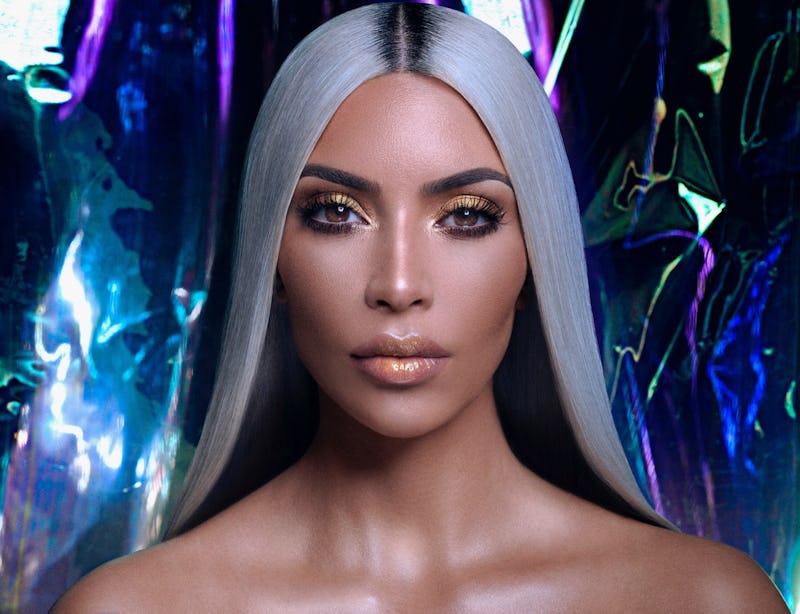 KKW Beauty
With the dust barely settling on her first KKW Fragrance launch, Kim Kardashian West is back at it again, treating beauty lovers to a whole new product launch. This time she's focusing on her KKW Beauty Brand, bringing the world a whole new pile of shimmers just in time for the holidays. Dubbed the KKW Ultra Light Beam Collection, the name perfectly captures what you can expect from this brand new capsule — a whole lot of blinding shine. Featuring five ultra-shine lip glosses and five corresponding highlighting powders in the same shades, it will be the perfect tool kit to get yourself glittering for the upcoming party season.
So what is in the KKW Ultra Light Beam Collection, exactly? The beauty of this new launch is that its products can be used for a bevvy of purposes and will create a diverse range of looks. There are five Ultra Light Beam Glosses that come in different metallic hues: Iridescent (an opalescent pearl), Rose Gold (a light rose gold), Yellow Gold (a light gold), Copper (a rosy copper gold), and Bronze (a warm gold bronze).
You can slick these glosses on top of your lipsticks to turn them metallic or rock them solo for an ultra-glittery pout. But much like a lip kit, these glosses don't come solo. They have a matching Ultra Light Beam Powder that compliments them. The powder looks like loose highlighter that comes in a soft, smooth finish. And the exciting thing about this loose powder is that you can use it for a slew of different makeup looks, as pointed out by Huda Kattan of Huda Beauty.
Kattan was the first person to be sent samples, and was asked to reveal them to her fans and the public. "OMG. Literally dying over these!!! Thank you @kimkardashian & @kkwbeauty for sending this to me first. The colors are UNREAL! Creating looks all week with these pigments, dying over the loose pigments," she captioned her Instagram reveal post.
When sampling the highlighters, Huda suggested mixing the powder with primer to make it feel less dry to the touch, and then you could use it as a highlighter across your cheeks or as a glimmering eyeshadow for your lids.
Another fun idea would be to tap a little bit of the glitter onto your lips to give the lipstick you're wearing a kick of metallic. That technique would act a lot like Urban Decay's "Vice Special Effects" topcoat, which brings an extra kick of pigment and sparkle to lip products. But Kardashian's product would be a lot more sheer and subtle.
When asked by Bustle what inspired her to create this metal-based collection, Kardashian said that she wanted to share her own personal tastes with other beauty lovers like her. Much like how the KKW Fragrance was inspired by her favorite flower — Gardenias — this glitter line plays off of her personal preferences.
For example, the lip glosses are super sheer and give a "juicy lip" type of look, using only speckles of pigment in their formula.
"When I'm at home, I do love to wear a sheer, kind of glitzy lip," she shares, explaining how the line translates.
If you're wondering about prices, one could say that it's reasonably priced. A gloss and powder duo will cost you $32, whereas the whole entire Ultra Light Beams Collection (which would contain every shade of gloss and powder) would be $160 for 10 products. Check out all the options below.