The LORAC x Beauty And The Beast Makeup Collection Is Everything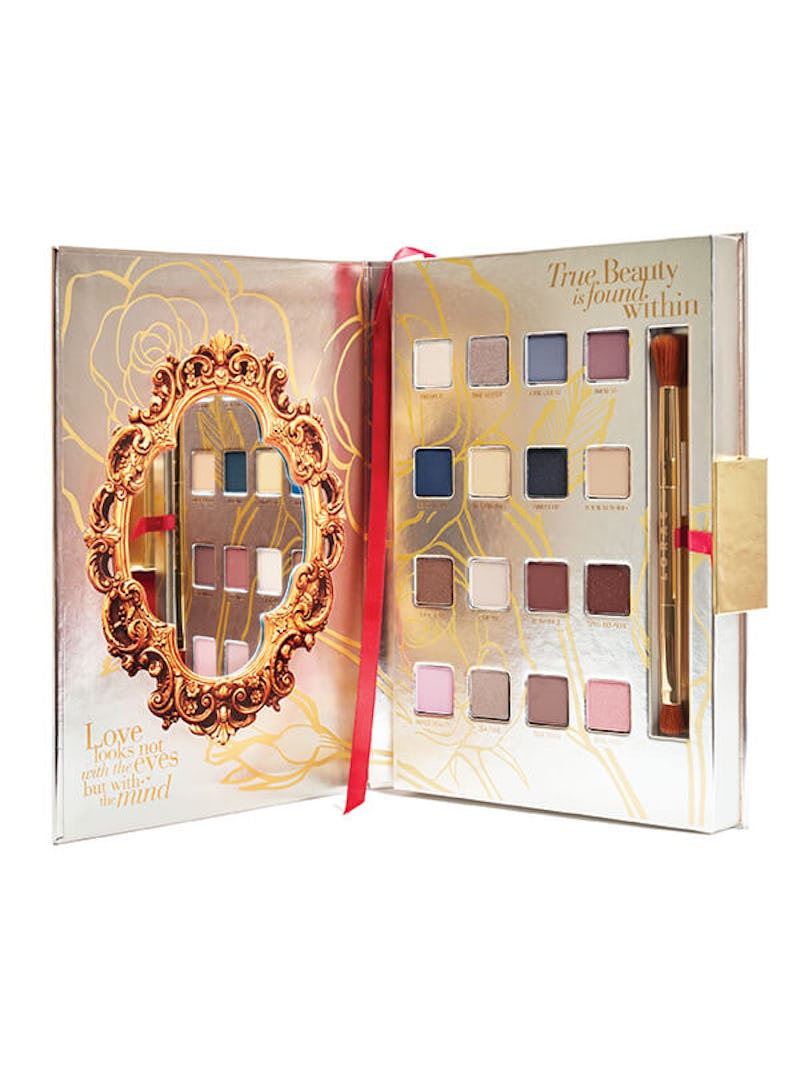 Courtesy of LORAC
Surprise! The Beauty and The Beast DVD arrives on Jun. 6. To herald the release, LORAC has dropped a Beauty and The Beast Makeup Collection, which follows the brand's Pirates of the Caribbean beauty range. Clearly, Disney hearts LORAC, as this is another killer collab that comes back-to-back. The LORAC x Beauty and The Beast Collection is available now. So what's in it?
OMG, it's a small and focused but utterly stunning collection that will allow you to channel your inner Belle. If you are a Disney-phile and/or have a passion for palettes, you are going to be super stoked.
The PRO Eyeshadow Palette features 16 shadows in a gorgeous book-like package, including an embellished mirror. There is also a cheek palette with four pans of pink and peach blushers. There's a Lipstick Collection with five Mod Cream lippies, along with a Lip Gloss Set. Both feature five shades inspired by the film. The lipsticks and lip glosses are the same, brand new colors, just in different formulas. So if you plan to collect the entire set —and it's so tempting!— you can mix and match for a bold, built lip!
The brand notes that the collection is super limited edition and that only limited quantities were produced.
All of the pieces are worth scooping up.
PRO Eyeshadow Palette, $48, LORACCosmetics.com
The Eye Palette features all new and exclusive shades, which were formulated to perform wet or dry. Their names are befitting a romantic fairytale, too: Dream It, Time Keeper, Our Guest, Impress, Beast Mode, Enchanting, Swept Up, Look Beyond, My Castle, Chip In, Romance, Spell Breaker, Inner Beauty, Tea Time, Tick Tock, and Real You.
Cheek Palette, $28, LORACCosmetics.com
You can build your glow and it can be as subtle or as intense as you wish with this cheek set.
Lipstick Collection, $36, LORACCosmetics.com
All these lippie colors are beauties and come in two textures. The shades have adorbs names: True Beauty, Red Rose, Belle-ieve, Tres Chic, and Savoir Faire.
Lip Gloss Collection, $34, LORACCosmetics.com
Aren't the tubes lovely, too? These shades are the same as the lipsicks.
The swatches display the depth of pigmentation.
It's all about the details.
It feels like a holiday collection!
What are you waiting for?!
It says it there in black and white (and red and pink!) The quantities are limited. Don't delay.