ModCloth's Size Inclusive Anna Sui Collection Gives You The Luxury Designer's Looks For WAY Less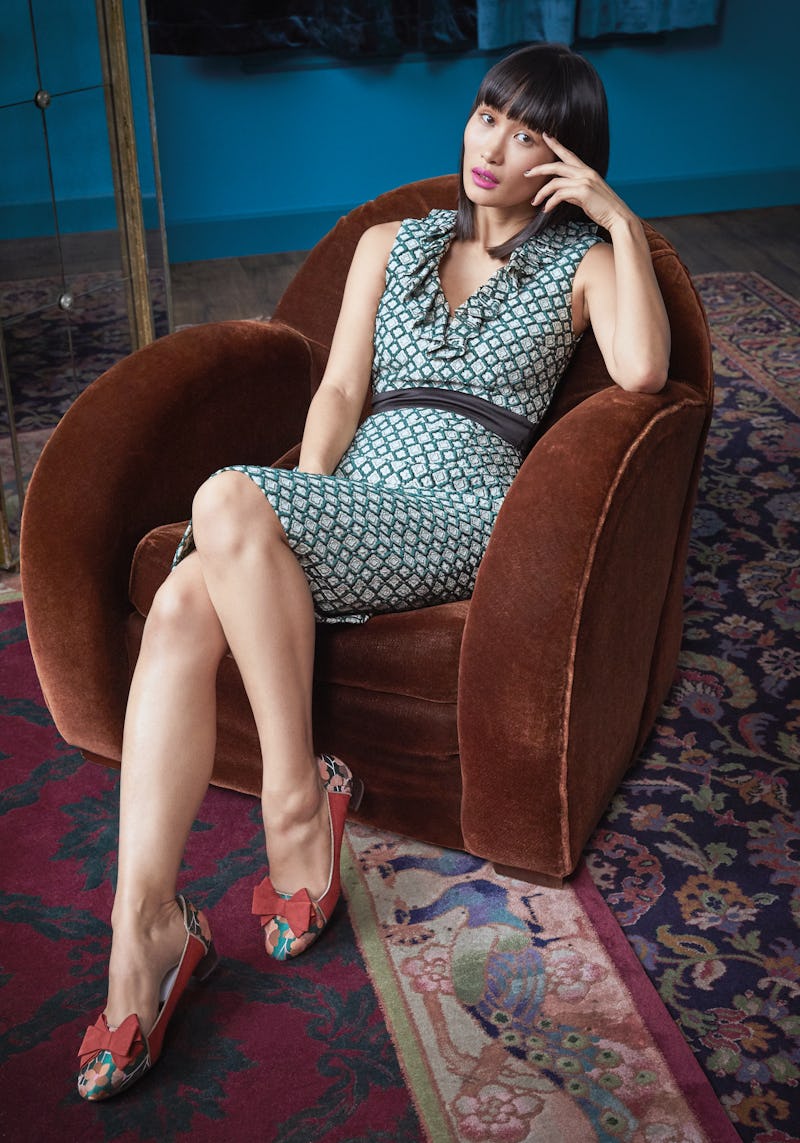 Courtesy of Anna Sui
Luxury brands aren't always financially accessible or size inclusive, and that's a shame for fashion lovers everywhere. Thankfully, though, the ModCloth x Anna Sui clothing line (offers sizes 0-24) is helping remedy that problem for your fall and winter season. To say that these designs are perfect for your wardrobe would be an understatement.
If you're thinking that the collaboration has already happened, you're kind of wrong and kind of right. ModCloth and Anna Sui have never collaborated on a collection specifically for the site before. However, the brand's independent designs and pieces have long been sold on the site. In fact, Ann Sui is one of ModCloth's most popular brands making the collaboration a perfect melding of a great retailer and perfect design house.
According to ModCloth, Anna Sui opened up their design archives which allowed the retailer to create pieces that are unique to the brand and that fans will immediately note as part of the Anna Sui aesthetic. From florals perfect for fall to colorful prints and sophisticated designs, the Anna Sui capsule collection for ModCloth is perfect on brand for both the designer and the retailer.
It's not simply the designs that make this collection so great (even if it's probably the biggest part). There are a few key details that fans of ModCloth and Anna Sui will love.
If you're familiar with ModCloth and have shopped their selections before, you probably already know that they've got an extensive size range. While the brand aggregates fashions from a multitude of different brands (not all of which may offer plus sizing), ModCloth is committed to bringing gorgeous designs to all bodies, and that's no different with the Anna Sui Collection.
According to ModCloth, the designs done in conjunction with the fashion brand will come in sizes 0-24, and this actually marks the first plus size venture for Anna Sui. On the brand's official site, current designs begin at a size 0 and only extend to a size 12. As for non-numerical sizing, it begins at a petite option and then moves from small to large. Now, however, thanks to the brand's partnership with ModCloth, more people than ever will have access to these designs.
The other great news about the collection is also numerical, but a much different kind. If you're familiar with Anna Sui, you're also probably familiar with the price tags on the brand's designs. Let's just say there are some high numbers on those tags. That's not the case with the ModCloth collaboration.
While the designs are by no means cheap, they are drastically reduced from Anna Sui's typical pricing. The Anna Sui x ModCloth collection will run between $125-$225. Basically, it'll be half the cost of the brand's typical dress designs.
If you've loved Anna Sui over the years but have either never had availability in your size or a balance in your checking account to cover the cost of a dress, the ModCloth x Anna Sui clothing line is going to make you very happy. You don't even have to wait to get your hands on it. The collection is available right now on ModCloth's website. Don't wait, head over to the site and grab all of your fall and winter staples.